5 Adult Learning Principles in eLearning + Importance and Application [Infographic]
Incorporating adult learning principles in eLearning is essential. Read on to know the 5 adult learning principles, their importance, and how to apply them in eLearning.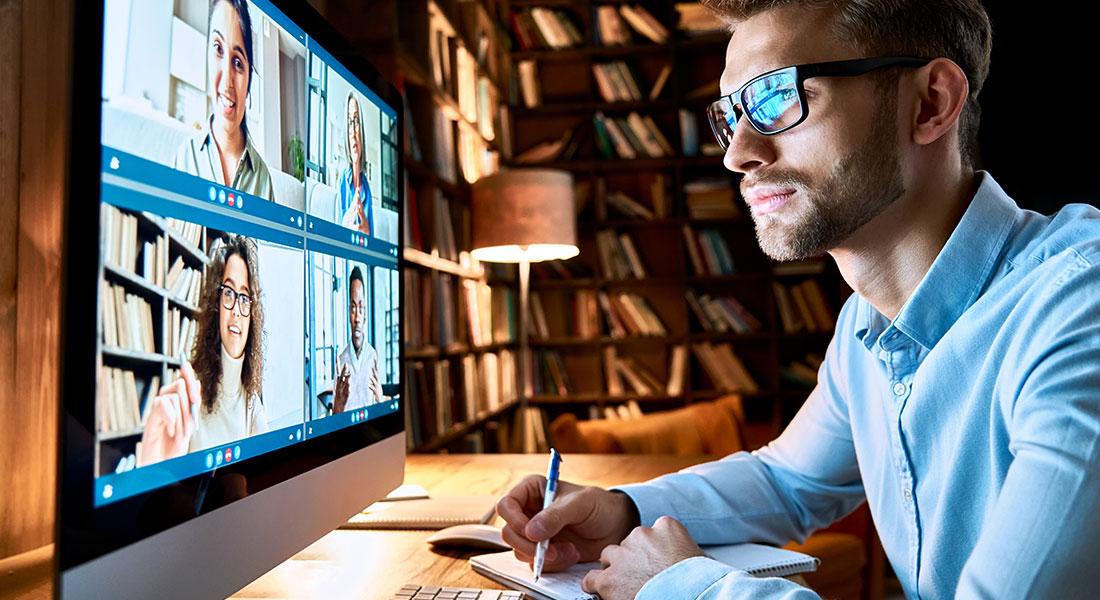 No two learners learn in the exact same way. But the way a child and an adult learn is totally different. So it's important to pay attention to the adult learning principles in eLearning design and development. That's right! The principles of adult learning ensure a corporate training that is engaging, effective, and impactful. They help you keep in mind various aspects which play a key role in motivating adult learners to learn so you can be certain of the desired outcome.
In this blog, we'll understand the importance of adult learning principles, what these 5 adult learning principles are, and how you can apply them in eLearning.
So let's begin!
Importance of Adult Learning Principles in eLearning
Boost motivation and

learner engagement

Improve course completion rates
Maximize the training ROI
5 Adult Learning Principles in eLearning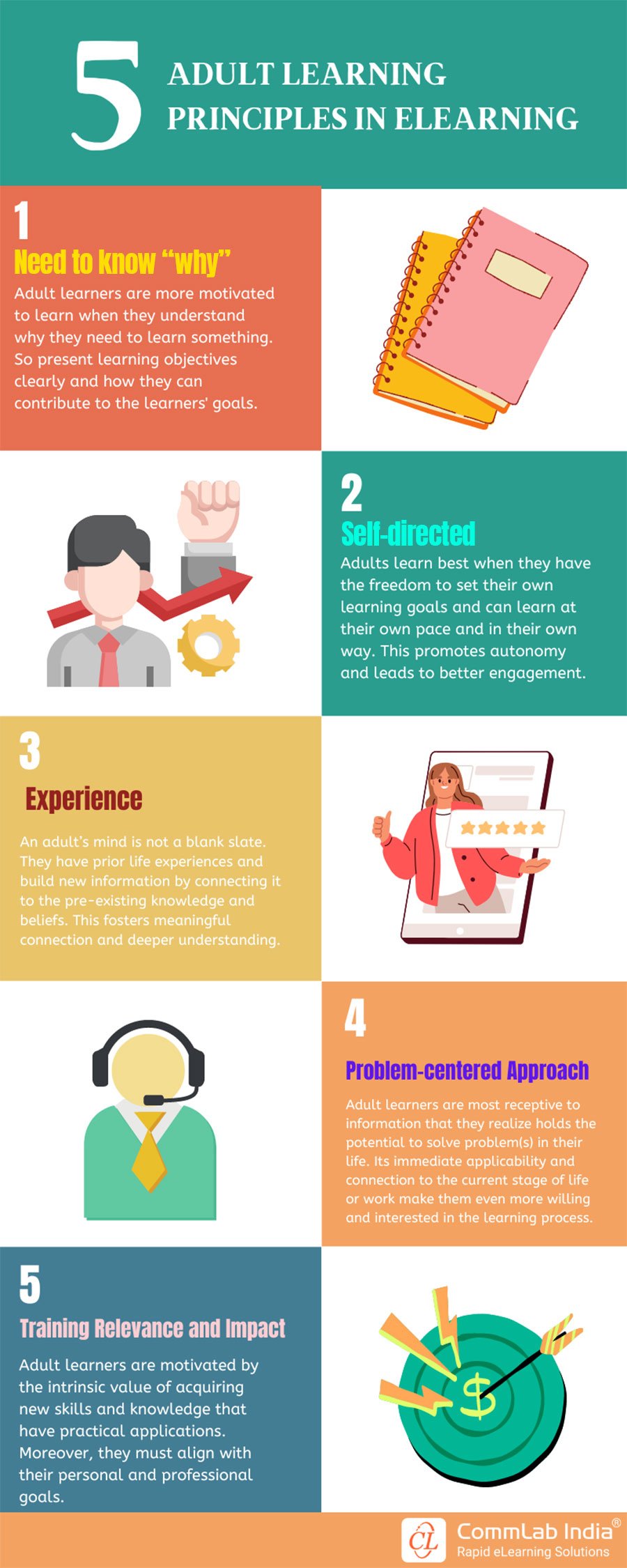 How to Apply Adult Learning Principles in eLearning?
Learner's Need to Know
As we've already read, at the heart of applying adult learning principles to eLearning is the fact that adults are more motivated to learn when they understand the purpose and relevance of the learning.
Therefore, in eLearning you should try to address this aspect by crafting clear and concise learning objectives. This will act as a roadmap for the learners of what they will achieve after completing the eLearning course. Moreover, you can integrate real-life contexts and applications into the eLearning experience to convey the purpose more clearly.
You can do so by presenting
practical scenarios
case studies
examples
Self-Directed Learning
It is an important adult learning principle that emphasizes on providing the learners with options where they can adjust the pace of learning, go through the eLearning course at their own time and convenience.
You can use this principle in eLearning by offering flexible content sequencing, making courses multi-device and multi-browser compatible, and providing supplementary resources to the learners.
Apart from that, you can integrate opportunities for self-assessment that fosters introspection and reflection among the learners. Based on their test-scores, number of attempts, etc., the learners can easily track their growth and revisit the concepts if necessary.
Role of Experience
"Experience is the best teacher."
I'm sure you must have heard or read this proverb at some point in your life. Well, this forms an important part of adult learning, thus it is an adult learning principle. You can incorporate it in eLearning by keeping in mind the foundational concepts of various training courses, learner experience, educational background, etc.
Moreover, try to include collaboration and interaction opportunities among learners that promote discussion, sharing personal insights, viewpoints, experiences, etc. For this purpose, you can make use of case studies, open-ended questions, real-world examples, scenarios, storytelling, etc. These are powerful methods that resonate deeply with adult learners and effectively highlight how the information provided through the eLearning courses actually applies to professional challenges.
Training Relevance and Impact
Incorporating adult learning principles into eLearning begins by designing and developing the eLearning courses based on the idea of learners' priorities. The information or skill provided through eLearning must have some relevance and benefit for the learner.
You can share this relevance, benefits, and application by encompassing virtual scenarios, simulations, success stories, personal encounters, anecdotes, etc. These elements help you closely mirror the challenges learners can possibly face in their professional roles and even offer them solutions, either directly or through logical inference.
Problem-Centered Learning
Imagine if I tell you some information and on the other hand I tell you that the particular information will help you solve your problems. When are you more likely to pay attention? The second one, of course! Well, adult learners are like that. So design and develop your eLearning in such a manner that enables the learners to solve their immediate problems or the ones they might possibly face in the foreseeable future.
These issues can be centered around policies, processes, role and responsibilities, etc. You can leverage eLearning to present learners with real-real challenges and situations that help them acquire knowledge and skills to tackle such problems in an effective and confident manner. To do so, you can integrate scenarios, simulations, role-based learning, gamification, etc. These strategies can help learners develop decision-making skills, critical-thinking, etc.
Parting Thoughts!
Adult learning principles are the backbone of effective and successful training programs. So you should incorporate them in eLearning to ensure learner engagement, better retention, enhanced course completion rates, maximum training ROI, and more! Along with incorporating adult learning principles in eLearning, having a thorough understanding of instructional design is essential. To help you start right, given below is a handy guide on instructional design. Check it out right away!