6 Innovative Ways in Which AI Can Transform Your Digital Learning Programs
Organizations are continuously embracing new technologies to advance their digital learning programs. Artificial Intelligence (AI) is one such emerging technology that has paved its way into the L&D sector. So, let's check out six effective ways how it can revamp digital learning in organizations.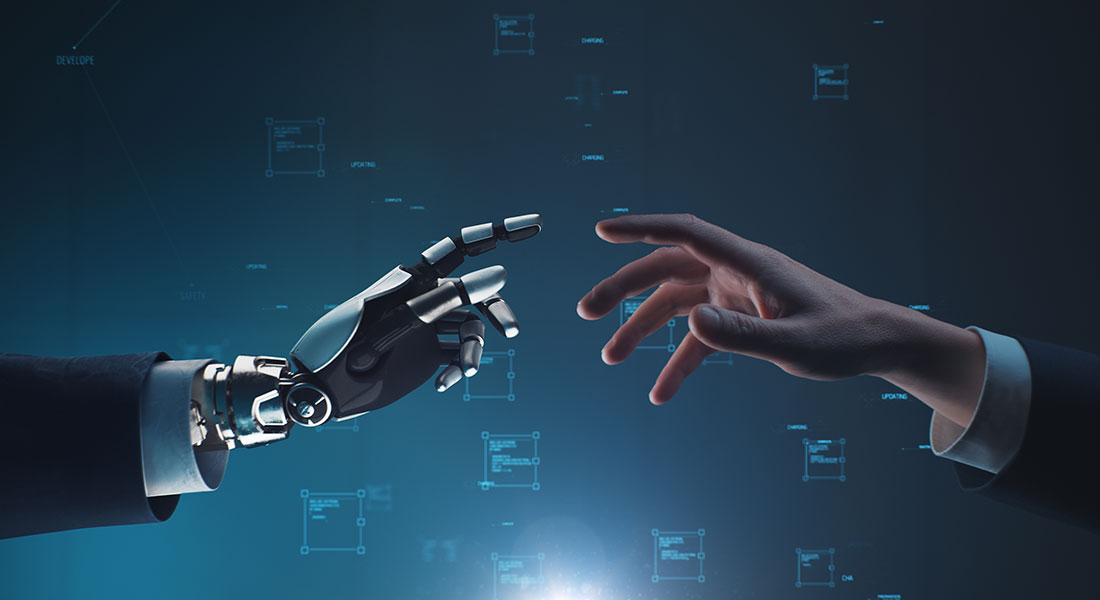 Every industry today is privy to the proliferation of artificial intelligence (AI). It holds great potential and has slowly crept into different facets of our lives. With new AI-powered tools coming up at workplaces quite frequently, it now plays a critical role in how employees are hired, onboarded, inducted, and trained in the organization. The rapidly changing lifestyles, widening skills gap, and modern technological advancements have made it even more critical for organizations to leverage the power of AI for learning and development. AI, blended with digital learning, has taken over organizations like a hurricane, and there seems to be no looking back.
In this blog, we will see how AI is shaping the future of digital learning, and why should you implement the same in your digital corporate training programs.
Artificial Intelligence and the Digital Learning Experience
Artificial Intelligence- The Future of Corporate Training!
Here are the key ways in which AI is revolutionizing the digital learning space:
Effective and personalized training
Native language processing
Time and cost-efficient
Assessments and feedback
Employee engagement
Scroll below to learn about each one in detail.
Artificial intelligence has revolutionized the way we approach corporate training. From simple behavioral training to complex project training- leveraging AI for digital learning can ensure an effective and personalized distribution of knowledge to your employees.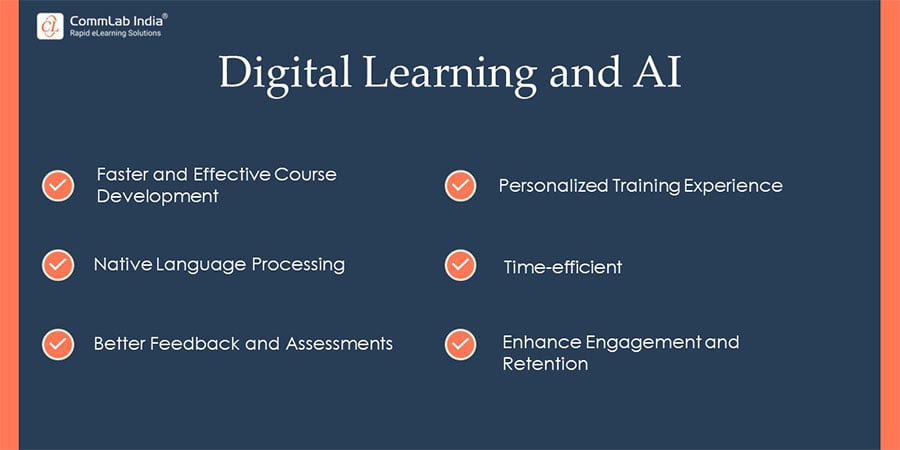 1. Faster And Effective Course Development
Course creation is one of the most challenging and time-consuming tasks for instructional designers. It involves extensive research, ideation, and strategy to come up with the training modules.
With its ability to analyze huge amounts of data and draw out valuable inputs from lengthy information, AI comes as a rescue for creating digital learning modules with ease. This allows training managers to focus more on engaging their employees than simply creating the courses. AI is also adept with repetition and automation tasks, thereby facilitating an effective learning experience for all employees and enhancing their knowledge retention.
2. Personalized Training Experience
The success of any organization depends on its employees. With each employee having a different learning style and preference, organizations have to continuously offer adaptive learning that aligns with each individual's preference.
AI algorithm analyzes an employee's performance, preferences, learning pattern, and behavior, and uses this information to suggest training content that is most relevant for them. This includes analyzing their strengths and potential to recommend courses that can upskill them, analyzing skill gaps, and suggesting corrective measures for the same. This personalized learning experience can boost your employee's performance and eventually the organization's productivity.
Further, in this age of advanced connectivity, AI can also study different cultures and add similar references to convey information clearly. When employees find relevant cultural references in their training, they can consume and retain the knowledge faster.
Thus, AI helps organizations to create a dynamic and personalized learning experience for employees and improve training outcomes significantly.
3. Native Language Processing
How many times have your employees wished to interact with the instructors in their native language? Well, earlier it might have felt like a distant dream, but with an artificial intelligence system in place, this has become a dream come true!
Natural language processing (NLP) is an AI sub-field that enabled systems to understand, process, and respond to various languages. With the integration of AI assistants in digital learning courses, employees can take up the training, interact, ask questions, and solve doubts in their preferred language. This will optimize their learning experience and make the training more efficient and engaging.
4. Time-Efficient
Thanks to artificial intelligence, organizations can now deliver impactful training programs in less time and cost. AI can develop courses faster and simpler while maintaining your company's quality standards. This further stresses the use of AI in various training programs. For example, AI can use simulations and interactive videos for new employee orientation. It can also analyze data and assess where your employees are facing difficulty and offer specific resources to improve themselves, cutting down the time required to analyze their performance manually.
5. Better Feedback And Assessments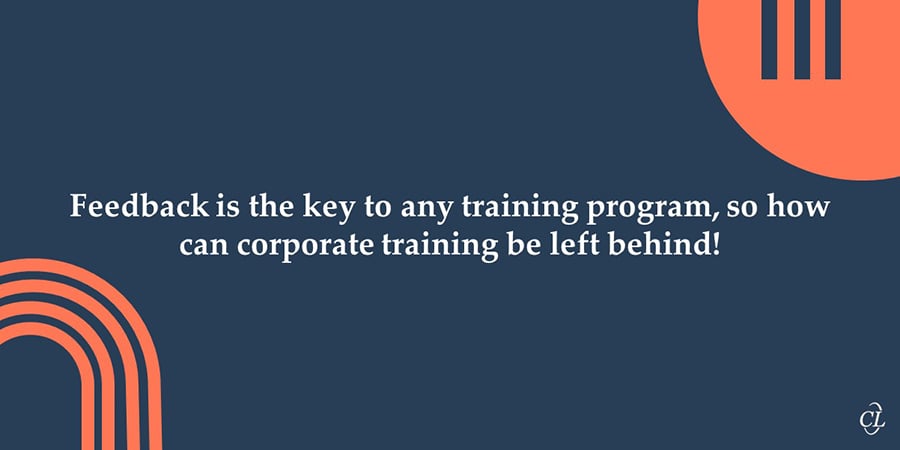 Apart from understanding employees' learning style, the other essential component of any training is sharing feedback. Another popular way AI can be leveraged to individualize digital learning is by providing real-time feedback to employees. AI can develop effective eLearning assessments, analyze employees' responses to questions and provide immediate feedback on that. This real-time feedback assesses their knowledge and also provides specific suggestions for improvement. Further, with AI analytics, organizations can also identify and gain insights into the behavioral patterns of employees and use the same to optimize their learning experience.
6. Enhanced Engagement And Retention
One of the prime reasons for blending artificial intelligence in digital learning is that it facilitates better engagement and interaction for employees.
Some common ways through which AI can increase learner engagement are-
With AI, it is easy to implement game-based learning in corporate training, thereby enabling more interaction for the employees.
AI chatbots act as a virtual tutors and provide answers to real-time questions. This offers you are employees a chance to see clarification at any time at their convenience and get immediate answers, without delaying their training.
AI can convert boring lectures into interactive guides and flashcards to hone the employees' interest in the courses.
AI-powered videos can offer immersive learning to employees, which, in turn, increases their knowledge and retention.
AI can also be integrated into AR and VR training simulations that offer realistic learning experiences to employees.
Parting Thoughts
Artificial intelligence has seen immense growth in the digital learning industry as it simplifies the process of corporate training. While AI is one of the most prominent technologies, other technologies are equally effective. Wondering what are the other trends that you need to look out for? Download this eBook to stay updated on the latest trends in the digital learning industry.