Design the Right Blended Learning Strategy for Maximum Training Impact
Designing the right blended learning strategy is crucial to the success of your training initiative. Weigh your options and conduct an analysis to arrive at the right strategy.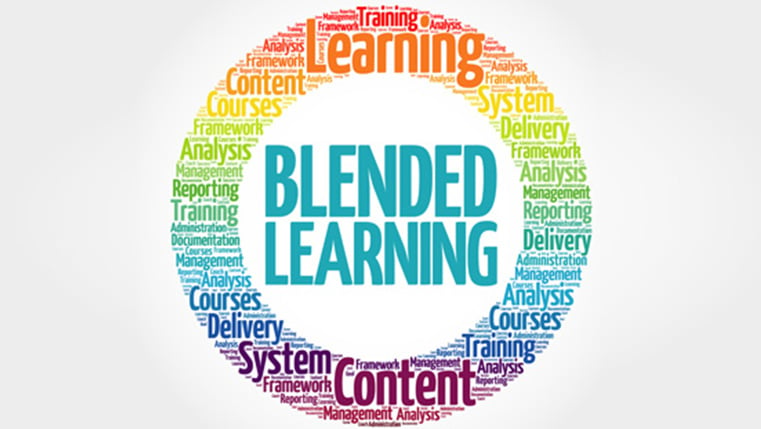 Training has assumed considerable importance in an organization's growth and companies are now more receptive to new ideas in training than ever. The growth in online learning has opened up an array of options.
Organizations are open to the idea of combining two or more training methods to get better results. They are eager to try out blended training that combines classroom training with online training methods. They have realized that a blended approach provides a number of benefits to both the organization and employees. Advantages of adopting a blended learning approach:
Best of both modes of training:
With blended learning, you can leverage the best of both classroom training and online learning. The combination of facilitated and self-paced learning makes it ideal to meet the learning expectations of a diverse audience.
Positive impact on training time and cost:
A blended approach helps present complex topics in the classroom while the rest of the content can be accessed in the online format. This not only saves time but also the inherent cost of organizing numerous classroom sessions.
Access to learning:
It is possible to deliver learning to a wide range of audiences with a well-planned approach. It gives greater flexibility to employees on how, where, and what they want to learn.
Address different learning styles:
A blended approach is multidimensional because it includes a variety of instructional styles that cater to different learning styles.
Provide a guided approach to learning:
With blended learning, organizations can adopt a structured approach to learning and sequence the learning activities and the follow-up and reinforcement activities.
Decide on the Right Blend:
Today there are a plethora of options available when going for a blended approach. Apart from formal classroom sessions and e-learning courses, other options include just-in-time training resources, social learning, and performance support aids.
As a training manager, you can mix and match these options to get the maximum benefit. Remember, there is no formula where you can decide on the right ratio of classroom training and self-paced learning. But you can follow these best practices to arrive at a ratio that will give you the best results.
Consider the learning process – learning is ongoing, not a single, one-off event – and choose the relevant formats for different stages of learning. For instance, if you want to teach employees how to operate a complex machine, you can first present them a video using the online medium, but you need to teach them the actual operation through classroom training. Theoretical knowledge can be taught online and the actual skill development can be hands-on.
Design the blended learning approach based on the tasks your employees have to perform. To do this, you should create a job task inventory that will help you categorize these tasks on four factors:
Frequency – how often the task is performed
Importance – significance of the task for performing the job
Learning – how difficult it is to learn the task
Risk – the consequences if the job is performed incorrectly
Every task is assessed on these parameters to help decide the appropriate blended learning design.
For instance, if the task is performed frequently, then the employee must know how to perform the task from day one at his job. He has to be provided classroom training where the task will be demonstrated and there will be opportunities to practice, with the help of coaching along with feedback and assessments to gauge his proficiency.
However, if the task is not performed frequently, it will only require an occasional refresher course or a performance support aid which employees can refer to when they are performing the task. Similarly, for those job-related tasks that rank high on the other parameters, i.e., importance, risk, level of difficulty, ILT could be best for some of the components (some aspects of any job task training can be dealt with online), while for job tasks that rank in between, online training is the best option.
Working Out the Right Blended Approach – An Example
If you are designing a blended approach for a product training course for your sales team and if the parameters of the job task inventory mentioned above, rank high on your scale, then your blended training should ideally comprise of the following in a series:
Initial classroom quiz on the basic features on the product
Classroom session on the features of the product
Reinforcement in the form of videos or product animations
Online quiz to assess how much knowledge employees have retained
Coaching through face-to-face learning, where the trainees learn how to present the product and negotiate with customers
Mobile apps containing product information when they are out on the field
Performance support in the form of job-aids
A graphic representation of this blended training strategy is given below: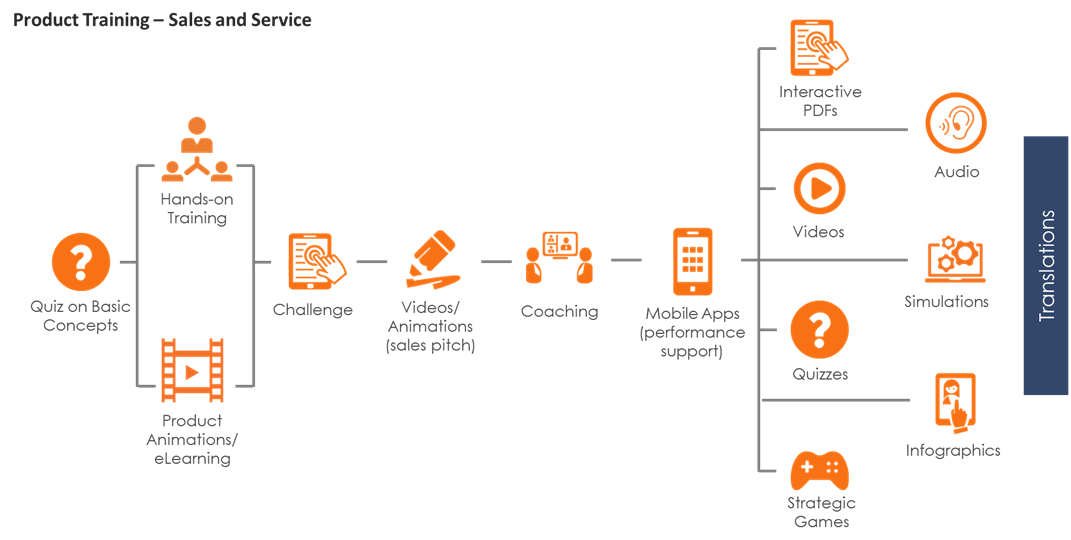 Based on your analysis of the tasks employees have to perform, and after doing a job task inventory, you can create a blended training mix for your different training needs. A blended learning approach requires strategic planning if it has to bring the desired results.