The Secret Formula for Effective Multiple Choice Questions in E-learning Assessments
Of all the question types used in eLearning assessments, multiple choice questions (MCQs) are the most preferred ones. And if you want to know how to create effective MCQs, then this blog is for you. So, what are you waiting for? Jump right in!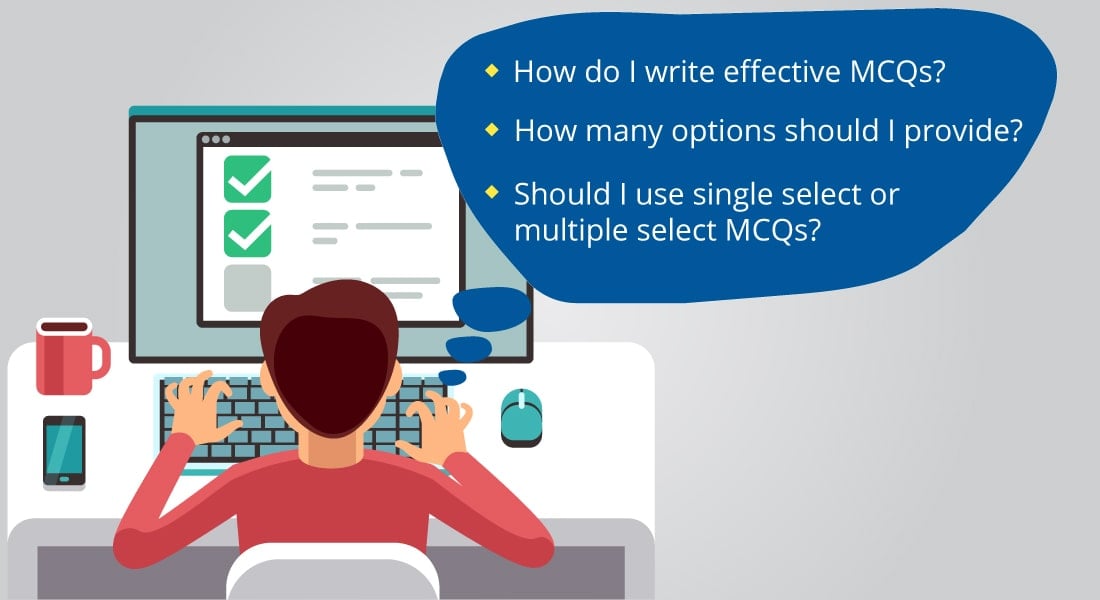 You wouldn't want your learners to look like this, would you? That poor woman is struggling to find the correct answer from a long list of complex options in a multiple choice question (MCQ).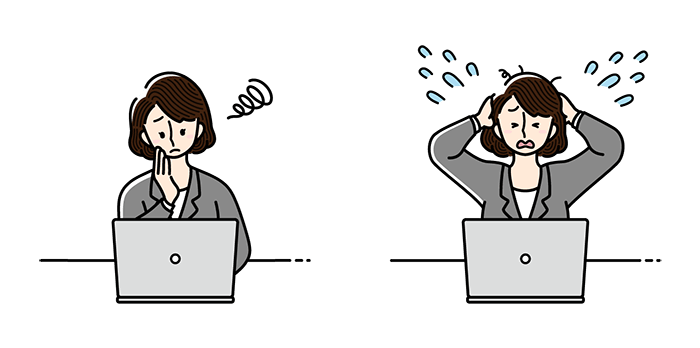 But it doesn't have to be that way. In this blog I'd be sharing with you some best practices that will help eliminate a lot of guesswork often associated with framing MCQs. MCQs are the most popular and preferred of all the question types used in e-learning assessments to check and reinforce learning.
But as you have probably experienced, creating MCQs can be a real challenge. It's not just framing the questions, but also about giving the appropriate options and distractors.
While doing so, we grapple with questions such as:
How do I write effective MCQs?
How many options should I provide?
Should I use single select or multiple select MCQs?
Often there is uncertainty about the 'what' and 'how' and too little time to develop them. As a result, many MCQs fall by the wayside, not adding any value to the learning.
However, you can come up with well-constructed questions if you follow some basic Dos and Don'ts, and significantly increase learning and retention; and thus, accelerate both proficiency and performance!
Focus on These Key Elements to Create Effective MCQs
Question Stem: Should contain the appropriate action verb that links to the learning objectives.
Correct answer/s (the key): Ensure they are unambiguously correct.
Options: Provide only three or four options.
Incorrect alternatives: These are the distractors that must be mutually exclusive, and logical.
What are MCQs?
A multiple choice question asks the learner to select the correct answer(s) from a list of alternatives (or options). It includes:
The question stem: The first part of the question that includes the appropriate action verb to link to the learning objectives
Correct answer/s: The key
Incorrect alternatives: The distractors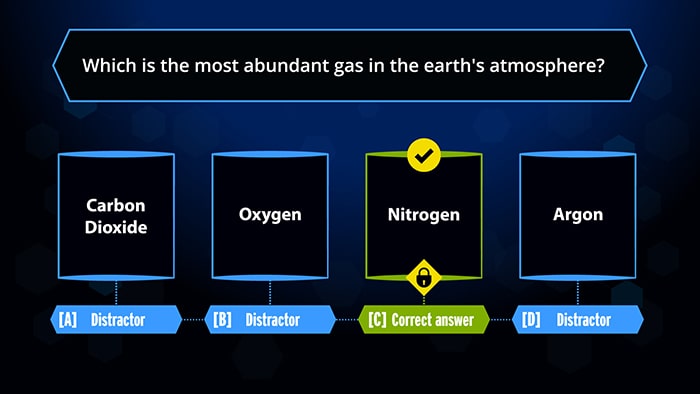 MCQs are easy to grade and are also more effective than 'true or false' questions as learners are less likely to guess the correct answer.
Where can we use MCQs?
Multiple choice questions are strongly associated with assessing lower order cognition such as the recall of discrete facts. They are most effective when used to check learners':
Factual recall
High level understanding of concepts
Ability to apply learning
MCQs can also be used to:
Gather information about learners' pre-course understanding, knowledge gaps, and misconceptions.
Assess learners' recall of facts and concepts necessary for higher order learning.
Provide learners an easy way to check their understanding of key concepts.
Test learners' knowledge of the learning objectives, instead of using more intensive methods such as extended writing.
When NOT to Use MCQs
Do not use MCQs to assess learning outcomes at a high cognitive level. It's the closed-ended characteristic of MCQ tests that makes them unsuitable when it comes to evaluating originality and creativity in thinking.
Types of MCQs
MCQs can be single select or multiple select.
Single Select MCQs allow learners to select only ONE option as the correct answer. In eLearning, the options for single select MCQs are given as radio buttons. They usually contain one correct option and two or three distractors. Single select MCQs are more popular than multiple select MCQs as they are less confusing and easier to grade.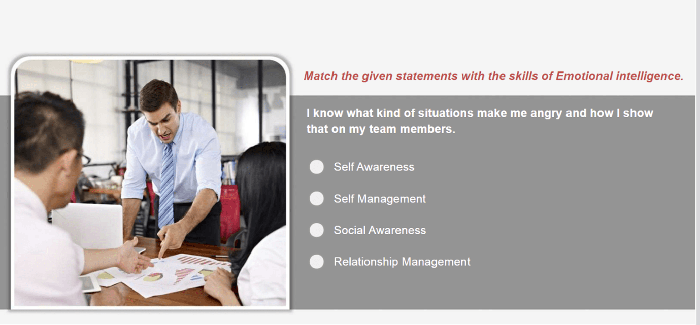 Multiple Select MCQs allow learners to select more than one option from a list of alternatives that apply to a question (check boxes are used for options). They should ideally comprise 2 or 3 distractors for each correct option, making them more difficult to frame.
Multiple select questions aren't preferred in summative assessments, as awarding partial marks based on the number of correct options selected isn't easy! Also, learners need to be instructed to 'Select ALL that apply' and when the learner has selected at least one correct option, partial feedback must be provided.
MCQs don't have to be limited to just text-based options. The learner can be asked to:
Select a graphic image
Click on the correct part of a graphic image
Drag a graphic image into an answer box
Select an audio item
Dos and Don'ts to Create Effective MCQs
How do you ensure your MCQs hit the mark and work as intended? For that, you need to follow some rules. Let's go through them now.
For the Question Stem
Keep the stem simple and grammatically correct with simple and unambiguous wording.
Include the main idea in the question stem to allow the learner to clearly define the problem without having to read the options.
Place most of the words in the question stem.
Avoid clues to the correct answer.

Avoid grammatical clues in question stem (e.g., use a/an).
Ensure you don't give the answer somewhere else in the test.

Avoid negatives and unclear terms in the stem (NOT, NEVER, EXCEPT, ONLY). If they can't be avoided, highlight them by capitalizing or bolding.
Use a question format instead of an incomplete statement to help the learner focus on answering the question instead of holding the partial sentence in working memory.
State the question clearly and concisely. Excessively wordy and complicated questions assess learners' reading potential more than their learning objective attainment.
For the Options
Keep the options short and consistent.
It's advisable to refrain from giving complicated multiple choice items, wherein some or all of the alternatives contain various combinations of options.
Make options parallel.
Avoid "None of the above" and "All of the above".
Provide only three or four options. Studies have found that MCQs with three options had a higher efficiency because they:

Took up less space and reading time
Required less time to develop
For the Correct Answer/s (key)
Play around with the placement of the correct answer. Don't let all your first or last options be the correct ones.
Ensure the correct options are correct with no ambiguity (avoid overlapping options).
For Incorrect Alternatives (distractors)
Distractors should be:
Uniform in content with similar language
Plausible and realistic (avoid using irrelevant options as distractors)
Mutually exclusive
Presented in a logical order (e.g., alphabetical or numerical)
Similar in length. An alternative noticeably longer or shorter than the other is frequently assumed to be the answer, with good reason.
Parting Thoughts
That was all about creating effective MCQs in eLearning.
So, now that you are privy to the secret formula of devising MCQs, why don't you go ahead and create them to make your eLearning assessment questions seem more dynamic! Simply, adhere to the basic Dos and Don'ts discussed in this article, and have your learners not fret over guessing the correct answer.
Speaking of guesswork, here's an interesting and insightful webinar on taking the guesswork out of eLearning assessments. Don't forget to register for this intriguing and interactive webinar.