Digital Fluency and the Future of Work: How Can Corporate Training Help?
Digital fluency is the new buzz in today's digitally-driven corporate world. Do you want to transform your workforce with digital fluency and gain a competitive edge? Well, read the blog to get deeper insights into digital fluency and the role of corporate training to build one.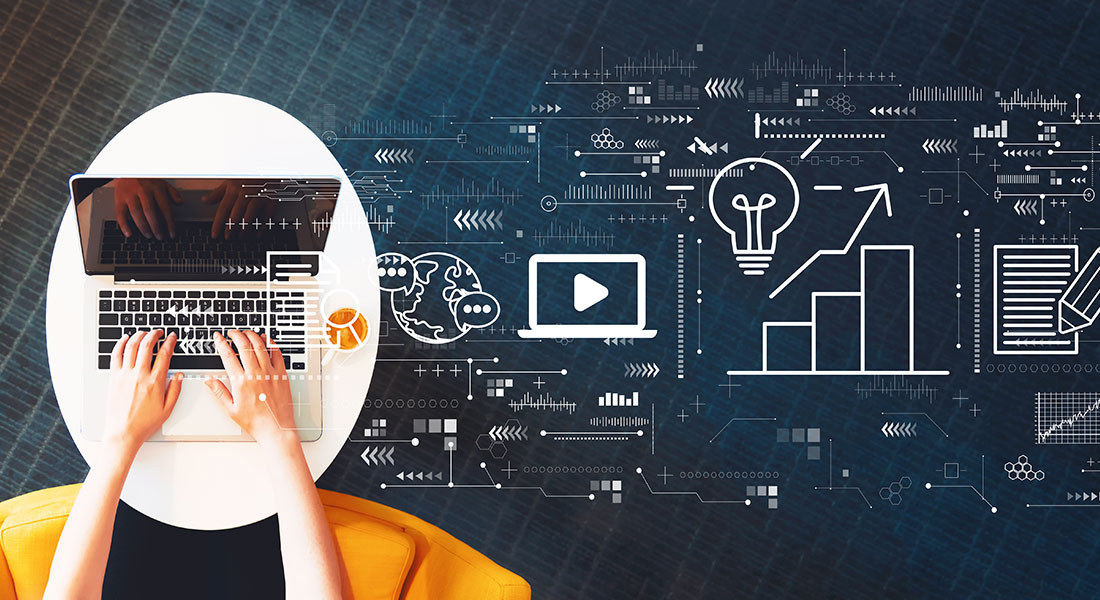 Cloud. Data. Automation. Well, this is the future of the modern world. Automation and digitization are taking the world by storm. It is crucial to keep up with the latest trends in technology in this AI-driven world. Organizations are embracing new technological advancements with open arms, and it is important for employees to acquaint themselves with the latest digital trends. Digital fluency is becoming a much-needed competency and corporate training plays a key role in developing it in the workplace. This blog talks about the need for digital fluency at the workplace, its benefits, and the ways corporate training can help achieve it at the workplace.
Corporate Training Can Contribute to Digital Fluency at the Workplace
Here's how it can help build a digitally fluent workforce:
Upskill and Reskill Employees
Identify and Address Existing Skill Gaps
Foster a Culture of Digital Fluency and Growth
What is Digital Fluency and How is it Different from Digital Literacy?
Technology is rapidly changing the way of our lives, be it personal or professional. It has become more critical in modern times for employees to equip themselves with improved digital skills to perform well in their job roles, irrespective of their department and designation. Digital literacy refers to the ability to have a good understanding of the latest new-age digital devices and technologies effectively. However, digital fluency is not just understanding digital devices and platforms, one should have a deeper understanding of how to use them, switch between multiple platforms, and should have the expertise to decide upon the necessary tools to deliver the desired outcomes better.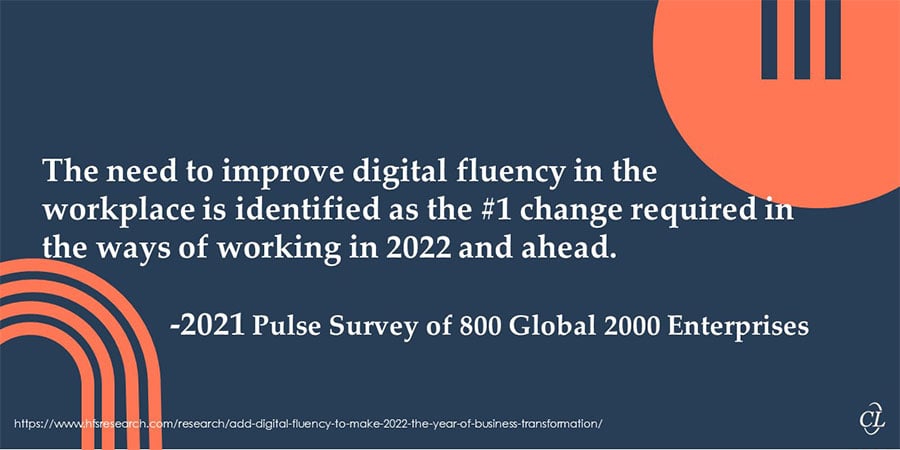 Why is Digital Fluency Important for Organizations?
Technology has been growing at a faster pace, but the pandemic has accelerated digital transformation like never before. This has forced organizations to rethink their business strategies and adapt to the new norm. Technology and innovation are on the top priority list for most organizations. A digitally fluent workforce is critical to have a winning edge over competitors. If you are wondering why digital fluency is becoming an inevitable part of an organization's success, here are a few benefits of it in the workplace.
4 Key Benefits of Digital Fluency in the Workplace
In this technology-driven world, digital fluency is an essential skill set as it drives growth and productivity. Let's explore the benefits digital fluency offers in the workplace: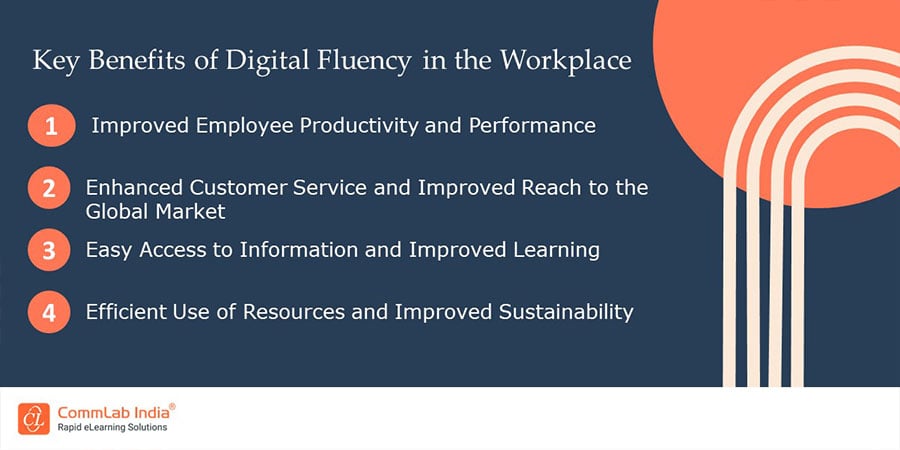 Improved Employee Productivity and Performance
In today's digital era, digital fluency is one of the foundational aspects of employee productivity. When you use various digital tools and platforms it makes the work easier. It is judicious on the part of the organization to promote automation and digitization to help employees ease their work processes. Digital fluency can help your employees with automated work processes. They can focus better on strategic decision-making and critical problem-solving as the mundane things are taken care of by automated work processes. This enhances employee productivity, and you can scale easily.
Enhanced Customer Service and Improved Reach to the Global Market
A digitally fluent workforce will certainly provide an enhanced customer experience. They will be able to provide customized and efficient services to the customers which will add to customer delight. Customers can also have better access to your products or services, and this eventually will lead to enhanced customer experience. Digital fluency can help you gain better business results as you can reach out to global customers seamlessly.
Easy Access to Information and Improved Learning
Digital fluency facilitates learners with access to a wider pool of online resources and enables them to have interactive and multimedia learning experiences. It aids in immersive learning and longer retention thereby helping employees with better job performances. Digitally fluent employees stay current and bring the best to the table which subsequently adds value to your company's offerings.
Efficient Use of Resources and Improved Sustainability
Digital fluency at the workplace can help you with more efficient use of resources. You can go virtual and avoid unnecessary travel for attending meetings and conducting training programs. With remote and hybrid work models becoming the new norm, digital fluency can help you collaborate well with your geographically dispersed workforce and also provide them with continual learning.
How Corporate Training Can Help in Improving Digital Fluency at Workplace?
Investing in new tools and technologies and encouraging the adoption of digital best practices across the organization is not enough. It is crucial for your employees to continuously update their knowledge on the new tools and technologies. Organizations can promote digital fluency by providing undisrupted training to their employees and ensuring continual learning. Are you ready to bridge the gap to the future of work and transform your workforce with digital fluency?
Here are a few ways corporate training can help build a digitally fluent workforce:
Upskill and Reskill Employees
As technology continues to evolve and organizations are enthusiastic about embracing them, it is essential for employees to stay current with recent digital trends. The onus is on the L&D leaders to provide upskilling and reskilling opportunities for all employees and make it easy for employees to access seamless digital training. Digital learning formats like eLearning and microlearning can help learners with self-paced learning and offer regular training to keep up with digital trends.
Watch this video for tips to effectively upskill and reskill your workforce.
Identify and Address Existing Skill Gaps
Organizations may run random surveys to identify the existing skill gaps and focus on training programs that cater to training employees on the popular tools and platforms that the business relies on. Microlearning apps can be immensely handy to provide short bursts of learning nuggets to the employees to help them take quick microlessons at their convenience and stay updated.
Foster a Culture of Digital Fluency and Growth
Corporate training can foster a culture of continual learning. As a part of your L&D initiative, you can offer your employees regular mentorship and coaching programs to develop their digital skills. You can also include digital conferences and events as a part of your L&D program and encourage employees to attend them regularly to stay digitally competent. Training platforms like virtual instructor-led training (VILT) help employees collaborate with their peers and learn through knowledge sharing.
Parting Thoughts
Digital fluency is an important and indispensable component of success in today's digitally progressive corporate world. Promote a happy and healthy learning culture in your organization to promote digital fluency. You can offer incentives to employees who exhibit a strong commitment to digital competence and motivate your workforce to progress toward digital fluency. Encourage the adoption of new and advanced technology, provide continual training opportunities to your employees for digital upskilling, and foster a culture of digital fluency and growth to empower your workforce and help them thrive.
Are you keen to know what else is trending in the corporate L&D space? Well, take a look at this eBook that highlights trends that will capture the world of corporate L&D in 2023. Get a free copy now!