How Does Corporate Training Help Bridge the Skills Gap at Workplace?
Skills gap is becoming a major pain point for organizations these days. Corporate training plays a crucial role in bridging this gap and contributes largely to building a future-ready workforce. Read the blog to discover how corporate training bridges the skills gap at the workplace.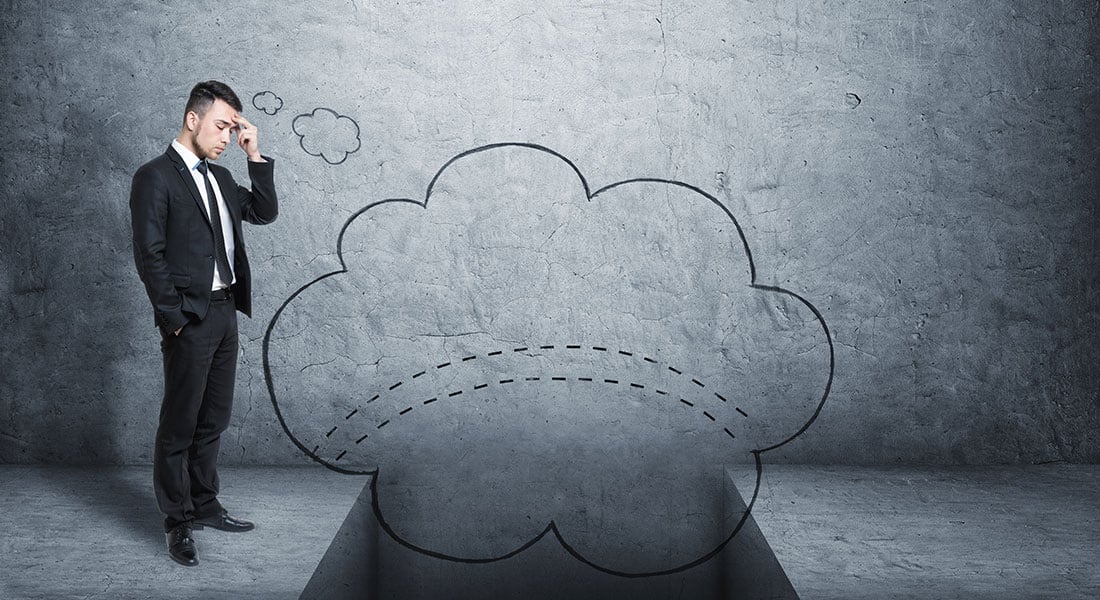 Let's face the facts. The world of work is evolving fast, and skills development is becoming increasingly important as skills gaps grow. The pandemic has forced organizations to evolve their business strategies which subsequently has fueled the need for employees to develop skills needed to match the dynamic business needs. Corporate training plays a crucial role in bridging this gap and contributes largely to building a future-ready workforce. Read the blog to discover how corporate training bridges the skills gap at the workplace.
Make Your Corporate Training Initiatives Count to Bridge Skills Gap
Check these quick tips:
Understand your learners
Offer memorable learning experiences
Review, reflect, and revise
Read the blog to get deeper insights.
What is a Skill Gap?
Every organization sets a desired skill set to perform specific job roles successfully. I am sure you must have also done it in your organization. These skill sets keep changing due to the dynamic nature of businesses, based on external market forces and internal organizational changes. So, the difference between an employee's existing abilities and the ideal skill set required for the job is the skill gap. It is difficult for organizations to find employees with the desired skill set for every job role and hence a skill gap exists. There could be many factors that contribute to it. A few of them are:
Poor recruitment
Lack of experience
Inadequate training
Changes in roles and responsibilities
Why is it Important to Analyze and Address the Skills Gap?
With the fast pace of technological and societal advancements, technical, digital, and soft skills gaps have been a persistent challenge for enterprises globally. Skills gaps are a major contributor to workplace inefficiency and might lead to employees' incompetence to perform their job roles and thereby lower employee morale.
Identifying any potential existing skills gaps and identifying how it limits your company's success is a crucial exercise to stay competitive in the dynamic business scenario. Skills gap analysis is the foundation of designing an effective corporate training strategy. A well-executed skills gap analysis can help you understand the existing gaps in the performance of the employees and the lack of skills that leads to it.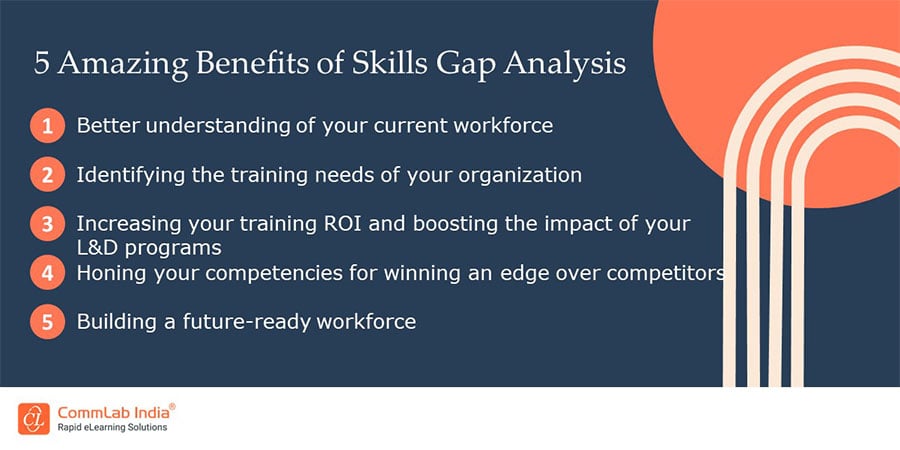 It is important for organizations to do individual as well as company-wide skill gap assessments to plan better for procedural or technological changes, and also build a work culture that empowers employees through continual learning and training.
Role of Corporate Training in Bridging the Skills Gap
As per a McKinsey report, 87% of companies say they already have skill gaps or are expecting them within a few years. Aren't the figures alarming? The same report says that 53% of executives say that building skills is the most useful action to close the capability gaps, followed by hiring talented individuals, redeploying, and engaging freelancers or contractors.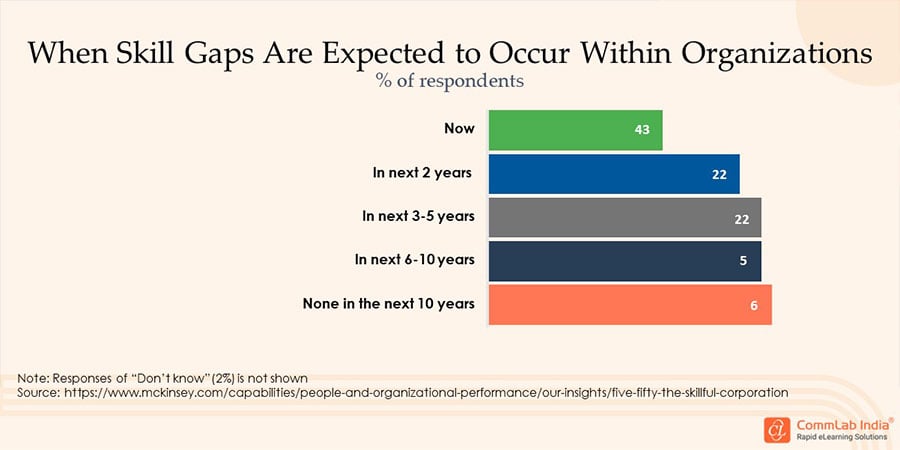 Skills gaps have proven to be a persevering and inevitable challenge for organizations across the globe that has fueled the need for continual learning and upskilling. The need for skill development has become vital for building a future-ready workforce and learning and development (L&D) teams shoulder the responsibility to bridge this gap and help organizations stay competitive in the dynamic global business landscape. Roles-based skills training can help build a future-proof workforce with:
Upskilling: Training employees on new skills to perform better in the existing role.
Reskilling: Training employees for a smooth transition to a new role.
Digital training: Training employees on digital skills and helping them stay current with modern tools and technologies.
Soft skills training: Training employees on interpersonal and behavioral skills like empathy, emotional intelligence, teamwork, and time management to help them thrive in their roles.
3 Tips to Make Your Corporate Training Initiatives Count to Bridge the Skills Gap
1. Understand Your Learners
Understanding your learners is the key to designing effective training programs. Identify your learners' experience levels, training preferences, and what motivates your learners. This can help you build a strong foundation for your training initiatives. Building learner profiles enable you to decide upon the training format that best suits your audience. For instance, quick, short microlearning modules are effective to train your on-the-go salesforce and blended learning can be the preferred format for your hybrid and remote workforce.
2. Offer Memorable Learning Experiences
You need to make your corporate training meaningful, relatable and enjoyable to combat the forgetting curve and boost learner retention. If your learners remember what is delivered in the training, there are higher chances of them applying it to their day-to-day job tasks. This subsequently adds to their performance and productivity leading to achieving organizational goals.
Training formats like eLearning and microlearning can help your learners with self-paced learning. You can try modern learning strategies like storytelling, real-life scenarios, gamification, and simulations to make your eLearning courses interactive. With Virtual Instructor-led training (VILT), you can promote collaborative learning and provide your learners with the opportunity to learn from their peers and grow. You should also ensure your training is accessible. Design responsive courses (multi-device, multi-browser compatible) for enhanced accessibility. Microlearning and mobile learning can help you make learning easy and accessible.
Watch this video for winning tips to design effective microlearning!
3. Review, Reflect and Revise
Evaluation is an essential component of success. It is important to keep track of your learners' progress to understand the effectiveness of your training programs. Investing in a learning management system (LMS) helps you with delivering and managing your training. You can host your courses on the LMS and ensure seamless access for your geographically dispersed workforce.
Learning analytics is an integral part of an LMS that helps you with tracking your learners' progress. The data and reports generated using learning analytics let you know if you met your business goals and provide you with the necessary insights to improve your training if there's room.
It's a Wrap!
With unprecedented societal shifts and technological advancements at a lightning speed, technical, digital, and soft skills gaps are expected to continue among organizations worldwide. If left unattended the skills gap can be a prominent hurdle to an organization's success. Role-based skills training can help organizations to match the current business trends. If you want to build a future-ready workforce and make your corporate L&D initiatives count to achieve positive business results, foster a culture of learning, and provide your learners with opportunities that promote continual learning.
L&D is gradually transitioning from a cost-center to an asset for organizations. Its role has become crucial in recent times considering the value it's adding to businesses. Grab this eBook to know how L&D and business can align to conquer the future of work.