3 Common Corporate Leadership Training Challenges Solved With eLearning
Not everybody is a born leader, and that is the reason why corporates have leadership training but how can the training be made more efficient? Will eLearning help address the challenges of corporate leadership training? Read on to find out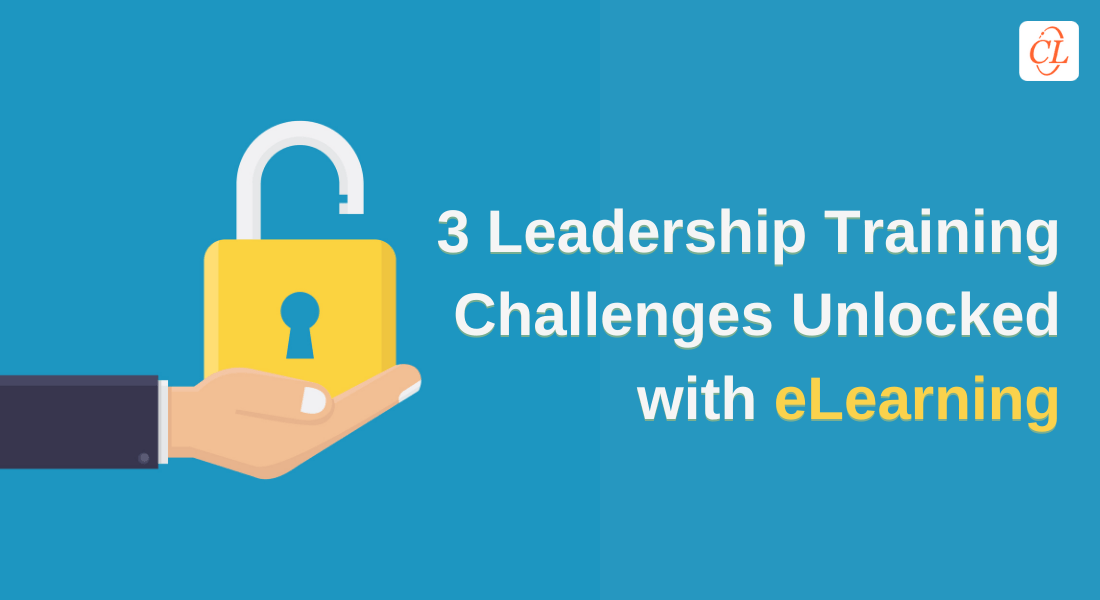 Corporate leadership training, which prepares your employees to face complex work situations, has an overall impact on organizational sustenance and growth. Considering this, organizations across the globe have included it in their learning & development (L&D) initiatives.
While leadership training delivered in the traditional classroom environment has helped organizations nurture their internal talents to become strong and successful leaders, it does have certain challenges.
Are you Aware of The Challenges of Leadership Training Imparted the Traditional Way?
Here are the most common ones:
Challenge 1: Lack of Time
Challenge 2: Little Scope for Continuous Learning
Challenge 3: Inefficiency of the One Size Fits All Approach
Read on as we discuss how eLearning can help solve them…
One of the best ways to solve these challenges is by taking the eLearning route. Delivering corporate training on digital platforms can prove to be extremely beneficial. But before discussing it in detail, let us first discuss more about corporate leadership training:
What is Leadership Training?
There is no denying the fact that all organizations require strong, decisive, empathetic, insightful, and aware leaders who lead the entire organization toward success. Considering this, organizations across the world focus on creating strong corporate leaders and thus emphasize corporate leadership training.
One very important thing to remember when designing corporate leadership training is that the project has to be created keeping the present as well as the future organizational aspirations in mind. When delivered efficiently, leadership development initiatives boost employee performance and productivity and also promote employee engagement. This will ultimately result in higher employee retention rates.
Another very important benefit of an effective corporate leadership program is that lays a strong foundation for employees' development of talent and thus, it will help corporations gain an edge over their competitors.
Considering all these benefits, organizations across the world have made corporate training a key aspect of their L&D initiatives. However, delivering the learning via traditional classroom training is associated with certain challenges with respect to its efficiency.
Let us discuss the challenges and how each of them can be addressed with eLearning.
Challenges of Corporate Leadership Training and Solving Them With eLearning
Challenge 1: Lack of Time
This has always been a major challenge faced by the trainers as well as the learners. Employees already have a lot on their plate and it gets difficult for them to spare specific time for classroom training. While this is understandable, the need to instill and nurture leadership skills for professional and organizational growth may not be side-lined. Balancing these requirements is quite a challenge!
And now the good news: This problem can be solved with eLearning. By opting to take the corporate leadership training online, it is possible to make the training content available whenever and wherever. Additionally, eLearning also makes room for personalized learning experiences, and self-paced learning, and is device agnostic.
Challenge 2: Little Scope for Continuous Learning
Continuous learning is key for professional and organizational growth. This is a fact that needs mention in bold letters! Considering this, it is important that organizations focus on improving their corporate leadership training material regularly to make it more relevant for continuous learning. However, the training material developed for the traditional classroom environment is not very fluid with respect to frequent updating. For instance, updating the physical learner guides developed for classroom training is both times taking and also costs high. Thus, traditional classroom training has little scope for continuous learning.
Adopting eLearning to impart corporate training serves as an effective solution for this challenge. Not only is it easy, quick, and cost-effective to update the eLearning training content using eLearning authoring tools, but it is also possible to deliver content in small, individual bursts to make just-in-time learning possible.
This format, known as microlearning, is among the top preferred formats of eLearning. Delivering corporate training via microlearning reinforces continuous learning and also helps diminish the forgetting curve – because the content is readily available.
Challenge 3: Inefficiency of the One Size Fits All Approach
It is important to understand that leadership training is not just for senior management. Employees, at all levels, need to be trained for acquiring leadership qualities so they can have a better career progression. Thus, each level requires a different training approach/ strategy. This can be a costly affair when the training modules are developed to be delivered in the traditional classroom training environment.
But by taking the eLearning route, it is possible to create a dedicated learning & performance ecosystem to offer the corporate leadership training program to accommodate different levels. Additionally, microlearning and gamification can be added to make the learning experience more engaging and enjoyable.
Parting Thoughts
Along with the challenges of traditional classroom training are the dynamic learning preferences of the modern-day workforce. Considering these, training managers and L&D professionals are on a constant lookout for ways to make corporate leadership training more engaging and keep the learners hooked on the learning being imparted. eLearning serves as an apt solution that addresses all these requirements.
But before jumpstarting your eLearning initiatives, you need to know more about eLearning, implementation tips and ideas, practical insights, and everything else revolving around eLearning. This eBook will help you with all that.