How to Ensure Successful Conversion of ILT Material to VILT
Converting classroom training to virtual instructor-led training requires strategic actions. Here's a blog that will walk you through 8 amazing tips that will help you to get the best results.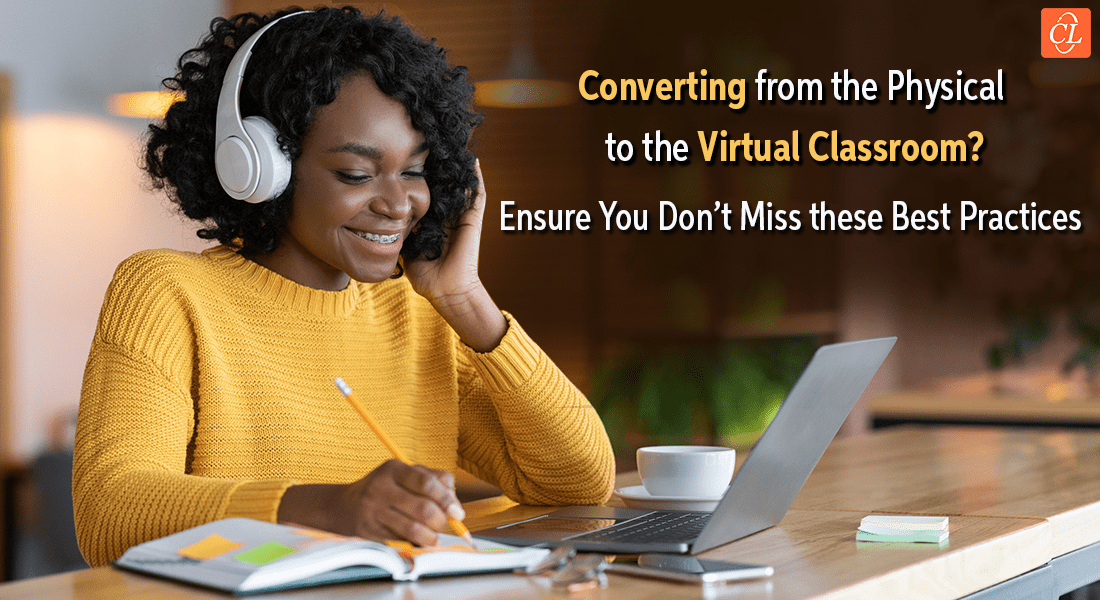 Virtual Instructor-Led Training (VILT) has been gaining more traction given its efficiency and several organizations are trying to incorporate it. Online training has been a blessing in disguise and the pandemic restrictions pushed corporations to incorporate them in their learning and development programs.
How to Successfully Convert ILT Material to VILT?
Here are a few tips:
Consider the Work Engagement
Digitize and Optimize Training Content
Break Longer Sessions into Smaller Videos
Arrange Necessary Materials or Tech for Training
Continue to read to know about the other tips…
The problem is that few had the time to study how different online learning is compared to VILT. Going through a PowerPoint presentation on a Zoom call is not what online training is meant to be and following this pattern will not achieve results.
This blog will explain how you can effectively transition from classroom training to Virtual Instructor-Led Training and provide additional tips.
8 Tips for Converting Classroom Training to VILT
Classroom training has been the standard for learning and most of it was Instructor-Led. While there are topics people can learn about on their own, a significant percentage require expert involvement for knowledge transfer.
The same rule applies to VILT, but there are differences in their structure. Getting accustomed to the differences is the key to achieving your training goals. Hence, the following are the primary factors you need to consider during the transformation process:
1. Consider the Work Arrangement
This concern would have been less valid before the pandemic, but it is now a major consideration. You need to think about the organizational framework before thinking of ways to convert classroom training to VILT.
Hybrid work environments have become more common, so it is likely for some team members to be working remotely each day. Hence, your arrangements will need to accommodate the combined setup to ensure everyone gets an equal opportunity.
2. Digitize and Optimize Training Content
As mentioned above, you cannot use the same content that worked (to some extent) for classroom training. The lessons will need to be optimized for people's attention spans and work around the general limitations. They also need to be mobile adaptive to ensure people can view them on their phones since most of the people use them to access the internet.
3. Break Longer Sessions into Smaller Modules
Lengthy traditional classroom training sessions may have been the norm, but the system has progressed beyond it. Online learning needs to work with people with constraints and provide smaller sessions. For example, break your 30–40-hour lessons into much smaller formats and see how that works for them.
You will see a noticeable change in their knowledge retention and assessment performance and help them grow.
4. Arrange Necessary Materials or Tech for Training
Material and core arrangements are critical for VILT success, and you'll need to ensure everyone has all the items like workbooks, guides, or tools they need for the training session. As a simple policy, check connectivity and hardware status for all employees participating before making any announcements.
Arrange for reliable internet services, laptop, or PC, and confirm if all have a space required to maintain concentration during training. These traits and aspects are central to the effectiveness of the plan.
5. Inform and Train the Trainers
Trainers will need to adjust their training content, formats, and delivery to keep up with VILT needs. Therefore, prioritize informing them about your decision to transform the training process. The entire exercise is incomplete without training the people who will be responsible for training your team. So, it is always better to give trainers access and have dry runs of the platform. This will help them get accustomed to the new platform and streamline things.
The better trained they are, the less likely they are to become flustered when presented with new questions about the format. You may even need to work with new trainers or arrange for current ones to take a session to understand VILT more.
6. Get the Learners on Board
Simply informing learners isn't enough – they need to be on board for the transition to be successful. Hence, let them know and organize dry runs with the trainers to help them get accustomed to the new format.
Also, encourage them to ask questions and take away as much knowledge as possible. Of course, it will take some time before they become more comfortable with the new format, so use it to optimize it more.
7. Try Collaborative Learning
Face-to-face conversations are no longer necessary for collaborative learning. All thanks to the constantly developing technologies, which radically transformed the concept of collaboration by using online collaboration tools.
Selecting the appropriate tool is crucial for a successful collaborative learning experience. These resources can be used either before or after training sessions, such as in virtual instructor-led courses. Here are 4 well-known tools that can be used to promote group learning at work.
Whiteboards
Breakout rooms
Chat boxes
Polls
8. Outsource Some Functions
VILT is a tough program and has several functions to ensure it works smoothly. However, it can be challenging for you to manage everything alone, which is why it is better to outsource some of the work to third parties.
Outsourcing you VILT is the solution to all your issues, regardless of whether you have limited budgets, restricted training schedules, a lack of internal eLearning development and design experience, or overworked personnel. Here are a few perks of getting your VILT materials outsourced:
Reduces Cost
Improves knowledge transfer
Encourages more participation
Retains the top performers
More Tips for Facilitating VILT Transition
The above-mentioned tips are the most relevant and prominent tips for transforming to VILT, and they need to be your priority. But the following tips can further improve the experience and boost results for employee growth and development.
1. Don't Convert Training into a Boring Digital PPT
There is no justification for ever assuming that is how online sessions ought to operate. Even if you were successful in garnering a positive response to it during classroom training, it will be at most lukewarm when you provide it online. To prevent learners from losing interest in the presentation, create engaging PowerPoint presentations with interactive sessions like polls, Q&A, videos, etc. These activities encourage active participation from the learner throughout the entire session by catching their attention.
2. Restrict Number of Learners per Session
There is no need to have a 50–75-person classroom just because online training makes it possible. No trainer can effectively address that many people when they are trying to explain concepts; hence, it is better to keep fewer learners per session.
You can also choose to have a combination of remote and onsite learners in each session to help them adjust to the hybrid work environment.
3. Consider Optimal Virtual Activities
Audience engagement requires diverse tactics and leveraging virtual activities can help you achieve your goals. You can divide them into groups for exercises, run interactive videos, or gamify part of the session. These activities are welcome, and they make the experience fun and memorable.
Wrapping Up
In a nutshell, converting the classroom to VILT requires keeping the trainers and learners on board. You will also need to make content adjustments and ensure the sessions don't last too long to boost effectiveness. Keep these factors in check and find fun and interactive ways to convey the lesson to the employees to maximize their learning. Do you intend to incorporate VILT into your training plan? Grab our eBook to learn few tips on VILT.