4 Step Plan for a Smooth Classroom Material to eLearning Course Conversion
In order to upskill their employees, many organizations are looking to convert their traditional classroom materials into eLearning materials. Here is a contemporary guide to help you get started with this process if you are new to it.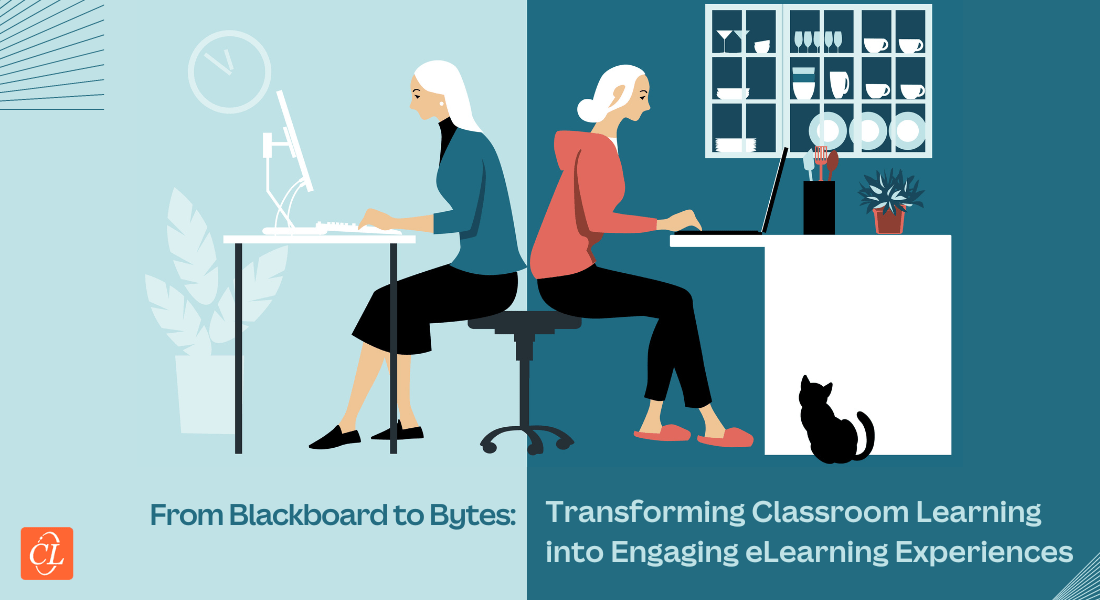 ELearning is frequently used by organizations to offer ongoing employee training. Learners can learn at their own pace while saving a ton of time and money with eLearning. In order to reach a wider audience and provide their employees with better training, many organizations decide to convert their classroom training materials to eLearning. A great instructor not only engages learners in a traditional classroom but also keeps the learners interested in a digital classroom also.
It involves switching from instructor-led programs to self-paced online courses when converting classroom training to eLearning courses. Organizations can get past a number of challenges, such as overbooked tasks, and increased costs, by eliminating the instructor from the learning process.
How to Convert Classroom Material to an eLearning Course?
Here are the 4 steps for a smooth conversion:
Fill the Learning Gaps
Choose an Appropriate ID Strategy
Include Assessments for Knowledge Checks
Review the Learning Objectives
What is Classroom Training?
The most conventional type of training is instructor-led training, also known as classroom instruction. An instructor leads the course in a physical classroom.
What is Digital Training?
Technology is used to facilitate digital learning. Because it is self-paced, students have the flexibility to learn whenever they want, from anywhere, using any device.
Conversion of Classroom Training to eLearning
The world in which we live has gone more digital. The conventional training methodology has changed to focus more on digital learning through a variety of formats, including microlearning modules, VILT, video-based learning, etc. Organizations have observed a positive change in how they previously conducted classroom training as a result of the many benefits of digital learning. Digital learning now has advantages for both learners and organizations. Instead of using a blackboard and white chalk for traditional classroom instruction, digital learning programs are more practical, flexible, and learner-centric.
Continue reading to know about the steps and process to convert classroom training to eLearning and also some key benefits of the classroom-to-eLearning conversion.
4 Steps to Convert Traditional Classroom Training to eLearning
1. Fill the Learning Gaps
One such task that needs to be taken on and finished by you is content. Content should only be created by you, whether you are internally converting your classroom training or sending it to outside vendors. The primary source of information is without a doubt the classroom training materials. Your SMEs can assist you because they are subject-matter experts. SMEs are in charge of producing content, so it is their responsibility to analyze the pertinent data and replace any outdated information with the most up-to-date information and trends.
The ILT materials typically have a lot of text and extraneous information, so not everything can be used in the eLearning courses. As a result, the content for the eLearning courses must be chunked. Only pertinent and simple-to-understand content should be included in eLearning courses. It is the responsibility of the instructional designers to convert classroom content for eLearning.
2. Choose an Appropriate ID Strategy
A high-level strategy used to train a particular topic is called an instructional design strategy. Therefore, when converting classroom material to eLearning, it is crucial that you select a suitable strategy to deliver training that is effective, efficient, and engaging enough to compensate for the absence of an instructor.
Here are a few strategies that can be used to create engaging eLearning courses, take a look at them.
Create Scenarios to Replace Role Plays
In role-play, learners are put into a problem-solving situation, given a role to play, and asked to solve it. Learning through scenarios is better than role plays, which cannot always be done through eLearning. Engaging, problem-based scenarios are presented in scenario-based eLearning to encourage active learning. To solve an issue, learners must analyze the situation and apply their knowledge. Through scenarios, learners are given an idea of their actual learning environment and the challenges they might encounter while performing their job duties.
Use Guided Learning to Replace Physical Instructor
You can use avatars and characters that provide guided learning to take the place of physical instructors by guiding learners through various learning points in eLearning courses. By using guided learning, you can give learners the familiarity of a classroom instructor. By assuring learners that they have a personal trainer to help them, guided learning gives learners a little bit of a personal touch. These characters or avatars might give an introduction at the beginning of the course before reappearing at different crucial points to give feedback or a summary.
3. Include Assessments for Knowledge Checks
Without conducting sufficient knowledge checks, we can never tell if the learners retained the information from the course or if they can use it in their jobs. During training sessions, the instructor may ask learners questions, administer pop quizzes, or assign exams that call for paper and pencil. On the other hand, eLearning assessments are meticulously tracked, examined, and reported through a learning management system (LMS). In fact, learning analytics are used to track every improvement that learners make throughout their training journey.
4. Review the Learning Objectives
All effective online training is built on learning objectives. They are precise, measurable claims serving a dual purpose:
They serve as the axis around which all elements of an eLearning course revolve because they are in line with the business goals.
They let learners know what they can expect at the end of the course.
Although they do have a lesson plan and objectives, instructors in a classroom setting run the risk of getting side-tracked and covering a lot of information that is neither necessary nor nice to know. But eLearning is not given this luxury.
Final Note
Converting classroom instruction to online learning is one of the primary strategies used in corporate training programs. Organizations looking to cut costs, free up time, and avoid the logistical difficulties of conventional classroom training will find this approach to be natural and practical. Therefore, if you want to maximize your ROI and training outcomes, now is the right time to transform and digitalize your training courses.