How to Design Effective Blended Learning Models?
Blended learning is a strategy to get the best of both worlds, the supervision of classroom instruction and the flexibility of online learning. Do you want to learn how to build spectacular blended learning models? Read our blog to find out more!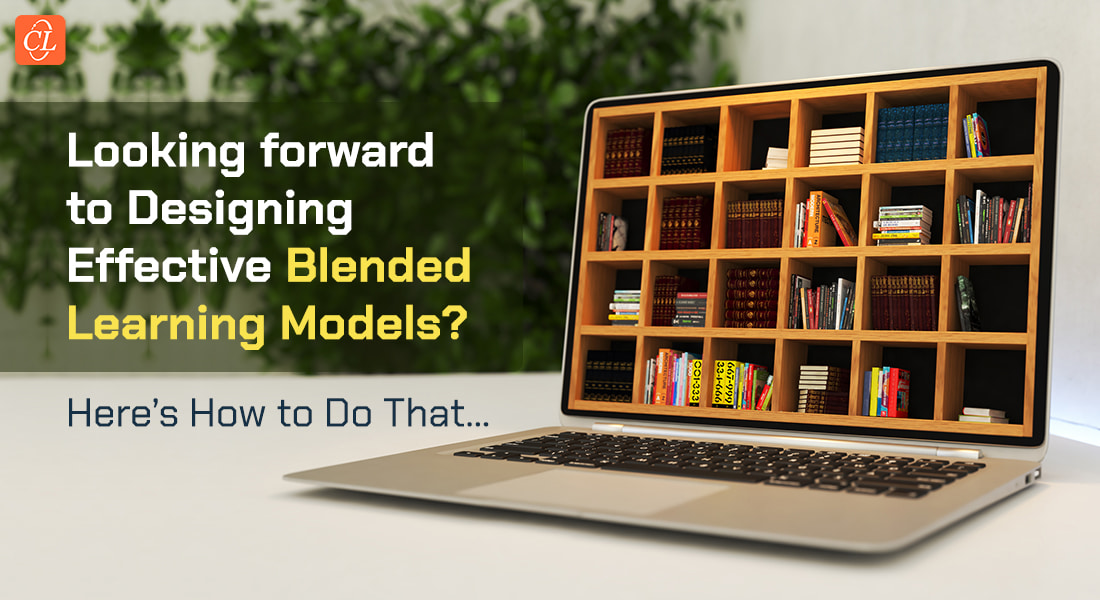 Blended learning is everywhere – from professional settings to personal learning experiences. In fact, even researching online to troubleshoot your laptop is a blended learning experience.
In modern workspaces, blended learning has become the new norm, owing to its flexibility. It allows learners to be more in charge of their learning experiences while also not being completely independent of their organization.
Do you want to build an effective blended learning model for your organization's learning and development team? Let's look at how you can do that in this blog!
Blended Learning Models Help Both Learners and Organizations.
Here are some benefits of blended learning:
Learning flexibility
Reinforced retention
Safer learning spaces
Controlled pace of learning
Cost saving
Modular and scalable
What is Blended Learning?
Blended learning is a strategy that uses multiple formats and delivery methods to address various phases of learning. It allows learners to get the most out of their learning experience and walk out off the course with enhanced retention.
Blended learning is a multi-modal approach. It recognizes the different needs of learners at various levels and offers instruction based on the best tools and media.
For example, when you're learning how to code, you need pre-education through texts as well as instructor-led examples and demonstrations of skills, followed by learning how to use tools that help you hold on to and practice those skills.
Blended learning is a results-oriented training model. It recognizes that an individual's performance impacts the entire organization's performance, and it approaches training accordingly.
Why do we Need Blended Learning Solutions?
Blended learning involves mixing traditional classroom instruction formats with eLearning tools and it's the best way to get the best of both the online and offline worlds and leverage them to create the optimum level of benefits for your organization. With blended learning, not only do you get to supervise your learners, but they also get the chance to venture out on their own. Here are some other reasons for blended learning to work:
1. Learning Flexibility
Employees benefit from choosing when they want to learn. Trainers can use modern communication technologies to deliver training material to their corporate trainees. In person, they can discuss key topics, clarify many doubts, and provide further training material, such as videos, PDFs, and online links. Learners get the chance to explore both classroom and online material at their own pace.
2. Different Modalities Reinforce Retention
Recent studies show that mixing activities with passive classroom learning improves retention. You can include the "human" aspect of the brick-and-mortar classroom with tools such as threaded conversations and teleconferencing.
Multi-modal delivery closes any information gaps when you use more than one mode of instruction. For instance, you could leverage simulations for hands-on experience, scenario-based learning to enhance critical thinking, virtual instructor-led training for collaborative learning, and decision-making.
3. Learners Can Control Their Pace
Blended learning allows learners to control the pace of their learning. They can find the suitable information they need at their convenience. However, blended learning also provides the warmth of human connection, allowing learners to communicate with an SME (subject matter expert) not only to resolve their problems but also to seek inspiration.
4. Money-Saving
Blended learning saves at least half the expense of traditional learning with a one-time investment cost of setting up. Corporates can also save on the cost of hiring personnel, booking a venue, collaborating with an SME, and the cost of managing logistics. You can develop different formats, such as eLearning and microlearning just once and then use them for exponential batches in the future. Blended learning saves time, enhances utility, and provides cost-effectiveness.
5. Modular and scalable
Blended learning is effective for large businesses as it's modular and scalable. When you set up and participate in traditional corporate training programs it takes a lot of your time, so it's not a cost-effective strategy at the individual level. Blended learning saves massively on cost when you increase scale. Virtual learning methods have the scope to incorporate more learners
6. Consistency
Blended learning courses don't require instructors, but they depend on learners and their courses. Therefore, through standardized blended learning courses, you can develop consistency for your geographically dispersed learners.
How to Create a Perfect Blended Learning Solution?
Considering the information and complexity they're built with, blended learning models are not easy to build, However, here are a few points to consider when you go for a blended learning model.
Training Needs Analysis: Trainers know what works and doesn't work in the classroom. The purpose of blended learning is to figure out what doesn't work and find the best solutions for it online.
Analysis of the Learning Environment: You need to understand where and when your learners would undertake training.
Content Analysis: You must analyze the content to select the right modality to impart your training program.
Let's understand the steps you should take when building a blended learning program.
1. Define Learning Outcomes
You cannot build a course if you're not aware of what you want out of it. Ask yourself the following questions to get started:
What skills do I wish to impart to my learners?
What information do I wish to include in my course?
What instructional design tools do I need to use to deliver my content?
When you have explored the answers to these questions, they would serve as a roadmap to designing your blended learning.
2. Create an Outline
You need to build an outline of your course not only to help you to follow a roadmap, but to help your learners understand their courses' learning goals.
At this stage, it's important to segregate content and modes of instruction. You need to determine the content that's required for eLearning and what's best for classroom learning. You also need to put in place the content you want to impart through microlearning, eLearning, ILT, as well as other modes of blended learning.
3. Design Interactivities
Other than just segregating the content, you also need to determine the level of interactivities in your blended learning strategy. Does your course require the intervention of SMEs, or does it need more instruction on concepts?
You need to determine the tools you would use to add interactivities to the course, and you need to examine how much of it you want. This is especially important considering that you'd be paying your instructors according to the time they devote to your learners throughout the course.
4. Integrate Collaborative Activities and Communication
You can integrate engaging group activities such as chat boxes, live polls, and discussion forums to enable your learners to interact with one another. This way, even if your learners access training from a remote location, they get to discuss their problems, doubts, and opinions with their peers.
You can also facilitate communication with experts and instructors through fixed time slots or dedicated emails. Doing this is beneficial both for instructors and learners because both parties get to prefix a time and learners can prepare their doubts and SMEs can set their schedules accordingly.
5. Prepare an Assessment Plan
As learners undertake blended learning programs mostly from remote locations, it's important to create a few strict assessments. Otherwise, learners might:
Not recognize their learning gaps
Have poor retention
Not apply the information and skills to solve real-world problems
Drop out
Here are a few assessment plans that work:
Tests
You must conduct quick tests and quizzes after every module to keep your learners engaged throughout the course.
Debates
Not only do learners bridge their learning gaps and discuss ideas when they participate in debates, but instructors also assess their learners this way.
One-on-one Interactions
Learners and SMEs have one-on-one interactive sessions that allow learners to ask questions during the course.
Summing Up
Blended learning is the best way to improve learner flexibility, interaction, retention, and adaptability. It also saves your resources and adds scalability to your organization for employees to become results-oriented and for your company to gain better outcomes in the future.
So, do you want to learn how to boost employee performance with blended learning models? Get your copy of this eBook to gain insights into the fine details!