How to Implement Blended Learning for Corporate Training and Why is It Important?
Blended learning is an eLearning strategy that combines traditional classroom and online training to maximize engagement among employees. This blog emphasizes the importance of blended learning and why is this strategy important for corporate training.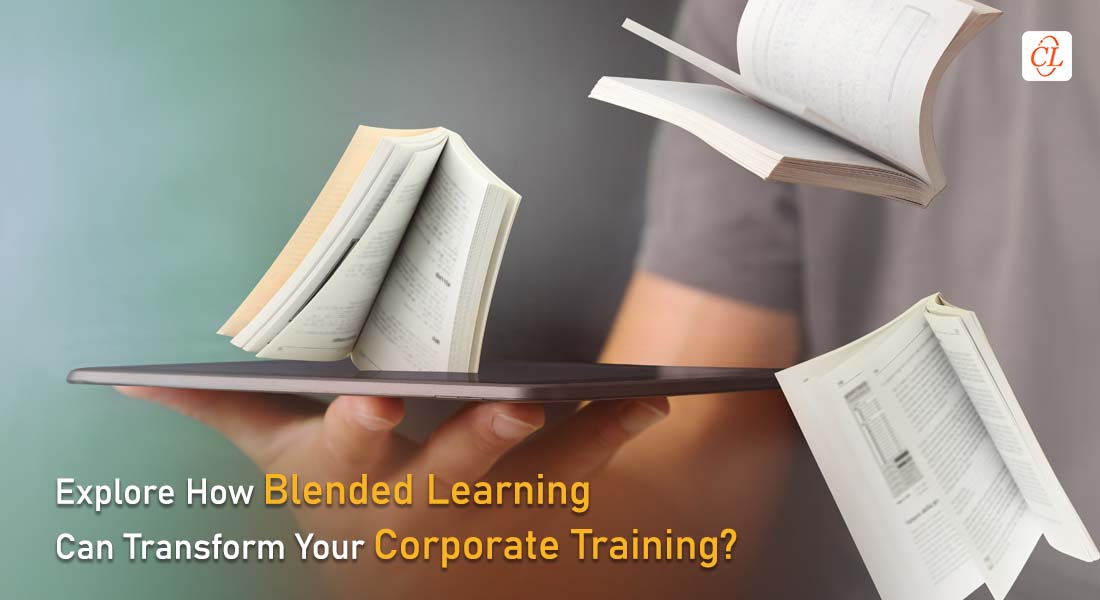 Digital transformations have taken over the world like a storm. The traditional training methods feel outdated at this point as they no longer engage the current workforce. To solve this issue, the idea of blended learning was brought into consideration. As the name suggests, blended learning is the personalized mix and match of traditional strategies and modern strategies to meet the learner's requirements while keeping them engaged.
Wondering How to Implement Blended Learning in Your Organization?
Here are a few ways to assist you:
Include balanced distribution of online and offline training.
Ensure the learning program is modular and flexible
Involve your existing employees as mentors.
Scroll down to understand why blended learning is important for corporate training.
The first step in implementing blended learning within an organization is to identify your goals and the needs of your learners. Next, you need to create a plan outlining how you will integrate digital content into your curriculum. Then you can choose from a wide variety of platforms on which to deliver content and assign tasks. Finally, you must determine how often you want everyone to work on their assignments. Here I have shared my suggestions on how to implement blended learning for corporate training and why it is important to do so.
Implementation of Blended Learning for Corporate Training
Blended learning is an instructional strategy that combines the use of digital content with traditional training methods such as workshops, team activities, and field trips. Blended learning can provide a lot of crucial benefits to both the employee and the organization. It is a cost-effective way to provide learners with relevant content and instructions in one place more efficiently than conventional methods. There are many benefits to blended learning like increased engagement, improved performance, increased productivity, and lower costs.
Blended learning also helps the employee to understand their weaknesses and strengths and work on them separately to be efficient workers for the company. Here are a few ways to implement blended learning for corporate training.
1. Introduction before arrival
Companies usually wait for the employee's first day at the office to assign them any information. That's an outdated practice, instead, provide them with all the relevant and required information such as their onboarding schedule, their mentor's contact details, a brief description of their colleagues, role objectives, and desired expectations from the employee. These guidelines or information can be shared through an automated ppt along with an introduction message. This process helps the employee gain a better knowledge of their work before the first day at the office.
2. A balanced distribution of online and offline training
To make sure an employee is comfortable and efficient at a workplace; a balanced online and offline mentorship is required. The core topic can be explained by the trainer in a classroom and the additional 'nice to know' content can be shared with the learners in various online formats like eLearning courses or microlearning assets like interactive PDFs or short videos.
3. Make sure the learning program is modular and flexible
Whenever an employee is hired, provide them a mix of relevant e-learning videos, audios, online scenarios, face-to-face seminars, games, and microlearning formats to ensure efficient and interactive learning. In this way, an employee can access all the learning materials whenever they want and each topic will be divided into several sub-topics to ensure a modular approach for their corporate training.
4. Involvement of current and senior employees
For an employee to attain the best expertise regarding the company's procedure at the earliest, a senior or a mentor is the best choice to ask for. A senior can host a podcast for remote employees and a meetup for on-site employees where they can accommodate effective blended learning by sharing their experiences, insights, and tips to understand the company better. This practice would help the employees build better relationships with each other.
5. Ask for feedback from new employees
When any task is completed, ask the employees to submit their feedback regarding the whole process and share their experience. Primary feedback can be shared through an individual survey. Companies can also host either collective polls or individual quizzes that will make sure the shared resources and the learning curriculum are productive or not.
Why Blended Learning is Important for Corporate Training?
1. Supports an organization in increasing productivity at a lesser cost
Instead of creating a separate course for every department and training them accordingly, an organization can use premade templates, edit and reuse them as per the role of a department, making it easier to distribute a large number of learning materials within a certain pre-assigned budget while providing a greater ROI.
2. Works best with the procedure of employee onboarding
While hiring an employee, the organization ensures to make them comfortable with their work ethics, and the corresponding work environment. The process of letting the employee get a hold of their company values would eventually result in long-term retention of employees for the company. The onboarding practices have a direct impact on the flow of work. Here are five stages of professional employee onboarding:
Pre-Onboarding
Initial-Onboarding
Team-focused Training
Growth, Mentoring, and the Initial Performance
Ongoing Employee Development
Employee Onboarding is an extremely significant process for new hires and the organization. The employee onboarding process needs to include everything from explaining benefits and processes to engaging with social media profiles, and much more.
3. Creates a full fletched long-term strategy that is consistent
When an organization opts for a blended learning approach for corporate training, it serves them with a lot of positive results, thus making the approach consistent for the long term. Once a strategy starts showing results in favor of an organization, they tend to adapt it for years unless the whole META( Most effective technique available) is changed. Concepts like microlearning and gamification are a crucial part of this long-term blended learning strategy for training employees.
4. Assist the company to track an employee's progress effectively
While providing multiple courses through different mediums, a company keeps the track of the overall progress an employee makes over time. A monthly or quarterly report mentioning the weaknesses and strengths of employees can help the company to assess the progress effectively. This data helps the company to understand the pace at which the individual approaches their course, and what medium would be most effective to provide further mentorship. For example, some employees finish the video tutorials within a week to understand a tool while other employees would prefer a gamified course for the same tool.
5. Helps an organization retain its employees for the long term
When an effective blended learning program is supported by an organization, it helps the employees to mark their growth as well. A blended learning approach will help the employees learn and understand several tools and software a company uses, engagingly. Companies can follow a data-driven approach to mark the periodic retention of their employees. Employees tend to choose a productive approach for their own development, as well as the development of the company if they are comfortable with the working ways. Blended learning can provide a productive environment for the employees where they can constantly nurture their learning and development, eventually retaining for a longer period.
Bringing it All Together!
An effective blended learning approach for employee training can do wonders for a company if carried out correctly without any misconceptions. The whole training system has shifted its focus from a theoretical approach to a mixture of both theory and practical expertise with more emphasis on the practical understanding of concepts.
Blended learning still has a lot of unexplored potential that can impact the corporate training environment positively. This untapped potential can bring out the best of both online and offline worlds to create an immensely personalized and flexible blend of courses for individual upliftment of employees and collective scalability for organizations.
The blended learning approach makes it a win/win situation for both, the employees and the company. The overall procedure helps the company to stay productive for a long period.
When we talk about productivity, it directly relates to time efficiency. To develop an efficient and productive blended learning course that can boost your employee performance and accelerates time to proficiency, get your hands on our free eBook.