Designing a Blended Learning Framework
Blended learning leverages the benefits of classroom and online learning. Register for this live webinar to get started with designing blended learning.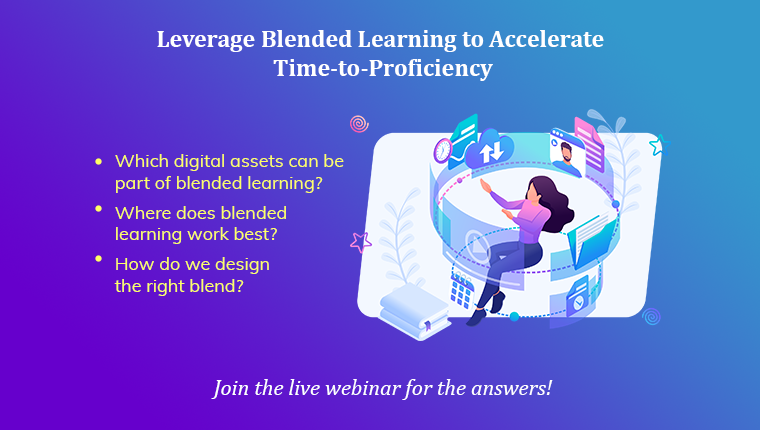 Are you looking to reduce the time employees spend away from work, in training? Do you want to initiate online learning in your organization? This is where blended learning will help you.
Blended learning combines the goodness of different instructional approaches – traditional classroom + online training – making training impactful and a lot more effective. It overcomes the drawbacks of each approach by combining it with others. It improves learning effectiveness and optimizes your training resources and time.
However, often organizations face many apprehensions getting started with blended learning:
When does it work best?
Which part of the training should be imparted through the classroom and which part should go online?
What digital assets can be part of the blend?
What are the essentials to create a perfect blended solution?
We are answering these questions and more in our free webinar 'Blended Learning To Accelerate Time To Proficiency – A Quick-Fix For Design Apprehensions'. Join us on November 13, 10:00 AM EDT | 4:00 PM CEST and gain practical insights on the why, how, and when of blended learning. Know what ingredients are required for the right blend.
We will also help you identify the right blend for your employees' tasks using a simple, yet effective template. Here's a sneak peek of what this webinar can help you with. Implementing blended learning in your organization will accelerate your employees' time-to-proficiency and give you exceptionally outstanding results in the long run.
REGISTER for the FREE WEBINAR today! Click here: https://resources.commlabindia.com/webinar/blended-learning