Find E-learning Disappointing? 7 Tips to Make It Better
This blog highlights seven reasons e-learning could disappoint and provides remedies to overcome them.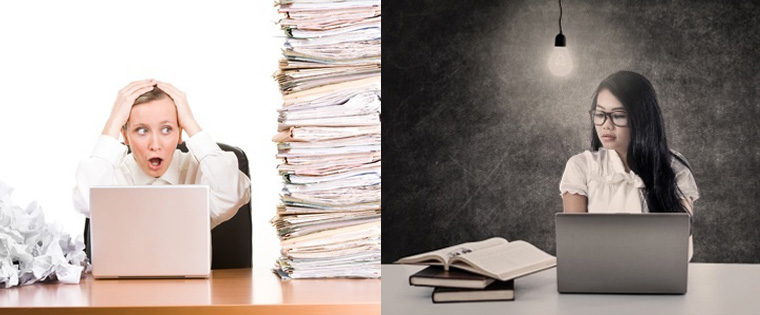 'Oh no! I don't want to take that boring e-learning, please excuse me.' Do you identify yourself with this reaction?
Some feel e-learning may not meet their expectations for various reasons. They just choose it as a cost-effective option. Probably they may have had some bitter experiences with improperly designed e-learning courses.
Many training managers complain that e-learning is boring and disappointing. They say online courses are just slides with bulleted lists and some interactive elements to avoid looking like a basic PowerPoint (PPT). That can be true to some extent, as the roots of e-learning are in PPT.
Yeah! I agree, engaging learners through e-learning is difficult. But, it's not impossible. Presenting information the same way throughout the e-learning course is monotonous. Instead, presenting the learning through examples, scenarios, weaving a story around the learning points, having video clips, knowledge checks, surveys, and more makes sense. This brings in a lot of variety to your e-learning and makes learning stick.
This blog highlights seven reasons e-learning could disappoint and provides remedies to overcome them. Come! Let's go through them right away!
1. Too lengthy
E-learning courses that steal much of your learners' time can certainly make them boring. You may have much learning content with you, but, that doesn't mean you should say it all at once. Have some restraint. Too many learning points in an e-learning course will increase the cognitive burden on your learners.
Solution: You can prepare a curriculum with small courses, which makes the lives of learners much easy. Confine the learning points in each module to below five.
2. Not available on the device of choice
The trend of Bring Your Own Device (BYOD) is increasing in the corporate world. If your e-learning courses won't work seamlessly on all devices, learners may get irritated.
Solution: Providing courses in HTML5 format and developing them in responsive design can solve the issue. Latest technological developments in rapid authoring tools have made this possible. Now you have many authoring tools in the market that provide HTML5 output.
3. Learning pace is too fast/slow
Not all learners are the same and learn at the same pace. Learning styles also vary from person to person. Some are visual learners, some are auditory, and some others are kinesthetic learners.
Solution: When your e-learning meets the requirements of all types of learners, it is bound to be appreciated. Some learn fast, some slow. Your e-learning pace should be moderate to cater to both sections. To cater to all learning styles, your e-learning should strike a balance between visuals, audio, and activities.
4. No part to play
Some poorly designed e-learning courses are filled with heavy text on the screen and just provide 'Previous', and 'Next' buttons. No interactivities, no scope to think, all these make learners mere spectators and push them into hibernation.
Solution: Allowing learners participate actively can make your e-learning more interesting. Adding interactive elements wherever needed can change the situation. Incorporating formative assessments after each unit will allow learners to participate in the learning activity. Click on tabs, Click on numbers, click on folders, drag and drop, and matching exercises will keep learners engrossed throughout the web-based learning.
5. Lengthy lists of procedures or regulations
This can happen mostly in compliance training courses, but is not confined to them. It can happen even in subject or knowledge-driven courses. Presenting principles or a set of rules as it is may not facilitate learning at all times.
Solution: You can make them interesting using scenarios, games, storytelling, and other strategies. Creating scenarios will help learners understand the use of the principles, rules, and regulations in real work-life situations.
6. Technical glitches
Some learners are put off by slow loading courses, or some parts of the course with embedded videos, browser incompatibility, and other technical issues.
Solution: Providing proper technical support, testing the developed e-learning course before deploying on the LMS, providing enough Internet bandwidth, and resolving issues as soon as possible when they crop up can solve the issue.
7. Not being able to relate with the course
Some learners feel the e-learning content offered is not relevant to their learning needs. Most catalog courses give that feeling.
Solution: Custom e-learning can solve that issue. Developing e-learning considering the target audience and framing precise learning objectives will be promising.
The audience of e-learning gets bored easily if they don't know why they need to learn and how it's applicable to their work-life situations. If that is taken care of and the learning points presented through relevant instructional strategies, it will gain the attention of your learners. So, take these cues and make your learners' jobs and lives easy.