Blended Learning to Train Sales Reps on Pharmaceutical Products
Find out how good product training can be imparted to the sales staff of pharmaceutical companies.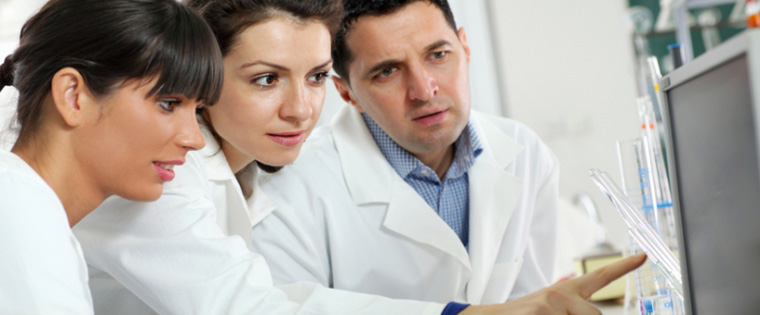 The job of a pharmaceutical salesperson is difficult. He must convince physicians, who have more knowledge about medicines than himself, to prescribe his products. How can a medical rep sell the benefits of his drug to doctors? He must be trained to be as knowledgeable as medical practitioners themselves.
Many drug-manufacturing organizations use a hybrid learning approach for training their sales reps on products. They make the best use of the classroom and online training methodologies for imparting the required knowledge and skills needed to explain the benefits of their medicines in a convincing manner. Today, we will see how to formulate an effective blend of learning formats to impart comprehensive product training to pharmaceutical sales reps.
Blend instructor-led and online learning sessions to deliver good training on human anatomy and physiology
A good understanding of anatomy and physiology helps medical reps explain the impact of their product on the human body effectively. Most pharmaceutical companies conduct instructor-led training (ILT) sessions to educate their sales reps on the fundamentals of anatomy and physiology. These training sessions are usually held by physicians.
This training can be supplemented by online courses containing animations, and videos. Several companies hire people who do not have an educational background in life sciences as medical reps, and these courses provide a basic knowledge of the human body and its functioning before they attend the trainer-led sessions.
You can also use the online format to reinforce knowledge of the human body, gained in the ILT sessions. Microlearning modules, which can be accessed on smartphones and tablets in a hassle-free manner, can be used as ready-reckoners.
Impart knowledge of ailments through workshops and online learning modules
Salespersons of pharmaceutical companies must be trained on the causes and symptoms of diseases that their products are intended for. This training can be delivered through a hybrid learning program. Workshops can be used to explain the causes of the ailment, its impact on the human body, and the results of research performed on the disease.
The web-based learning method is very useful to complement this training. Graphic-rich technology-enabled learning resources can be used to explain the effects of ailments with a high degree of efficacy.
Deliver training on medicines using a blend of workshops and e-learning
The sales reps of pharmaceutical companies must be trained comprehensively on how their products work, their impact on the human body, and any side-effects that may arise from their usage. This training program is usually held by pharmaceutical experts in intensive workshops.
You can use the technology-enabled learning medium to support the training provided in the workshops. In most cases, sales reps of drug manufacturing firms find it hard to retain the complete information presented in the workshops. E-learning modules help reinforce the learning effectively. For instance, we developed an interactive web-based learning material that explains the impact of Aprovel and Bisphosphonates to complement the training in an instructor-led environment.
Provide training to interact with physicians successfully through ILT and e-learning formats
It is a well-known fact that the ability of a pharmaceutical salesperson to sell his products depends on his skill to have effective interactions with physicians. Drug manufacturing organizations use a blend of classroom and online training methodologies for training their medical reps on holding good conversations with physicians. A senior sales trainer coaches reps on opening the conversation with the doctor, introducing the drug to him, promoting the medicine and the company, handling the physician's objections deftly, and concluding the conversation effectively.
Scenario-based e-learning resources can be utilized along with classroom sessions to enable the medical rep interact effectively with doctors. Given below is a screenshot of a training scenario from one of our courses, developed using Articulate Storyline.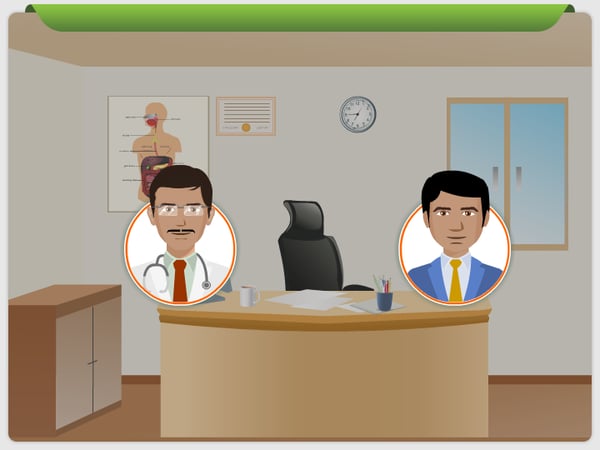 Go for bite-sized modules to reinforce learning
Mobile-compatible micro learning resources facilitate effective transfer of the product knowledge gained through a blend of instructor-led and online training sessions, by providing just-in-time support. Web-based learning nuggets can be used by pharmaceutical salespeople to answer the following questions instantly, in an effective manner.
How many doctors have prescribed your product till date?
Why should I prescribe your product, instead of the products of your competitors?
What is the composition of the drug?
When should the patient discontinue this medicine?
What are the side effects of using this medicine?
What is the recommended dosage for patients of different age groups?
These questions are frequently asked by doctors, and providing answers to them ensures reps are never caught off guard without an answer.
You can thus impart high quality product training to pharmaceutical sales force. How do you train your medical reps? We'd love to know.