5 Helpful Tips for Choosing the Perfect eLearning Translations Vendor
eLearning translations are essential when it comes to providing a global reach for your corporate training content. However, when it comes to choosing a vendor, there are many factors to consider. This article details the things to keep in mind while selecting a new eLearning translator.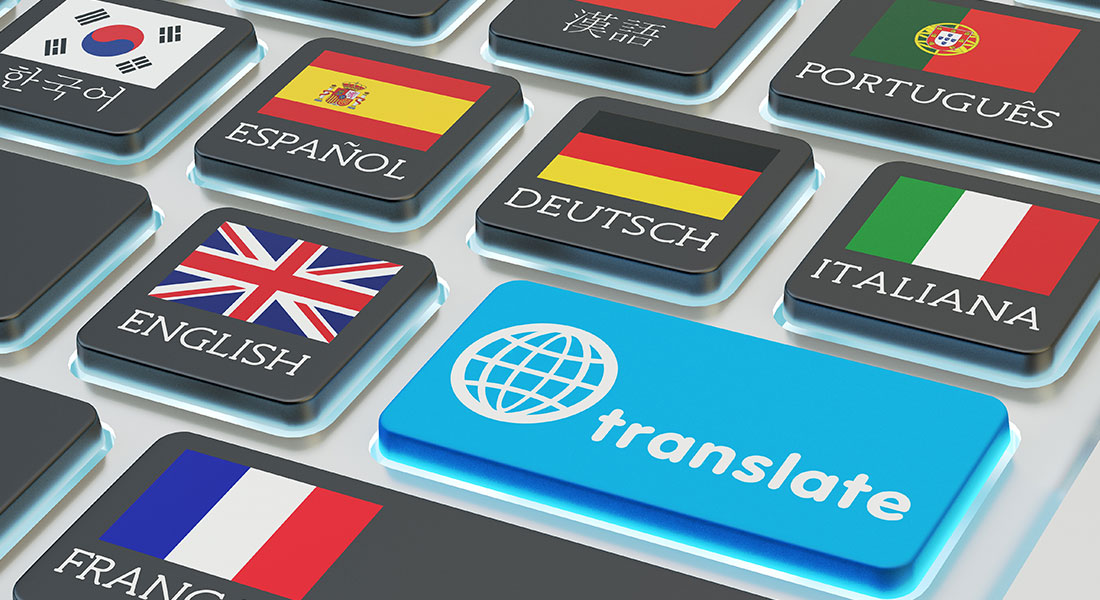 ELearning translations offer an opportunity for your training content to gain a wide reach, making them accessible for your employees across the world. While English is most used in corporate settings across the world, the presence of increasingly dispersed workforce has created a growing need for multi-lingual support in terms of training sessions.
However, your eLearning training courses need to be translated properly, which takes a little more effort than a simple Google translate and paste. These courses need to be translated in a manner that is contextually, culturally, and technically accurate. In this article, we will explore the five helpful tips that will ensure that you choose the best eLearning translation service provider for your specific needs.
Translating Your eLearning Courses is a Must-do to Ensure Your Global Workforce Gains Required Training Effectively
Important Things to Consider While Choosing an eLearning Translation Service Provider:
References & Reviews
Subject Matter Expertise
Customer Support

Localization Support
Why opt for eLearning Translations?
Translating eLearning courses is significant when an organization has a massive number of employees spread throughout the globe. These courses prove very beneficial for employees who do not have the organization's language as their first language. While translating an existing eLearning course may take a considerable chunk off your L&D budget, it displays excellent ROI. eLearning translations unlock access to a global audience and aids in removing any lingual barriers to make the courses work more efficiently. When people can access your courses in their native tongue, the chances of knowledge absorption and retention are increased manifold.
Watch the following video to learn about some of the new and exciting trends regarding eLearning translations:
How to Assess Your eLearning Translation Needs?
Numerous organizations across the world are slowly recognizing the importance of offering translated courses to cater to their diverse range of employee communities. One needs to recognize which geographies their employees reside in, what languages are they most comfortable in, what languages they perform their work in, and if translating the digital learning materials might prove to be beneficial for both employees and trainers.
Trainers need to analyze their training materials, such as project or product related files, training instructions, and platforms to see if they will be compatible for translation. Conducting sessions with subject matter experts will also help the training managers to effectively bridge the gap between universally accepted and understood formats. Once you have decided to go ahead with translation for your eLearning training materials, the following tips will come in handy.
What Things to Keep in Mind While Choosing an eLearning Translation Vendor?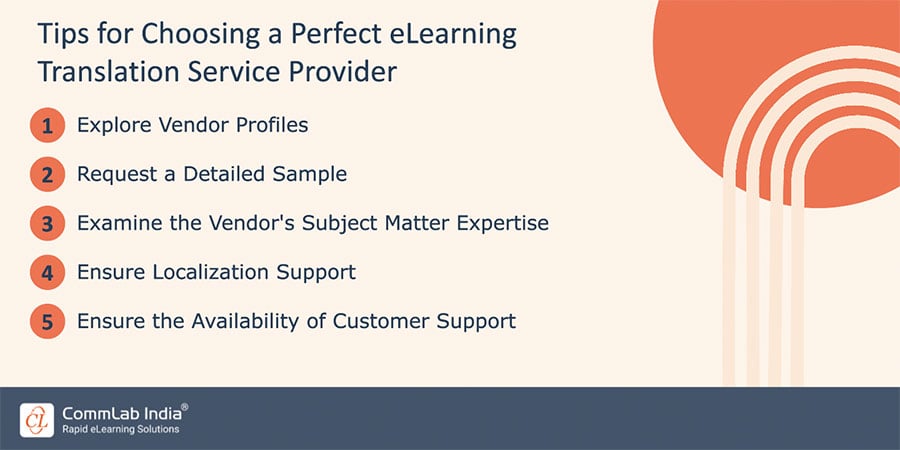 1. Explore Vendor Profiles
The first step in the process of choosing a perfect eLearning translation service provider while outsourcing is exploring various vendors. To get a good sense of their capabilities and expertise, you can check out their previous clients. It also might be a good idea to get references from shortlisted vendors and contact the previous clients to gauge their experience and assess the quality of the vendor's work based on these clients' experience. To enhance your fact-checking experience, it might be a good idea to get the client names from the vendor and do your own research to find the perfect person from the client's side to corroborate their experience with the vendor. Getting official contact from the client organization, instead of contacting the reference person whose details are provided by the vendor can ensure that the review is legitimate, and the client can speak freely.
2. Request a Detailed Sample
Asking for a detailed work sample will help you judge the quality of the vendor's work. It will assist you in ensuring that not only your chosen vendor/ the vendor you are considering will follow certain timeframes, uses proper workflow and quality assurance procedures, but also meets set timelines. Getting a free sample for your course might be difficult in case the course materials are lengthy and/or intensively technical.
However, after going through the first step and having shortlisted some vendors, you can easily opt for a paid sample translation. This will enable you to gauge whether they can effectively handle translation suiting your specific needs. It will offer you a deeper insight in terms of the vendor's speed and style, as well as their familiarity with the course material and subject matter. While almost all eLearning translation service providers will feature samples on their portfolio, getting one of your courses translated will be the best way to ensure that your chosen provider is familiar with your industry niche.
3. Examine the Vendor's Subject Matter Expertise
The best eLearning translation vendor for translating your courses would be the one with the relevant subject matter expertise. Vendors who employ translators with certain level of knowledge regarding your courses will have a better chance of offering translated materials that are precise, and use the best possible words/ phrases. A translator with a good grasp of the subject matter will ensure the usage of clear and concise terms. Alternatively, you can choose the best translator and pair them up with either the subject matter expert on your team or hire an external one to maintain the quality and authenticity of the course materials.
4. Ensure Localization Support
Apart from merely translating the content from one language to another, the courses need to be localized to offer a greater impact. Localization includes making suitable changes to the course materials to enhance their quality by including various local, cultural, and language-specific cues, words, and examples. Without proper localization, the translated course material may fail to achieve the expected result. To ensure this, you must choose eLearning translation vendors who work closely with native translators. This lends an increased authenticity to the translated content. Native translators can choose the best structure and translate not only words but also choose alternative examples and phrases that can elevate the quality of the material.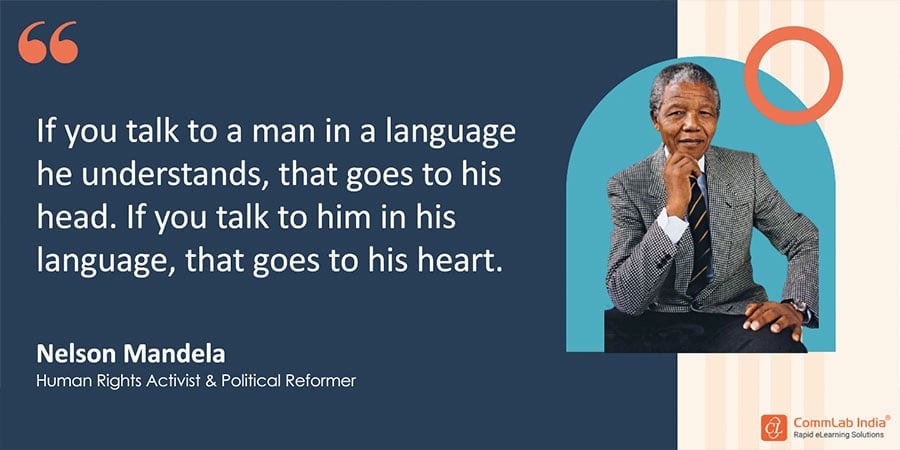 5. Ensure the Availability of Customer Support
Customer support is important when it comes to outsourced content. One key thing to consider while choosing an eLearning translation service provider is their customer support. Ensure that the vendor you have chosen offers 24×7 customer support in the language of your choice. Initially, you can try contacting them through various means, including call, chat, and email, to get an understanding of how alert and reachable they are by different means. Furthermore, you should make sure that the vendor offers support in both the languages – original course language as well as translated version. This will ensure that your employees, no matter where on the globe, can reach out and resolve any specific issues in the translated course content.
In the End
Organizations have the chance to reach a larger audience and make training materials available to employees worldwide by using eLearning translations. Despite the widespread usage of English in business settings around the world, effective training sessions require multilingual support due to the presence of scattered workforces. However, eLearning course translation calls for more than just a straightforward machine translation. In terms of context, culture, and technology, it must be done correctly.
There are a number of crucial variables to take into account when picking an eLearning translation service provider. Finding the best provider for your particular needs requires carefully considering vendor profiles, asking for comprehensive samples, assessing subject matter expertise, guaranteeing localization support, and confirming the availability of customer service. Download our free eBook to clarify any other questions you might have about the eLearning translation process.