5 Secrets to Quick, Easy and Cost-effective eLearning Translations [Infographic]
Looking for ways to make eLearning translations rapid, within budget? Find 5 ways to make eLearning translations quick, easy, and cost-effective here!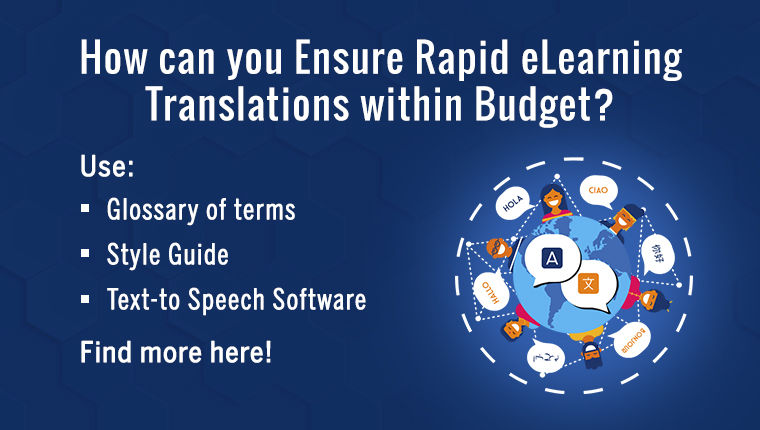 With the current global crisis due to COVID-19, rapid eLearning solutions are being sought after by L&D leaders like you! We understand the urgent need for quick and dirty training to speed up the efficiency of your 'accidental' remote workforce. The faster they learn the ropes of the new modes of business or operations, the faster they help in achieving the new business goals. However, in all this rush, are you forgetting to translate your eLearning courses into your learners' native languages? Here's the thing – eLearning translations are crucial for your current training requirements since your work-from-home learners do not have to luxury of getting their doubts clarified by peers sitting beside them. It's your key to offer effective online training while minimizing the impact of isolation.
Having said that, with rapid eLearning translation methods, you need not worry about it making a hole in your training budget. It's easy, quick and cost-effective – just like you would prefer every time, irrespective of training disruptions. While advances in translation technology – be it memory tools or eLearning authoring tools – have made quick development a reality, incorporating certain best practices – such as using a style guide – ensures consistent and high quality translated eLearning courses.
To help you enable rapid eLearning translations, here's an infographic that highlights 5 ways to make it happen! They will not only ensure effective training for your global workforce, but they will also reduce your burden of managing training within stringent budgets.



Parting Note
With social distancing as the new normal, almost everything in-person is being substituted with virtual alternatives, including classroom training. So if you're stepping into the world of virtual instructor-led training for the first time, here's a resource you must arm yourself with. Download our free eBook to find tips, tools, and suggestions on "Generating Motivation and Excitement in the Virtual Classroom."