eLearning Translations- 6 Popular Trends To Improve Corporate Training
The shift in technology and the growing global employee force have led to an increase in demand for eLearning translations. In this blog, we will explore six innovative trends in eLearning translation that will drive the future of corporate training and why you should implement it in your organization.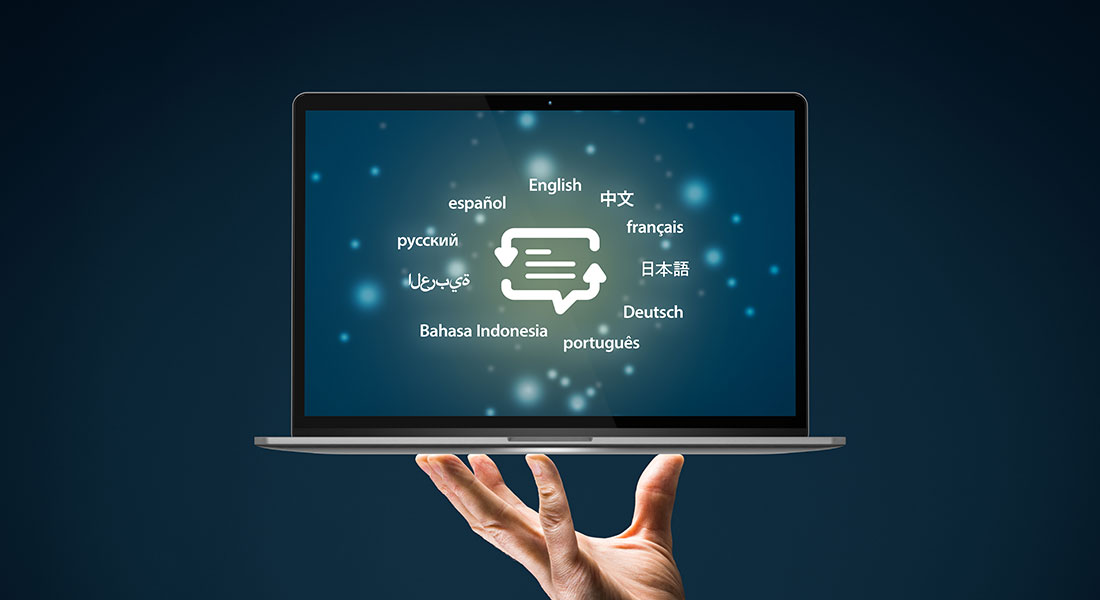 The field of eLearning has seen significant growth in recent years and the trend is sure to continue. As organizations are expanding to build a global workforce and hire people from different backgrounds, the demand for effective eLearning translations has grown like never before.
In recent years, we have experienced a drastic change in how we work, both personally and professionally. We have found new ways of working with advancing technologies and flexible processes spearheading change. We also discovered changes in business approaches- how we work together and collaborate for betterment. All these changes highlighted the need for improved communication in the globalized world. As a result, eLearning translations gained importance for organizations seeking to build a strong global workforce.
In this blog, we look at the key trends shaping the eLearning translation industry in the coming years.
Want to Implement eLearning Translations in Your Organization?
Focus on incorporating these innovative trends-
Artificial Intelligence and Machine Translation
Media-Rich and Immersive Learning Experience
Gamification and Reward-Based Learning
Mobile Translations
eLearning Translations- Six Innovative Trends to Watch Out For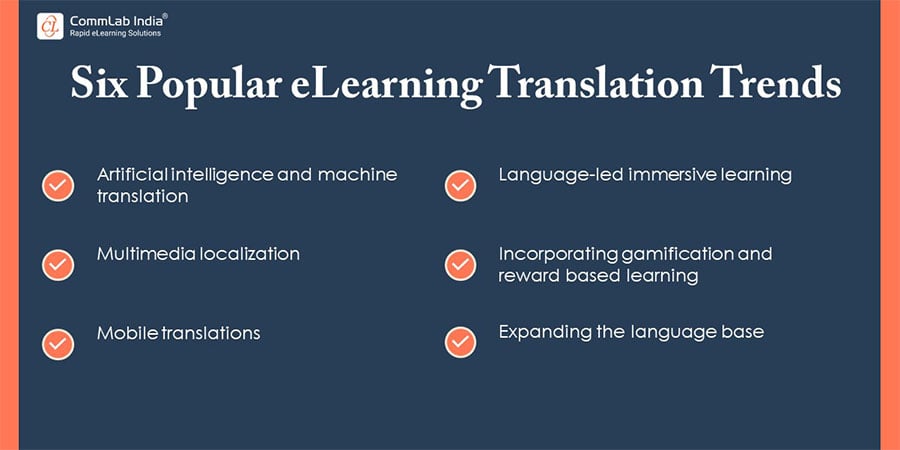 Artificial Intelligence and Machine Translation
As technology continues to improve, artificial intelligence and machine translation technologies have gained significant prominence in recent years, and their integration into eLearning translations has become a major trend in 2023.
Watch this video to unleash the power of artificial intelligence for eLearning translations.
Training managers can leverage these platforms to streamline their content translation process with reduced costs and increase the efficiency of their employees. Further, professional translators can use machine translators as their assistants and quicken the entire translation process. Machine translators can handle the first draft of the translation accurately, and you can jump ahead to edit the document to cross-check and correct all information for final publishing.
The translation memory automatically saves the translations and reuses them in case of any repetition. This ensures a consistent training module for organizations and saves them from repeating the same work. Therefore, these translation technologies will surely take up a wider space in the coming years.
Language-Led Immersive Learning
Augmented Reality (AR) and Virtual Reality (VR) have gained popularity in creating immersive learning experiences for eLearning. AR and VR can be useful for language learning, as they create a realistic environment for employees to learn and apply their knowledge.
Usually, an employee is most comfortable in his native language, hence offering eLearning courses in their native language is a great way to reach out to them. It also creates an interactive learning experience for employees and helps them in achieving a higher completion and retention rate in most courses.
Multimedia Localization
Every learner has a unique learning style. Some employees prefer to read while some prefer visual content. Hence, learning is no longer limited to just one format but has a wide range of multimedia elements like video, audio, animations, recording, and other interactive simulations. Thus, the trend for localized multimedia is gaining stature.
Organizations must opt for eLearning translations that support translating not only spoken and written content but also the visual and audio content, and appeal to employees in their language and culture. This personalized learning approach trains the employees in the format they are most comfortable with. Therefore, by implementing multimedia localization in training programs, organizations can enhance learners' engagement leading to better learning outcomes.
Incorporating Gamification and Reward-Based Learning
Gamification of training modules has become another interesting trend in corporate training. So it is no surprise that game-based learning has paved its way into eLearning translations as well.
eLearning translation has gone beyond language translation. The aim now is to localize the training modules for the employees, keeping them relevant to their culture and adding value to their learning. Game-based learning rewards employees with points, stars, badges, and other recognition for completing their tasks. These rewards keep employees motivated to complete their training. Organizations can also create healthy competition among employees with leaderboards and ranks, and keep them motivated for the training sessions.
Mobile Translations Are On The Rise
With the increased proliferation of mobile devices, mobile eLearning translations have gained significant traction. In the coming years, eLearning translation services will become mobile compatible and adapt the User Interface (UI) and functionality of mobile eLearning apps to match the preferences of employees across the globe. By following this trend, organizations can also make training modules accessible anywhere, anytime and on any device.
Expanding The Language Base
Another important trend in eLearning translations is the expanding language base. Industry experts are investing time and money to increase the language coverage in their training modules for improving employee interaction and engagement.
It is time now to include precise localization in languages and feed into greater coverage for regional languages. This is sure to attract a global audience and make each one feel equally valued.
eLearning Translations- Necessity or Choice?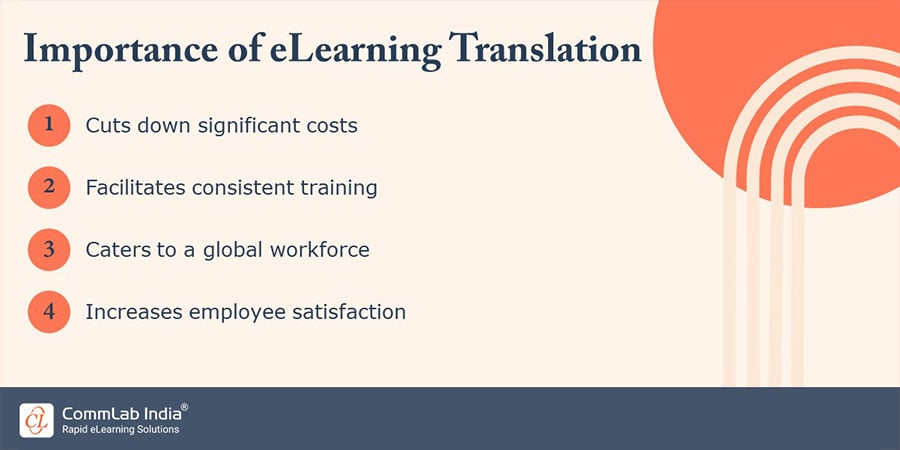 The virtual training industry is expected to continue its run of impressive growth in the future and eLearning translation is going to be a major contributing factor to this change. Hence, the eLearning translation trends will have a direct impact on corporate training.
Having said that, it is quite obvious that organizations need eLearning translations to improve their training. Here are some reasons to reiterate the importance of eLearning translations-
eLearning translation is cost-effective as compared to traditional training as the same content can be shared by many employees. You can save significantly as you don't have to spend money on every new training session. Follow these cost-saving translation tips when creating your next training module.
eLearning translations ensure that the training content is localized for each language and device, resulting in consistent and accurate training across the organization.
eLearning translations can create a strong global presence for your organization. You can connect with employees worldwide and deliver consistent training to everyone.
eLearning translations enable organizations to transcreate (translate + create) accurate distance learning courses and offer effective training to employees in their native languages, thereby encouraging inclusivity and equal opportunities for all.
eLearning translations increase employee satisfaction. By providing equal opportunities for all employees, you show that you care about their culture. This makes them feel appreciated and satisfied, thereby increasing their overall productivity
Parting Thoughts
Technology has changed the paradigm of the Learning and Development industry. As organizations continue to expand globally, the demand for eLearning translations is going to soar in the coming years. So, now is perhaps the best time to seize these eLearning translation trends and unlock your business potential.
By embracing the latest trends in eLearning translations, organizations can overcome linguistic and cultural gaps and foster an inclusive learning culture for all employees, thereby increasing their performance and overall business productivity. With so many benefits, it is hard to say no to eLearning translations for corporate training.