Reduce Learners' Isolation through Translation – Check How [SlideShare]
Wondering how to make your remote learners comfortable during online training? E-learning translation is the answer. But eLearning translation is not enough in itself. Check what part you can play in the game.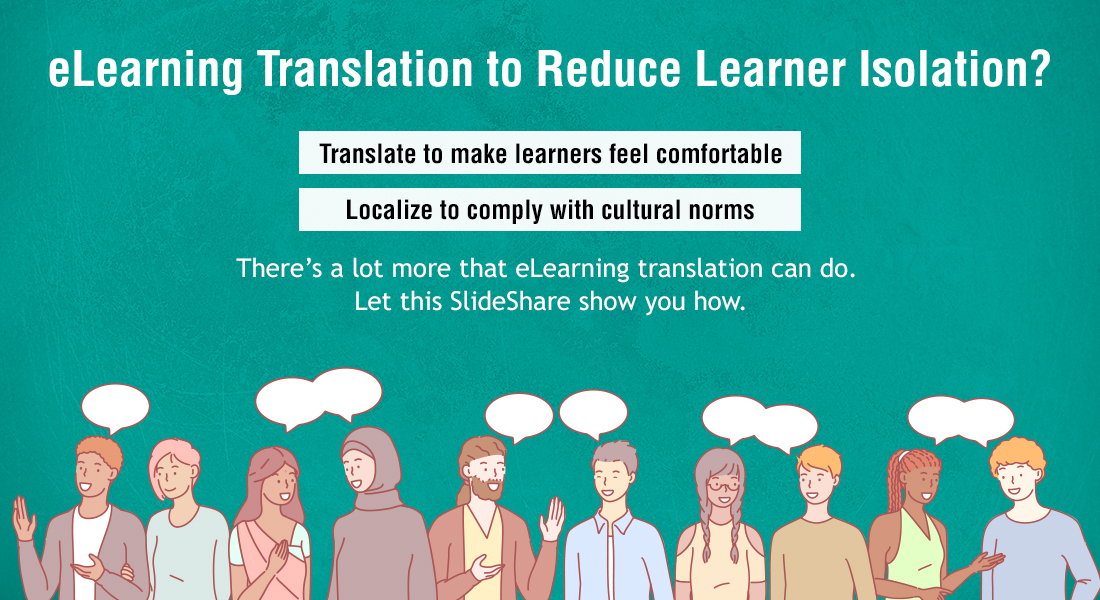 Training your foreign employees spread all over the world is not an easy job to accomplish without eLearning translations. Yes, translating your eLearning courses is a must, especially when a majority of your learners are accessing training remotely from the confines of their homes, thanks to COVID-19. It is very easy, in these troubled times to feel isolated, more so if the training content is difficult to understand. E-learning translation, takes care of that problem by providing learners with training content in their own languages. Trust me, being able to train in one's native language makes a lot of difference emotionally and motivationally.
The benefits of translating your courses are unmatched, but eLearning translation in itself is not enough. The translation needs to be combined with localization of the courses so that the learners can have the closest native-like experience possible. Verbatim (or direct) translation of text only removes the linguistic barrier. Localization helps minimize the cultural differences in eLearning that we often forget about.
Regular eLearning courses or small mobile or microlearning modules, translating and localizing them will dramatically reduce your learners' feelings of isolation when training, resulting in better training ROI. This SlideShare talks about four ways you can use translation and localization to help your learners feel more at home with what they are learning.
Once you are done with the SlideShare, do check out the eBook below to know more about eLearning in general and how it can help with corporate training.