Things to be Considered Before Developing Multilingual E-learning courses
This blog explains the things which need to be taken care before translating an original eLearning course.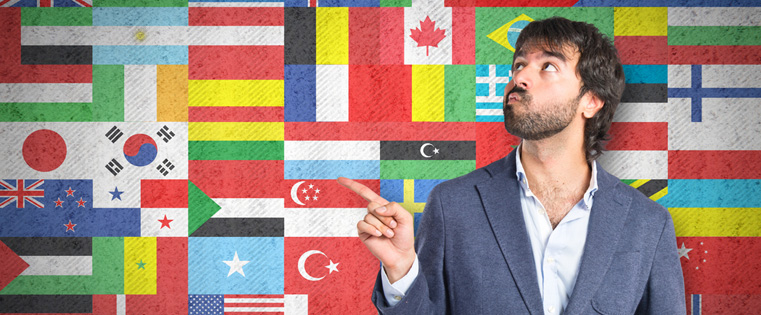 With the advent of globalization, many organizations have expanded their operations overseas. A vast majority of these firms use the eLearning medium to impart high-quality and cost-effective training to their international workforces. But, while developing an eLearning course that needs to be translated into multiple languages, there are some aspects that you need to consider. I would like to share some of these considerations, with you all.
1. Multilingual GUI:
You can consider multilingual Graphical User Interface (GUI) for your online course. By using such interface, the learner can switch between different languages from any slide in the course.
2. Button design:
When designing buttons in the GUI, consider using symbol-based buttons. The symbol-based buttons can save your the time and money by eliminating the need to translate the text on the buttons in multiple languages. For example Next and Previous buttons can be represented using the < and > symbols respectively.

3. Space:
Normally, when you translate English courses into languages such as French and Spanish, the translated text takes up less space than the English versions and when you translate an English course into languages like Chinese, German or Korean, the translated text occupies more space than the course in English. So, your text blocks/containers need to be more flexible. Try to allow enough space for text during the development of the English course. Sometimes you should consider the font size as well. For example, if the font size of your English course text is 10 pixels then you might have to reduce font size of target language course to 8-6 pixels as the target language text may be more than 30% larger than the English.
4. Image selection:
Another important consideration is the selection of images. Make sure that your images are acceptable to all cultures. Also try to avoid photos that have text. It's better to use the images that can convey the intended meaning without words.
5. Tool Selection:
Make sure that the rapid authoring tool, which you have chosen, is capable of supporting multiple languages. The tool must be translation-friendly and needs to support languages written in right-to-left scripts such as Arabic and Hebrew. For example, you can choose tools like Articulate Storyline, Captivate and Lectora.
By paying adequate attention to these aspects, you can reduce the time, cost and effort involved in the translation of your online courses.
Did you find my blog useful? Please share your views.