Major Training and eLearning Conferences in 2018 – Part 1
There are plenty of learning and training events lined-up for 2018. To catch up with the stream of change, try attending at least one eLearning conference in a year. This blog shares the complied list of 13 upcoming major training and eLearning conferences and expos for 2018.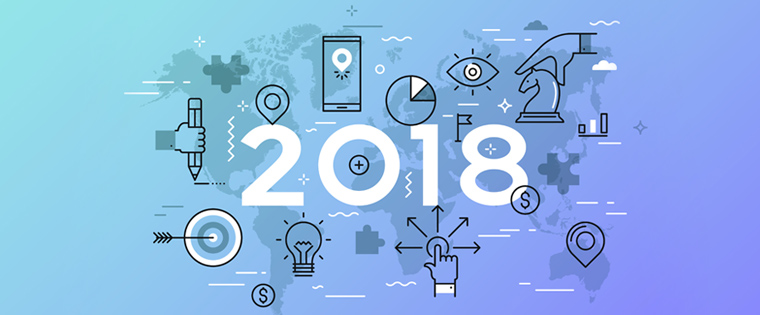 The industry of eLearning and training is changing quickly. If someone thinks they know everything, there is a fair chance that their knowledge is already outdated. New products & services and great ideas come to light in the eLearning domain all the time. Many passionate researchers and talented professionals and practitioners faithfully apply the innovative ideas in their day-to-day work. So, it's good to stay updated, share what you have discovered and learn from others. Training and eLearning conferences make this happen.
There are plenty of learning and training events all through the year. To catch up with the stream of change, try attending at least one eLearning conference in a year. Here we have compiled a list of training and eLearning conferences for 2018. In this first part, I have covered the list of events to be conducted from January to March 2018.
1. ATD TechKnowledge
When: January 24 – 26, 2018 Where: McEnery Center, San Jose, California
The Association for Talent Development (ATD)'s large annual conference surely inspires you to take advantage of the latest products and services in the world of eLearning. The focus of this conference is 'the design and delivery, management and strategy of technology and learning'.
In this conference, you will get a chance to participate in various sessions, workshops, presentations on e-learning, emerging technologies, platforms and tools, serious games and simulations, mobile and social, virtual classroom and more. You will also get the opportunity to gain hands-on experience with new technologies.
This conference also opens great doors for networking with industry peers who are trying to stay abreast with the latest trends on a day-to-day basis. Around 1,500 delegates will attend the event, so you will benefit from a number of business and technology tie-ups.
2. HCM Excellence Conference
When: January 31 – February 2, 2018
Where: Palm Beach Gardens, Florida, along the Atlantic Coast
The Brandon Hall Group is going to conduct this conference for Chief Learning Officers (CLO), Chief Technology Officers (CTO), managers of learning and development, and more.
HCM conference majorly focuses on learning than product displays and promotions. You will get an opportunity to learn and improve skills from highly experienced, qualified, knowledgeable presenters.
Brandon Hall Group's focus is actionable human capital management research. HCM aims at delivering the same experience at the event by providing leading practices from award-winning organizations along with checklists, self-assessments, models, frameworks, and other tools that participants can use to convert insights into measurable benefits for their organizations.
3. Curation & Learning LAB
When: January 30 – February 1, 2018
Where: The Maise Center, 95 Washington Street, Saratoga Springs, New York
Elliott Masie is going to host this Curation Lab for a small group of learning colleagues in a 2.5-day intensive exploration and lab experience at the MASIE Learning LAB in Saratoga Springs. This lab focuses on exploring, experimenting, assessing and deploying a range of curation strategies for learning.
4. Training Conference & Expo
When: February 12 – 14, 2018 Where: Atlanta, GA
The Training 2018 Conference & Expo is put on by Training magazine and Lakewood Media Group, LLC. This is one of the longest running events in the training industry and has been an annual event for more than 40 years. This event helps you keep up with the training, learning & development related technology trends.
Training magazine offers 11 Certificate Programs on training and eLearning courses that are designed to enhance careers prior to the formal opening of the conference. If you want to have a particular certification, you can complete the certification programs and attend the conference. No one knows everything, so learning has no end, so try to attend this conference to deepen your knowledge in training and development.
5. ATD Core 4 Conference 2018
When: March 22 – 23, 2018
Where: Loews, Philadelphia, Pennsylvania
ATD's Core 4 Conference focuses on the four most crucial, practical, and fundamental topics to develop learners' – Instructional Design, Training Delivery, Measurement & Evaluation, and Learning Technologies. This two-day event features meaningful sessions on the topics such as designing better training programs to improve performance, evaluating the impact of training programs, creating engaging and effective eLearning experiences and more from the most popular speakers.
6. CLO Symposium
When: March 26 – 28, 2018 Where: Marriott Harbor Beach Resort and Spa, Ft. Lauderdale, FL
The CLO Symposium18 is not just for chief learning officers, but for all professionals involved in training, learning and development and talent management. Many influential personalities across a variety of industries and training managers from Fortune 500 companies will attend this event. Renowned personalities in training domain such as Yale professor Zoe Chance, author Dan Heath, and Mike Prokopeak, editor in chief from Human Capital Media will facilitate sessions on the latest training & learning strategies in this symposium.
7. Learning Solutions Conference and Expo
When: March 27 – 29, 2018 Where: Rosen Centre Hotel, Orlando, Florida
This event conducted by The eLearning Guild, touches all aspects of eLearning. Though the speakers for the 2018 edition of the conference have not yet been announced, past events indicate that there will be impressive presenters on hand to speak. There will be more than 100 sessions you can take part in to learn about various aspects of the e-learning domain. You can also expect product demos, workshops, and much more.
If you are passionate about the learning and training, these events are an exciting opportunity to meet new professionals, see new technologies, listen to great speakers, and so much more. So, let's get started to attend one. I will share another list of eLearning and training conferences from May to October 2018 in my next blog. Stay tuned..!!