Why is iSpring Like a Breath of Fresh Air for Your eLearning Courses?
Supercharge your company's training programs with iSpring Suite. If not for tools like iSpring, the rapid eLearning sphere would be a complicated one. In this blog, I will be throwing light on how iSpring Suite can be leveraged successfully for your eLearning courses. Read on to discover more!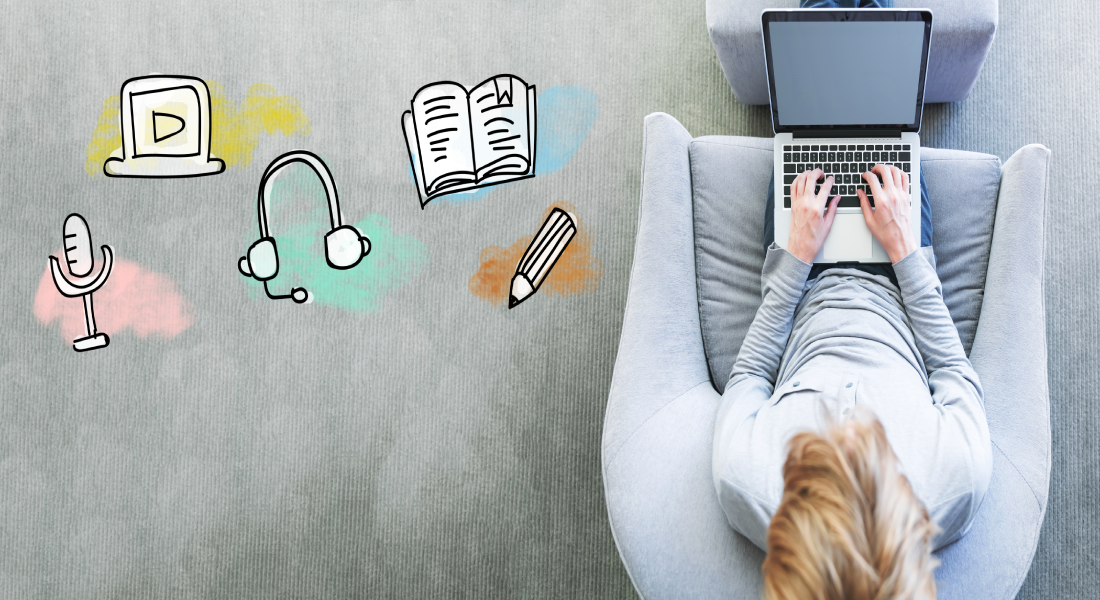 If you are someone who is actively involved in the eLearning industry, you must have pretty much heard the name iSpring. So, what exactly is iSpring? Let's find out!
Decoding iSpring
iSpring user-friendly and swift toolkit that can be used even by those without prior knowledge in eLearning course development. iSpring helps record narrations, create a brand new eLearning module, create quizzes, and publish the eLearning module digitally.
Decoding iSpring
Here's a quick peek into what iSpring is:
User-friendly Toolkit
Courses Can Be Published Online
Narrations Can Be Recorded
Quizzes Can Be Created
Learners can be captivated
Role of iSpring in Rapid eLearning
1. Collaboration
It is collaborative as it allows sharing your course with the other team authors to add tests and role-plays, edit texts, supply imagery, and modify the presentation of the course.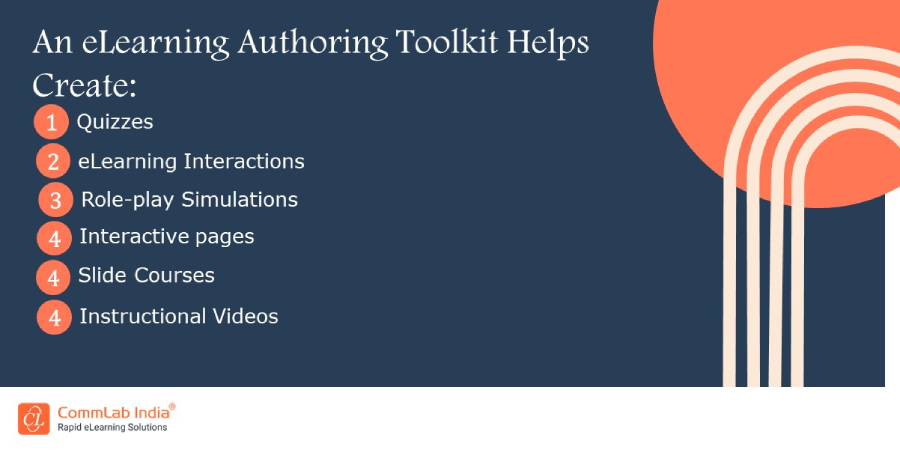 2. Authoring Tool
Helps create courses just by adding in images, videos, knowledge checks, and tests. Apart from this, all you need is an internet connection. Ta-Da! Your microlearning course is ready to be published.
3. Quizzes
iSpring helps gather feedback and evaluate the understanding and progress of the learners through surveys, drag and drop activities, and interactive quizzes. The slide-view mode helps in easy customization of quiz design. Detailed feedback can be provided for right and wrong answers. Audio, images, and formulae can be used to explain answers in detail.
4. Creating Screencasts and Video Lessons
The handy video studio of iSpring helps create outstanding video tutorials with annotations, hints, screencasts, etc. Some of the features offered are:
Screen recording- Video lessons can be enhanced through screencasts. Screencasts deal with adding voice narrations by selecting a full recording area or just the application window.
Multi-track Timeline- This feature helps merge videos from multiple tracks. Audios can be added and learners can even watch two videos at a given time. The number of tracks that you can use is unlimited.
Title Screens and Annotations- To create compelling intro or to highlight slides, you can either use the pre-loaded iSpring images or create captions, graphs, and annotations using the video editor.
Visual Hints- iSpring Suite is useful during screen recording as it automatically adds tool tips to the screencast by detecting the use of hotkeys or text entry or clicks by users.
Freeze frame- This refers to holding a particular frame on pause for a stipulated duration.
5. Role-plays
Role-play helps employees develop sales skills and conversation. The outcomes of each role-play differs based on the answers given by learners.
6. Interactions
The iSpring Suite provides appealing eLearning course interactions. Interactive catalogues, diagrams, graphics, timelines, FAQs, can be created within a jiffy through the 14 remarkable designed ready-to-use templates. These can be converted into live lessons using voiceover. For the voice-over you can either upload an audio file from your PC or it can be recorded in the iSpring Suite itself. The colors of interactive elements such as buttons, shapes, and players can be modified according to the company's brand strategy.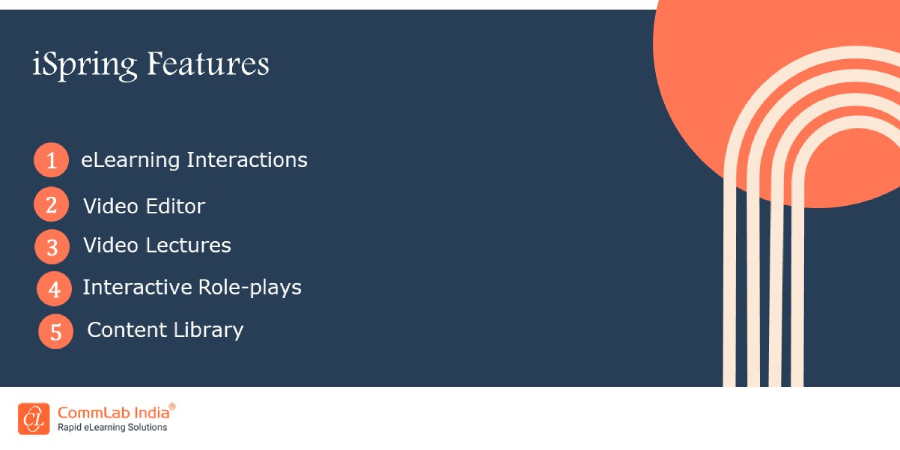 7. Navigation and Playback
The eLearning course player is fully customizable in terms of text labels, layout, colors, and panels. The 50/50 player can be used to display both your slides and video side-by-side. The learner's path in the eLearning course can be controlled using branching.
The company's logo, presenter's info, and links to extra resources must be added to the presentation. The preview mode must be used to check the look of the course across multiple devices. Content can be protected using a watermark, grant access, limit time for access, and password.
8. Voiceover and Localization
It helps in fast content translation. Dialogues, simulations, interactions, and quizzes can be quickly translated into multiple languages. Courses can be localized for different countries using translated narration into the text-to-speech window. This helps create professional voiceovers without voice talents.
Parting Thoughts!
With the pandemic spiraling out of control, businesses were forced to figure out alternatives for training initiatives as a majority of the L&D programs came to a grinding halt. But thankfully, following this excruciating pause, there has been a significant rise in eLearning courses. Authoring tools like iSpring are a savior when it comes to rapid development of eLearning courses for faster course rollouts. Check this tool to find the authoring tool that's just right for your training needs. Access the tool now!