6 Features That Make dominKnow Your Trusted Partner for Rapid eLearning
With the rising demand for rapid eLearning, L&D managers resort to various authoring tools to ease their eLearning course development. dominKnow is one of the most powerful authoring tools that can help in creating easy and convenient online training courses. Read on the blog to know more!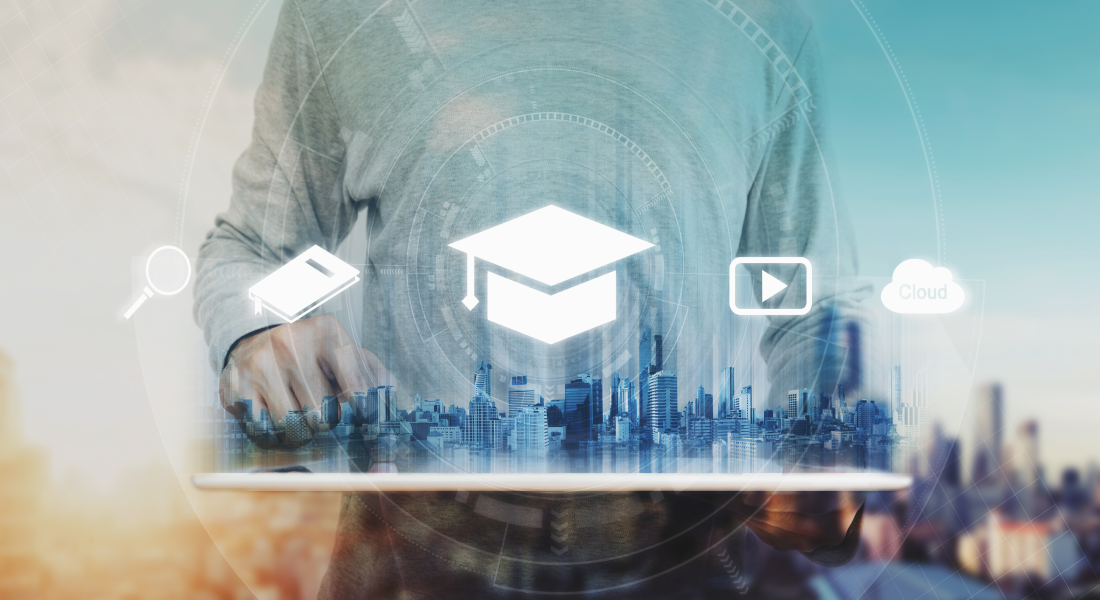 Rapid eLearning emerged to address the growing needs of the mobile generation of learners. With busy lifestyle patterns and limited learning time, it became crucial for the L&D managers to facilitate easy and quick training. Hence, the rise of rapid eLearning. The need for rapid eLearning development is in demand more than ever now and so is the need for authoring tools. It is one of the best solutions to develop and roll out top-notch digital learning courses in a short period. Authoring tools such as dominKnow enable you to develop eLearning courses for corporate training without any programming knowledge. This credits to its rising popularity and increasing usage in organizations and training managers.
Want to Leverage dominKnow for Rapid eLearning?
3 reasons why dominKnow is a powerful authoring tool-
It has a user-friendly interface
It can create mobile-friendly courses
It supports multimedia
What is dominKnow?
dominKnow is an eLearning authoring platform that offers everything for training managers in one place- from traditional learning to web-based- empowering organizations to work together and develop training content for their employees. It integrates both of these to enable rapid eLearning and has various features that let you create and collaborate on different kinds of content. From interactive visuals to engaging elements, dominKnow simplifies the process of creating eLearning courses for organizations.
Plus, it is also very user-friendly and has easy navigation options for training managers to develop their courses. So, whether you are new in the L&D industry or an expert, you must leverage on dominKnow for rapid eLearning.
Six Features That Make dominKnow a Popular Authoring Tool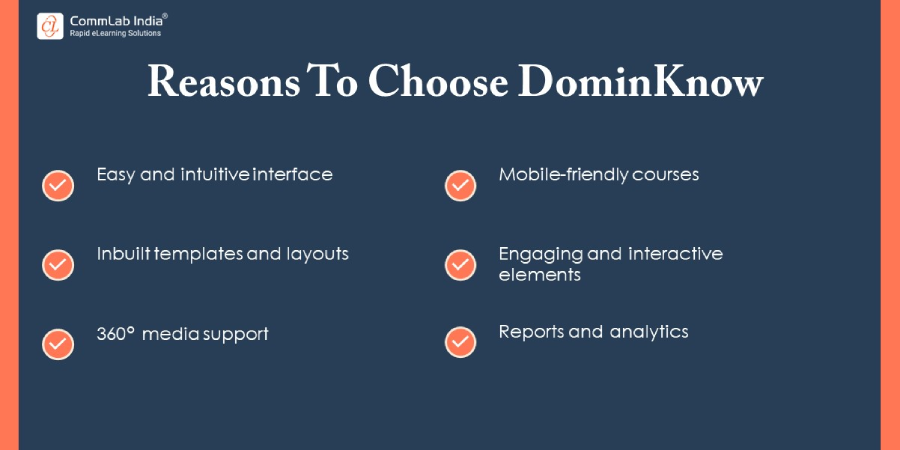 The diverse features of dominKnow can create an effective learning experience for employees, and help organizations develop a rich learning experience. Let's explore the top six features that you must leverage.
Easy and Intuitive User Interface
dominKnow has a simple and easy-to-use interface that facilitates easy navigation throughout the tool. With its user-friendly interface, organizations can produce premium content easily. Training managers can easily understand the interface, the features it holds and the tools to use to create short-term eLearning courses. This is especially helpful for new training managers who are using the tool for the first time. They can make the most of this tool and develop eLearning courses without much effort.
Mobile-Friendly Courses
In the world of multifunctional devices, it is important to create responsive courses that can adjust to all screen sizes. Employees access courses on a number of devices, sometimes on their phones, sometimes on laptops or even tablets. Organizations need to develop courses that can be accessed on the go. dominKnow has a specific tool called flow to facilitate responsive course designing for training managers, without creating different versions of the same course. The content will adapt to any screen that is being used, and adjust the layout for the learner's ease. This makes your work easy and also offers convenient learning to your employees.
Inbuilt Templates and Layouts
dominKnow offers a variety of templates and layouts that you can use to customize your courses. You can choose from these options and modify them to fit your learning goals and objectives. Also, you don't have to invest time in designing your courses from scratch, instead, you can use the inbuilt templates and design aesthetically appealing rapid eLearning courses. When you have ready-to-use templates at your disposal, you don't need an expert or developer help to create courses. You can simply put your content in the built-in templates and have the designs ready on the go.
Intrigued to know more? Explore the power of dominKnow in this video.
Engaging and Interactive Elements
dominKnow provides a variety of interactive elements such as graphics, quizzes, games and other elements to facilitate an engaging learning experience for the learners. Organizations can leverage these features and offer enjoyable learning content to their employees. This will particularly boost their engagement and motivation to complete more training, and also retain the knowledge. The more they engage with the content, the more they learn and later apply this knowledge in real life.
360° Multimedia Support
Another popular reason for using dominKnow is that it supports all kinds of multimedia – text, audio, video, graphics and others. Training managers can use these and create media-rich courses for their employees. This way, you can simplify complex topics and explain the concepts easily to your employees. With multimedia support, you can also make your courses engaging and interactive as move away from traditional text-based learning, and use a combination of media to teach your concepts.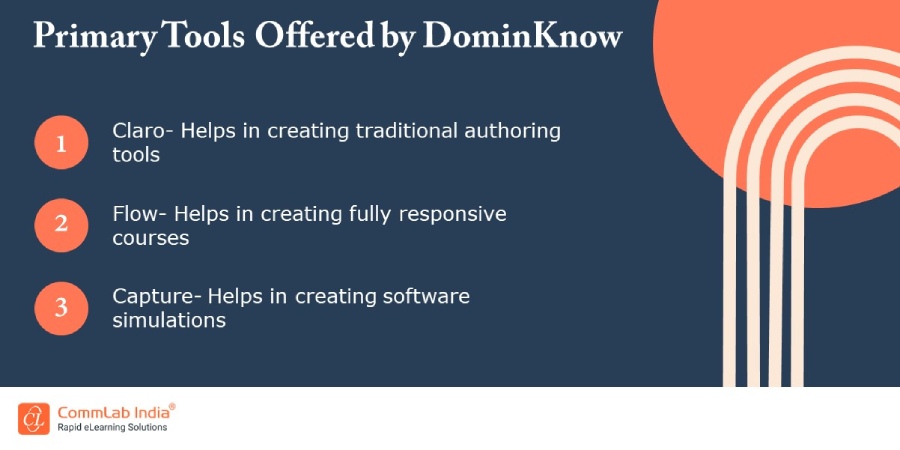 Reports and Analytics
With dominKnow's reporting and analytics tools, training managers can easily monitor your employee's progress. You can also understand the areas of improvement and ascertain the success of your training. This tool offers relevant data on how many employees opted for the course, how many completed it successfully, any feedback shared by the employees, etc. This is particularly useful to design the course content and match it better with the learning requirements of employees and get insightful data on their learning patterns and performance.
Takeaways
Developing interactive eLearning courses can be challenging for organizations and training managers. You need to ensure that your content is engaging enough for the learners and also imparts the right knowledge and skills to them. Hence, you resort to eLearning authoring tools that help you create the perfect solution in a short time. With dominKnow, you can develop dynamic and interactive eLearning content that can be accessed by employees anytime and anywhere. Further, it also makes the entire process quick and more streamlined.
So, if you are looking to explore more on the right authoring tool for your organization, here's a handy guide for you to get started.