BYOD Trends and its Relevance to Training Delivery
What is the feasibility of BYOD for training delivery. Read on to get to know interesting facts and trends.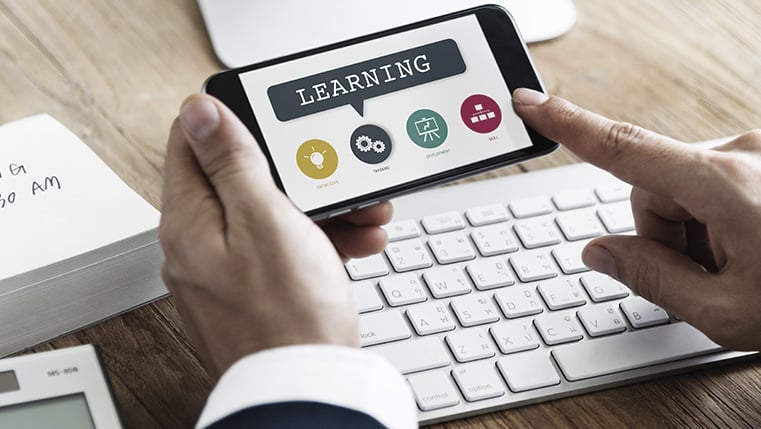 Who first initiated the BYOD or Bring Your Own Device Policy – the employees or the employers? Well, I guess it is like a chicken and egg situation. Bring Your Own Device (BYOD) is a policy where employees are allowed or encouraged to use their personal mobile devices such as laptops, smartphones to access enterprise data and systems – IBM.
According to an article published in Computer World, 6 out of 10 companies surveyed by CompTIA allow BYOD, as they say it increases employee productivity. This fact seems to be supported by another survey conducted by Ovum. Check out the employee response to a question regarding BYOD across the world: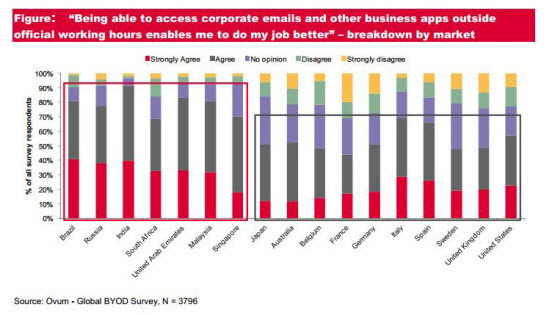 Trends
In most organizations, BYOD is being accepted, though there are no formal provisions or guidelines. A lot of work is being done to reduce the negatives and make it secure and viable.
IT personnel are working towards ensuring safety and data security. Large IT organizations are working towards providing solutions, to ensure safe BYOD adoption for organizations.
The Gartner Symposium/ITxpo 2013 concluded a few days ago in Orlando. During the symposium, Blackberry announced a new multi-platform cloud-based Enterprise Mobility Management (EMM) solution, with the objective of securing and managing corporate and personal devices. On the other hand, Unisys announced a mobile solution that supposedly addresses security concerns facing enterprises, where employees use their personal devices at work. CISCO and IBM also have developed solutions to enable companies adopt BYOD policy. I am sure many more companies will join the fray to develop robust security systems, to accommodate BYOD, which in turn will influence policies with respect to BYOD for training.
There are pros and cons of adopting BYOD in an organization and the same applies to BYOD for training. Here, I will restrict talking to Pros and Cons in the context of BYOD for training.
Pros of BYOD training
Employees use their personal devices all the time to access information, share knowledge and collaborate informally. Through BYOD, you are just extending that facility in the work situation as well. Here are some plus points of BYOD.
Ability to access information and learning anytime and anywhere.
Freedom from devoting large blocks of time to training (60mins – 90mins).
Facility to start training at work and continue on the way back home, at home or during downtimes.
Providing more options to employees, so that they can control their training and learning better.
Choice of using devices that employees are more comfortable.
Cons of BYOD training
BYOD has its own set of limitations which can be listed as follows.
Security issues & unintended data leakage.
Compatibility issues where training programs might not run well on all devices.
Need to reconfigure training to suit mobile devices.
Limitations in terms of the length and duration of training content.
Bandwidth issues when training is accessed outside organizational network.
We are talking to a generation of employees, who no longer have to wait in queues for getting services. Booking tickets, making reservations and accessing information is done by mobile devices. Therefore, despite the disadvantages, BYOD for training is something that organizations cannot ignore as an option to access corporate training.
Recommendations
Here are some broad recommendations for implementing BYOD for training:
Clear policy guidelines have to be formulated and employees trained and educated on safe practices of accessing corporate network, using personal devices. In fact, I have seen BYOD guidelines and sample format for agencies to use on the US WHITE HOUSE website. It is like a readymade template that organizations can emulate.
BYOD for training can only be an option and not a norm – at least not yet, as there are quite a few who may not be comfortable using mobile devices for training purposes.
Enterprise security tools need to be put in place, to ensure data and information security. Restrictions in terms of downloading or transferring sensitive files need to be put in place.
According to me at present, BYOD for training can only be an option provided to employees who wish to stay connected to their learning, even while on move. It is only an additional convenience provided to enthusiastic employees. It cannot be a standard or an enforced methodology for training at least for a while.