All You Need to Know About eLearning Authoring Tools
Are you looking to leverage the power of eLearning in corporate training? Here's a beginner's guide to authoring tools that can help you design learner-centric eLearning courses.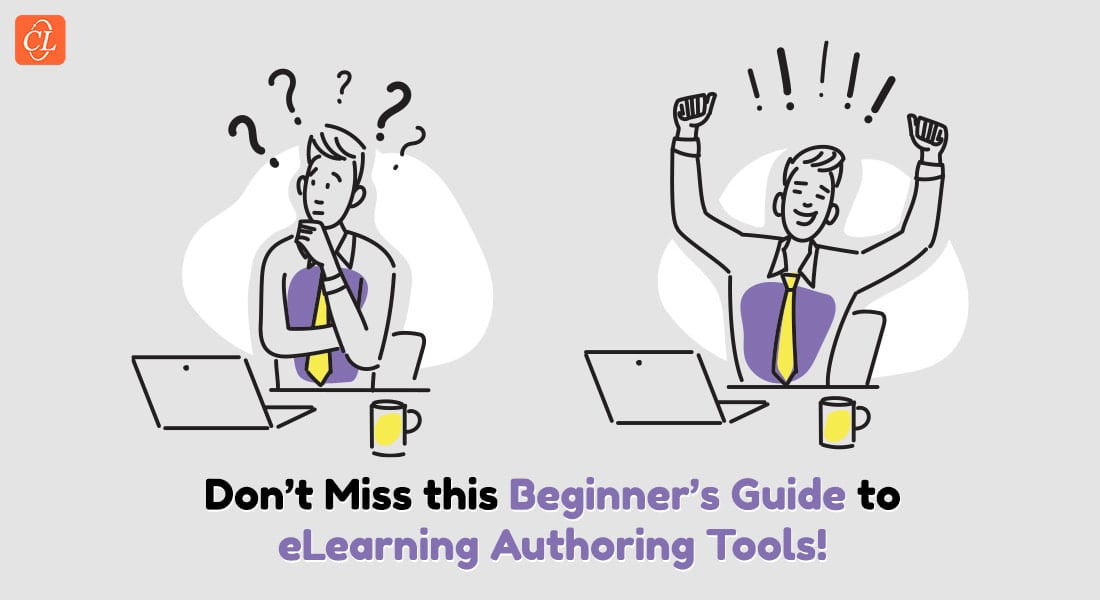 As the global workforce becomes accustomed to remote and hybrid work models, many organizations are seizing this opportunity to revamp their corporate training strategies. Some are adapting virtual instructor-led training sessions to mimic traditional classrooms. Meanwhile, others are going one step further by equipping themselves with powerful authoring tools to create custom eLearning courseware.
Modern authoring tools pack a host of options for L&D teams that are looking to create dynamic and interactive content that improve learning outcomes. The only problem is that many people new to eLearning technologies are unfamiliar with how authoring tools work. As a result, they don't know what to look for in a market full of a plethora of tools and features.
In this post, we'll share a beginner's guide to authoring tools. We want to help you make an informed decision and pick the right tools to transform your workspace training program.
Are You Looking For Insights Into How to Choose the Right Authoring Tool?
Well, here's what you need to look for:
A rich asset library
Assessment tools for quick surveys
Seamless integration with third-party tools
Mobile compatibility
Read on to explore more.
What Are eLearning Authoring Tools?
An authoring tool is a software solution used by L&D teams and trainers to create online learning content, such as quick eLearning courses, video lectures, and simulations. A few applications also enable trainers to create assessments, like quizzes, scenarios, and surveys.
Many companies also use authoring tools as a digital platform to disseminate online training sessions to remote or hybrid employees. Most modern authoring tools enable L&D teams to create and support slide-based courses with HTML5. This format incorporates training modules with images, animations, and interactive elements, such as videos, branching scenarios, and quizzes.
The core purpose of these tools is to enable a layperson to create professional eLearning courses quickly and cost-effectively without prior experience in coding.
Types of eLearning Authoring Tools
Here are the four main types of authoring tools:
1. Standalone
These are authoring tools specifically designed for eLearning development. Popular examples include Adobe Captivate and Lectora Inspire. These tools usually take time to master and may require coding skills to develop custom interactions.
However, they offer creativity and freedom to L&D developers when compared with other tools, making them suitable for organizations that need specific types of learning content and complex courses.
2. PowerPoint-Based
Many organizations are accustomed to using PowerPoint to create training courses and presentations. For this reason, PowerPoint has been added into a few popular authoring tools. Microsoft has provided a solution by creating this powerful addition to help design and convert PowerPoint slides into eLearning courses. Popular examples of PowerPoint-based tools include iSpring Suite, Studio 360, and Adobe Presenter.
The biggest plus these tools offer is a sense of being familiar with PowerPoint presentations that are commonly used in corporates. PowerPoint-based tools are suitable for companies looking for rapid eLearning development and for those that don't have dedicated specialists to create training content. PPT add-ins enable trainers to include elements such as video lectures, dialogue simulations, and interactive quizzes in their blue-print design.
3. Cloud-Based
With cloud technology becoming popular in the post-pandemic digital era, many companies are going for cloud-based authoring tools. These tools include names such as Articulate Rise and Lectora Online. They help trainers to switch from a desktop training solution to a web-based one and they enable remote access.
These tools provide greater flexibility than traditional software, even though they may not pack in the most powerful features. They can easily carry out major design tasks, such as page designs, interactions, and assessments. Also, you can log in using any mobile device or computer from anywhere. And as long as you have an internet connection you are able to provide access to your remote and hybrid teams.
4. Specialized Tools
Many organizations are looking for specific features in their authoring tools' capabilities. For instance, there are those that want to focus on creating microlearning videos, and they don't need too many features to do so. There are many authoring tools in the market that offer a very specific set of amenities.
For example, Camtasia is excellent at creating and recording video tutorials. Similarly, Vyond is excellent when you want to make quick, animated videos. Finally, adeptly is the most popular tool that helps build game-based courses on unique topics and skills.
Key Features to Look For in a Modern eLearning Authoring Tool
Now that you're well-versed in how authoring tools work and the different types of tools available, let's discuss their key features. Here are some essential features to look for in an authoring software before investing in it:
1. Template Archive
Any modern authoring tool that assists in developing training content must provide a library of templates, stock images, avatars, and basic visual components. A library of visuals makes it easier for L&D developers to get started, as they don't need to design templates from scratch, and neither do they have to download images from third-party sites.
2. Quizzes and Surveys
The authoring tool you work with must provide knowledge checks and assessment tools to generate feedback from learners, evaluate their performances, and assess the overall effectiveness of your course. Therefore, when choosing an authoring software, pay attention to the types and number of quiz and survey templates it offers. It must include multiple-choice, true or false, drag-and-drop, and branching frameworks.
3. Gamification
Gamification is an essential feature of modern authoring tools, as it helps boost and sustain learner engagement, participation, and performance. Gamified content offers prizes and awards which keep learners motivated for longer time periods. As a result, trainers can prolong the learning process and advance knowledge retention.
4. Microlearning Tools
Microlearning is an evolvement of eLearning. It involves breaking down courses into smaller, bite-sized information chunks or modules to enable self-paced learning in quick increments. So, if you want to make the most of this method, then you need a tool that allows you to create quick videos with narrations, screencasts, podcasts, infographics, interactive PDFs, and intriguing forms of visual content.
5. Translation
If your organization runs its operations globally or it's hiring remote employees, then you'll want a solution that offers eLearning translation. This helps you easily convert courses into multiple languages. A few authoring tools have a built-in translation feature, while there are others that come with translating plug-ins.
6. Integrations
If you want to include your custom eLearning courses and modules into your authoring tool, then look for a tool that allows for integration with third-party solutions. For instance, SCORM authoring tools enable users to create interactive courses and upload them to any SCORM compliant learning management system.
7. Analytics
Ideally, you need to look for a solution that allows you to measure the effectiveness of your eLearning modules. Many modern tools offer analytics, charts, and reports that you can use to generate actionable insights into your learners' capabilities and performance.
8. Mobile Optimization
If your L&D team spends a huge amount of their time on-the-go with mobile devices, then it only makes sense to choose a mobile-friendly authoring tool. When you have an authoring tool that your team can access on their mobile devices, then you enable them to create training content from any device, at any time. You also provide learners with anytime, anywhere access to their training.
It's a Wrap!
So, there you have it. This is everything you need to know about eLearning authoring tools, from how they work to the different types and features to look for when creating engaging training content. With this information, even if you're new to eLearning technologies, you can look for the best features in the market based on your training needs, budget, and eLearning design and development abilities.
When you compare and contrast the critical features of multiple products, you expedite the decision-making process and equip your team with the power to develop custom eLearning modules for the upskilling and reskilling of your learners.
Are you still unsure about how to go ahead with weighing your options and selecting the right authoring tool for your training programs? Well, not to worry. Download this eBook to get a sneak peek of 'How to choose the right authoring tool' and gain actionable insights to help you innovate a new wave in learning and development.