5 Popular Trends in Video-Based Learning to Hook Your Learners
Video-based learning is taking the corporate L&D world by storm. Explore its benefits and various formats that offer immersive learning experiences.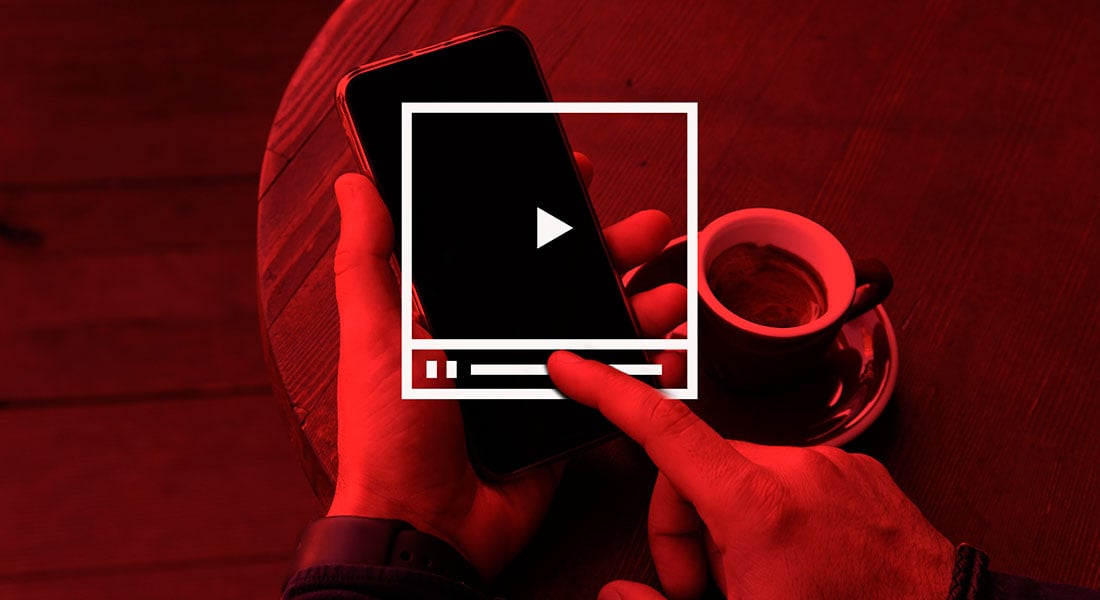 I am sure you agree to this. Corporate learning and development have taken a completely new shape in recent times. Learning is no longer confined to the four walls of a classroom. It is much beyond. Technological advancements have given L&D a new twist and modern learning formats are making learning fun and engaging. One such format is video-based learning. Videos have become a go-to approach for enterprises worldwide and are driving great results. No wonder they are grabbing the attention of L&D pros as well as learners and are an integral part of every organization's learning strategy. Read this blog to explore why you should go for video-based learning and the various trends that can make your training initiatives boom sky-high.
Video-based Learning is the New Buzz
Here are a few popular formats to watch out for:
Microlearning videos
360-degree videos
Interactive videos
Branching videos
User-generated videos
Read on to delve deep.
Why Should You Say Yes to Video-based Learning?
Well, videos are unarguably one of the most captive and engaging learning formats. We all prefer to watch videos for various purposes, be it learning a new recipe, understanding the functioning of the latest electronic gadget that we bought to finding answers to our work-related queries. Why not tap into this craze for videos and use it for training your employees? Here are a few reasons why you should include video-based learning in your L&D strategy:
Learner Engagement
Videos are captivating and can sustain learners' interest throughout the course or module. Vibrant visuals keep learners involved which leads to better learning and retention. This also enhances employee performance and productivity.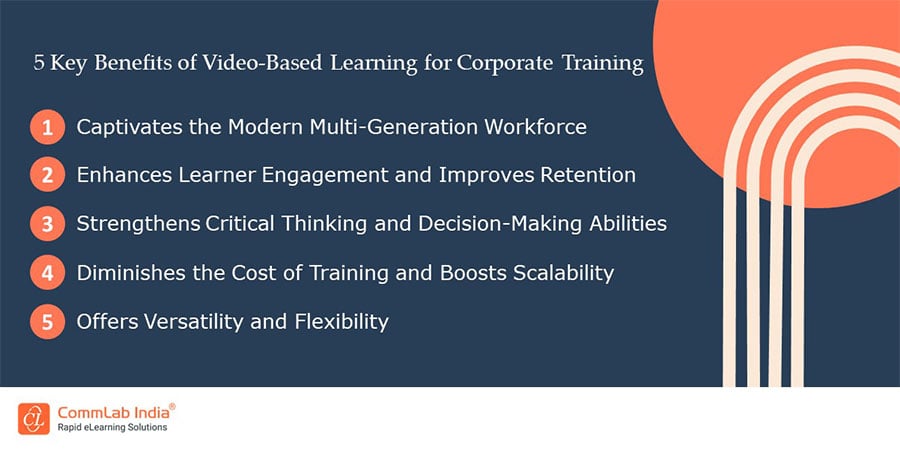 Time and Cost Efficiency
Videos are easy to make and due to their short duration, they can be created easily and don't involve much cost. They can be integrated into other learning formats such as eLearning and virtual instructor-led training (VILT) or can be used as standalone courses to train a vast group of learners.
Flexibility and Accessibility
Modern learners are demanding and expect learning to be quick, flexible, and easily accessible. Videos are a fantastic way to offer just-in-time learning and can be accessed anywhere, anytime. They offer much-needed flexibility in today's fast-paced world and are a perfect ally for modern learners.
5 Popular Trends in Video-Based Learning in 2023 and Beyond
In this ever-evolving world, where technology is transforming every walk of life, learning and development is not an exception. Today, videos are much more than play, pause, rewind, and forward. There are various types of videos that can be created to offer an immersive learning experience. Let's take a look at a few popular ones!
Microlearning Videos
Speed is crucial when it comes to learning, especially to win an edge over competitors. In this world where employees are expected to do more with less, learning has to be quick. Microlearning videos are a boon when it comes to learning in the moment of need. These bite-sized video lessons can be accessed by your learners to handle challenges at work. Microlearning videos entailing highlights of crucial concepts can be a quick refresher for your learners and provide necessary performance support.
360-Degree Videos
360-degree videos use the power of virtual reality (VR) to offer an immersive learning experience to learners. These videos are shot using a special camera that can offer a 360-degree experience to learners. VR transports learners to the actual learning environment and helps them understand complex concepts easily. This is especially helpful when learners can't be taken to the actual work environment such as a war.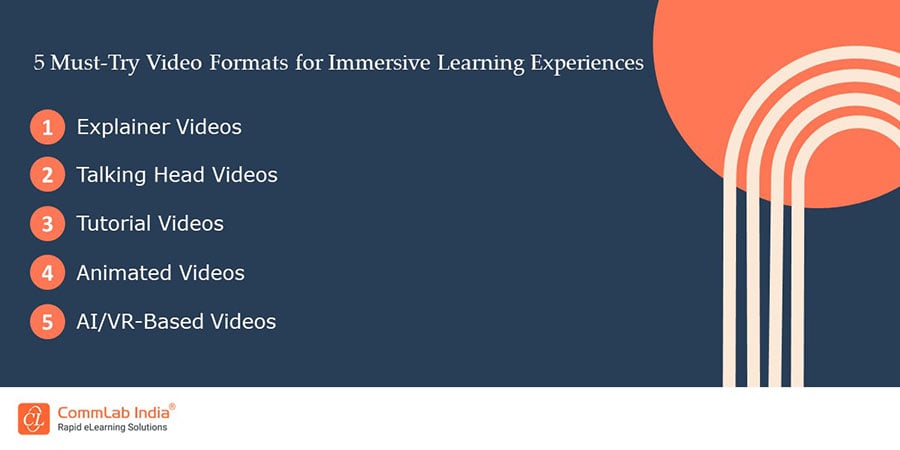 Interactive Videos
Videos are often considered passive. But, gone are the times when videos were just a one-way medium. With interactive videos, you can involve learners actively in the content as it allows you to integrate interactivities in the form of quizzes, quick assignments, and assessments at the end of each learning module or at the end of the videos. You can also add elements of gamification to add fun and make learning enjoyable.
Branching Videos
Videos can now also be used to foster the critical thinking, problem-solving, and decision-making abilities of learners. Branching videos allow you the scope to add scenarios with multiple possible solutions. Through the narratives, the learners are prompted to take action to reveal what lies next. In this way, learners actually choose the further proceeds in the story. Interesting narratives bind learners' attention and as they make decisions they learn about the consequences that guide them in real-life work situations.
Watch this video to learn how we enhanced process training with video-based learning.
User-Generated Videos
Modern learners prefer to learn from various sources available. They don't restrict themselves to particular training sessions. Social learning is one of their favorites as it offers access to a larger pool of domain experts to learn from. User-generated videos are a fantastic way to encourage your learners to shoot videos on their topic of expertise and share them on a social learning platform. You can also make a library of user-generated or crowd-sourced videos and host them on your learning management system (LMS) for easy access. This can help you build a learning culture across your organization alongside promoting collaborative and peer-to-peer learning.
Video-Based Learning — The Future of Corporate Training
Videos have become a widely accepted training format in recent times and organizations are benefiting largely from them. Not only they are winning the hearts of digital learners but also are making their mark in the minds of L&D teams across the globe. And, with the variety it offers, video-based learning is undoubtedly one of the promising learning solutions for your learners in the future. Are you ready to reap its manifold benefits?
To get insights on what else is trending in the corporate L&D space, download this eBook. Grab your copy without delay.