6 Rapid eLearning Accelerators To Supercharge Your Training
Rapid eLearning accelerators – Addressing your need for speed and efficiency! Yes, that's what they do. Rapid eLearning accelerators, by harnessing the power of technology, make it easier to build and roll out engaging and effective training programs. Read on to know more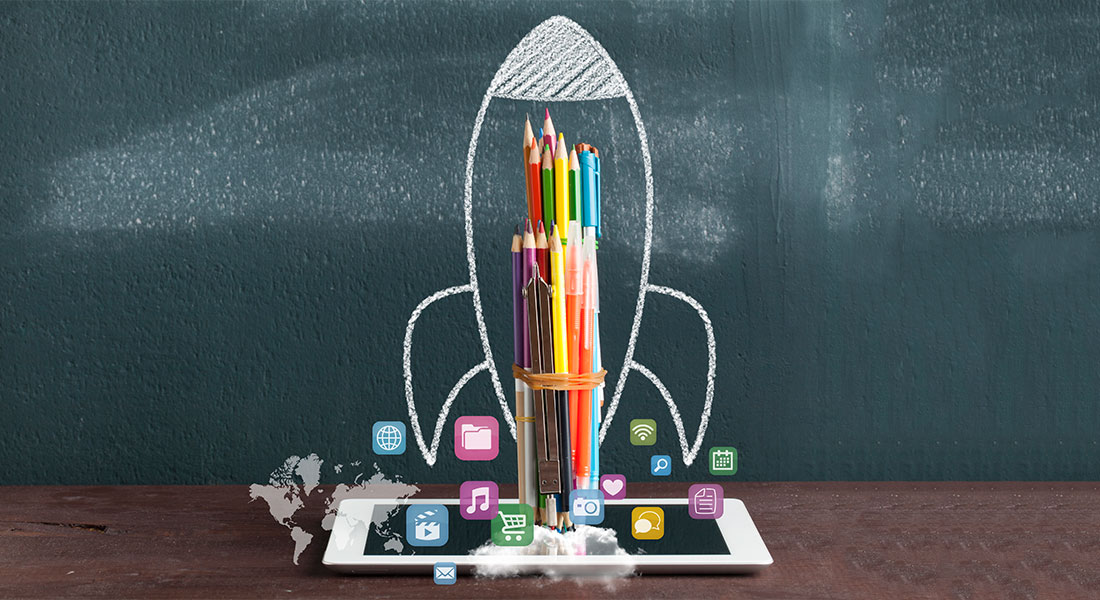 Rapid eLearning needs no introduction! The approach addresses the need for quick and efficient development and delivery of corporate eLearning. This is the reason why learning and development (L&D) professionals consider it a knight in shining armor… but where does its sheen come from? Let me answer it for you – Rapid eLearning Accelerators! Wondering what they are and how they help the approach?
This blog's here to help you. The write-up talks in detail about eLearning accelerators and what makes them game changers.
Wondering What Tools and Platforms can be Considered Rapid eLearning Accelerators?
Rapid eLearning authoring tools
eLearning templates
AI translation tools
AR/VR tools
(continue reading to know more)
What are Rapid eLearning Accelerators?
Rapid eLearning accelerators is an umbrella term used to refer to tools and techniques that help you create eLearning content quickly and easily. They allow you to create engaging and interactive eLearning courses without the need for expensive software or programming skills.
There are many different types of rapid eLearning accelerators available, each with its own set of features and benefits.
Here's a video to help you understand them better:
Rapid eLearning accelerators help make the eLearning development process rapid!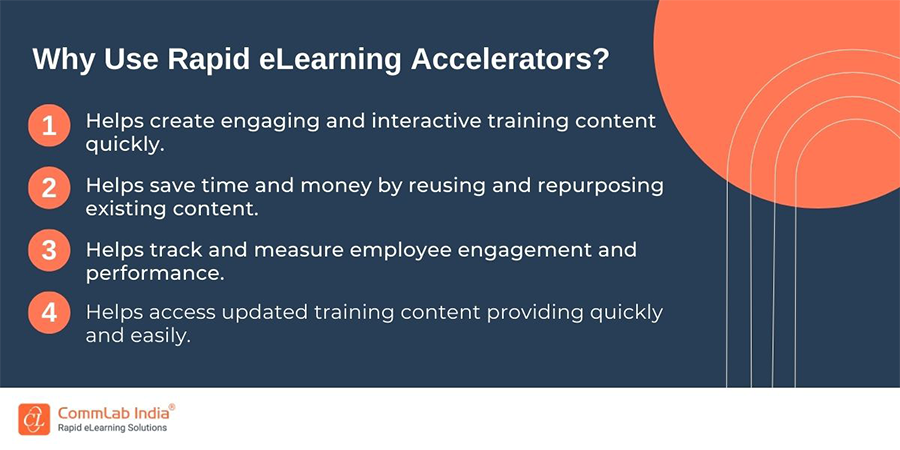 With these tangible benefits that they bring in, you must be interested to know more about rapid eLearning accelerators. Lets discuss the top 6 for you –
6 Rapid eLearning Accelerators
1. Rapid eLearning authoring tools
Say rapid eLearning and the mind goes back to eLearning authoring tools. These tools are at the core of rapid eLearning development and they help instructional designers (IDs) create eLearning content quickly and efficiently. The best thing about authoring tools is that they don't require extensive programming knowledge to develop the course. This user-friendly feature, along with the availability of a vast template library, responsive design, multi-media integration, collaboration, and publishing features make authoring tools the number on rapid eLearning accelerators.
2. eLearning templates
eLearning templates are pre-designed layouts that are used for creating eLearning courses. They usually include sections for titles, content, media, etc. The whole idea behind templates is to give a pre-designed, consistent structure to the module being developed. Through the use of templates, eLearning developers can save time on course development. At the same time, the developers also have the flexibility to customize the templates to make them more in line with the organization's preferences and engaging for the learners.
3. AI translation tools
Artificial intelligence-led tools are gaining a lot of traction these days, and even the eLearning industry is making good use of them. One of the ways that the industry is benefiting from AI tools is by using them for language translations. There are many AI tools that, when used, can expedite the process of translating eLearning content into multiple languages.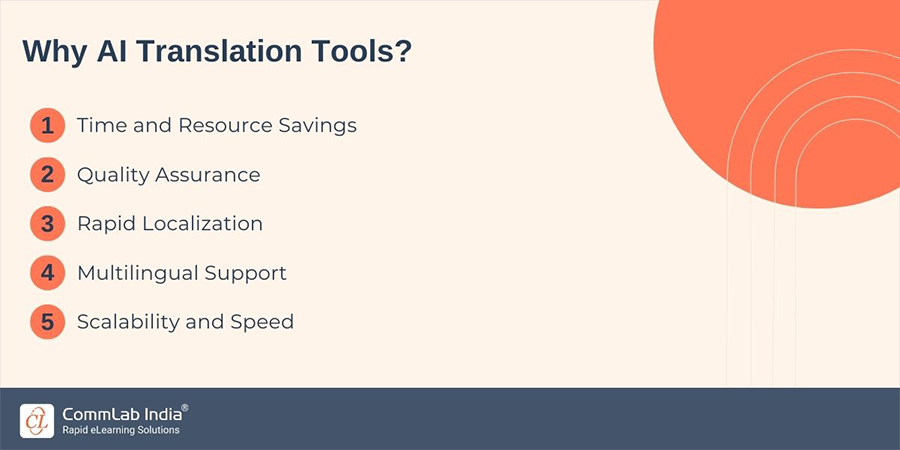 eLearning translations can be very tedious, it is not just translating into another language, but the translator should also get the content right; only then will the content be impactful. This requires time and effort, but these qualms can be addressed with AI tools. Apart from automated translations, these tools can also provide higher levels of accuracy, consistency and are also cost-effective. All these attributes of AI translation tools make them one of the must-try rapid eLearning accelerators.
4. AR/VR tools
Along with AI, augmented reality (AR) and virtual reality (VR) technologies too are on the rise in the eLearning industry. These tools can be of great use to create immersive learning experiences and stimulate real-world environments so the learners are more engaged with the learning being delivered. They are particularly effective for skill-based training and complex simulations. These tools are easy to use and with some experience, they can be used to create impactful eLearning experiences faster. Thus, AI/VR tools too come under rapid eLearning accelerators. The value and engagement they bring to your eLearning courses are bonuses.
5. Microlearning platforms
Microlearning content is known for being short, bite-sized, mobile-friendly, engaging and suitable for just-in-time learning and performance support. And with the right microlearning platforms to develop the content, you will be able to leverage on different aspects such as microlearning templates, easier navigation, etc. Using these features, it becomes much easier to develop and deliver microlearning content in a concise and targeted manner. These platforms also offer a number of features to enhance learner engagement and knowledge retention.
Considering all these features, it can be said that microlearning platforms not only help accelerate eLearning development. at the same time, they also help make the eLearning modules more efficient.
6. Content curation tools
Gathering content is a very important aspect of eLearning development. Though rapid eLearning content can reuse and repurpose existing content, it is also important to make sure that the content eLearning ready and this is where content curation platforms help. Instructional designers can use content curation platforms to gather, organize, and present learning resources from different sources. These platforms help streamline the process of content curation and ensure high-quality material.
Wrapping Up
Rapid eLearning accelerators are what you need for quick training rollout. Period. They provide organizations with a powerful way to create and deliver high-quality learning experiences in an accelerated timeframe. With their scalability, cost efficiency, fast rollouts and ease of use, rapid eLearning accelerators provide organizations with the ability to meet their training needs while staying within budget. Want to know more about rapid eLearning accelerators? Check out this webinar recording.
Access now!