4 Amazing Ways Videos Can Level up Your Product Training
Videos are undoubtedly one of the most popular training formats in today's time as they captivate all, irrespective of age, gender, or work profile. When it comes to product training, it works wonders. Read this blog to find out how videos enhance product training.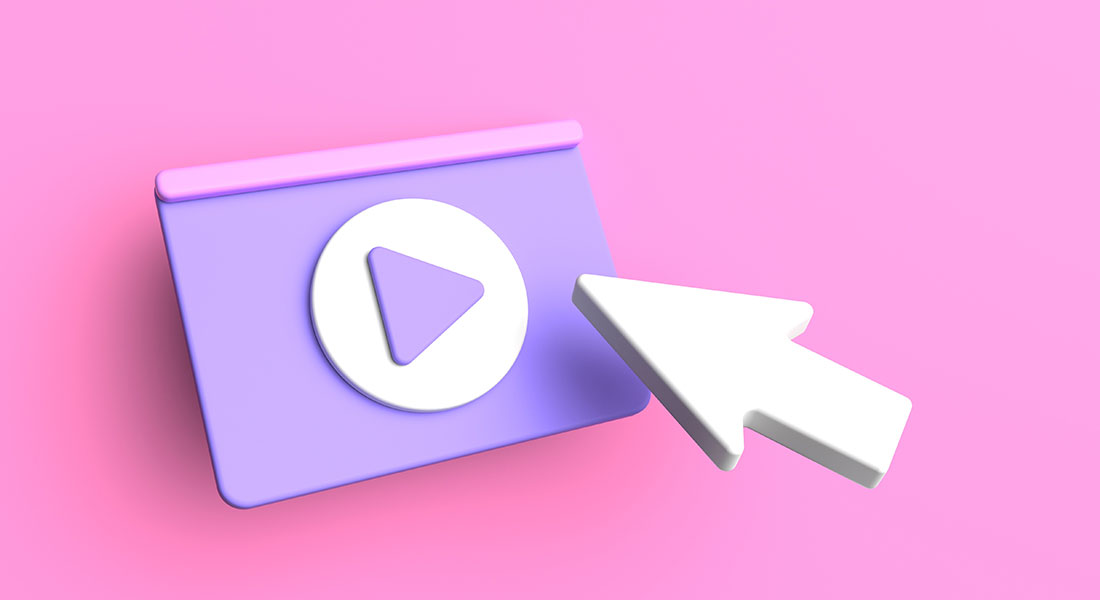 "Innovation is the only way to win", says Steve Jobs. Certainly! In today's fast-paced dynamic world, with constantly evolving customer needs and preferences, innovation is the key to success. Organizations have understood this and are striving to deliver something new that caters to fast-changing customer needs. Businesses are getting competitive, and you see a new product popping up in the market every other day. Being a training manager, the onus of getting your organization acquainted with it, every time your company launches a new product or adds new features to the existing ones, lies with you. Well, video-based learning is here to your rescue. Let's see how videos can help impart effective product training.
Videos are an Effective Tool for a Variety of Training
Let's see how they benefit product training:
Caters to urgent and continuous product training needs
Offers Just-in-time training to the on-the-move workforce
Imparts skills training to your employees
Reinforces learning through refresher training
Key Benefits of Video-based Learning
Videos are one of the most popular formats among all learners, irrespective of their age and learning styles. Here are a few key benefits of video-based learning for corporate training: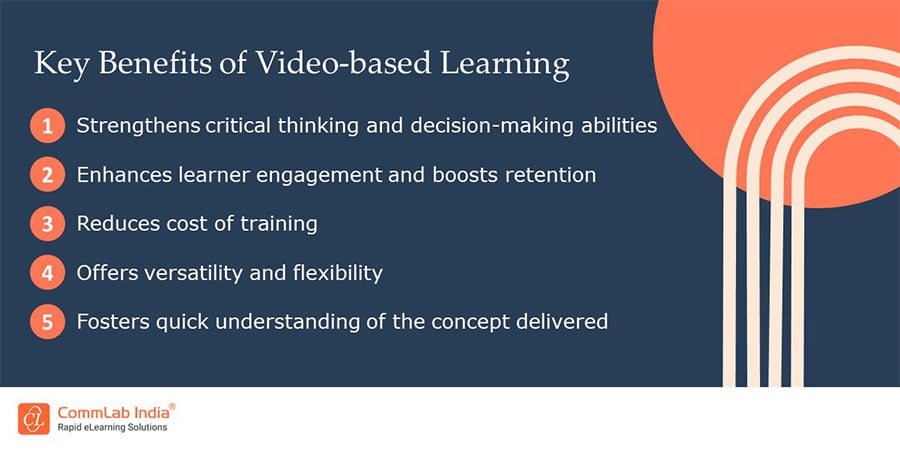 1. Strengthens Critical Thinking and Decision-Making Abilities
Videos offer your learners realistic experiences as they can depict real-life work scenarios. These scenarios help learners strengthen learners' critical thinking and decision-making skills and ensure better application in the day-to-day work.
2. Enhances Learner Engagement and Boosts Retention
Visually appealing videos captivate learners' attention and keep them involved throughout the training. This leads to a better understanding of the concept delivered and boosts retention.
3. Reduces Cost of Training
Video-based learning saves you money and resources. You can create quick short microlearning videos to deliver content. Since videos are accessible anywhere, anytime on any device, you don't need a specific venue or pay trainer fees to conduct training.
4. Offers Versatility and Flexibility
You can use videos to train your employees on a variety of topics. Right from how to make a cup of hot ginger tea to how to operate complicated machinery or manage a remote team efficiently. As videos are accessible anywhere and anytime, they offer flexibility to your learners and boost self-paced learning.
5. Fosters Quick Understanding of the Concept Delivered
Visuals are always preferred over written content when it comes to getting the point across quickly. An informative and visually appealing video can help your learners learn much faster rather than reading slides laden with lengthy content.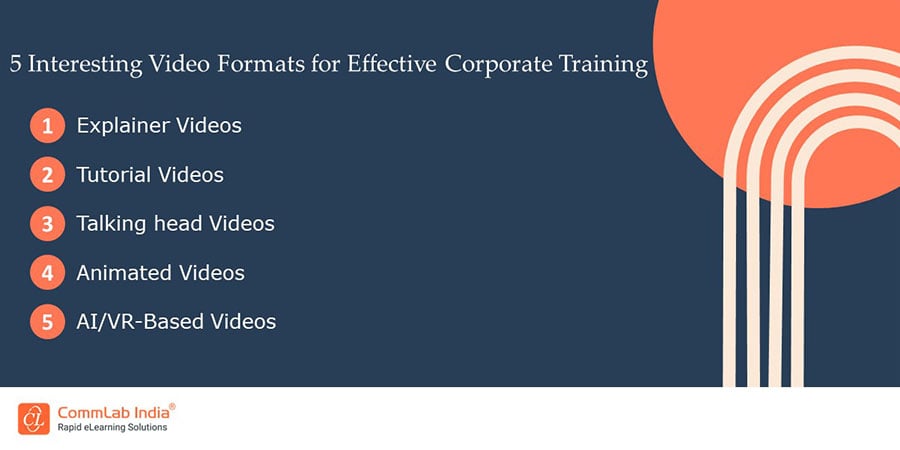 4 Ways Videos Can Enhance Your Product Training
1. Videos Can Cater to Your Urgent and Continuous Product Training Needs
Organizations are innovating at lightning speed and this fuels the need of rolling out training programs rapidly to train your team. Not only the new product launches but organizations keep adding new features to their existing products for better functionality and experience. This adds to the need for continual training to keep the team updated.
Do you face such scenarios in your organization when you are required to roll out product training quickly under a limited budget? Well, videos can come to your rescue. Tutorials or talking head videos (in which the speaker talks directly in front of the camera) can be a fantastic way to impart training on new products. Creating videos is much cheaper and quicker compared to other learning formats. All you have to do is shoot a video on your new product or the new product features and share it with your team. Seems simple right?
2. Videos are Ideal for Just-in-Time Training for On-the-Move Employees
Just-in-time product training in the form of bite-sized videos can be equally useful for your on-the-move sales reps and service technicians. Short, animated videos that explain key product features or benefits can be useful for your sales reps while commuting to the client site or waiting in the lounge at the client's office. This helps them refresh their knowledge about the product and increases the probability of closing the sales deal.
On the other hand, service technicians might need urgent assistance while working on resolving issues with the functioning of a product. Quick informative videos can be handy for them to learn and fix issues without much hassle.
Watch this video to know how eLearning authoring tools can make video-based learning seamless.
3. Videos Can be Useful to Impart Skills Training to Your Employees
Videos are a powerful tool to train not only the on-field workforce of sales personnel and service technicians but also the customer service executives and front office employees. You can use explainer videos that depict real-life work scenarios to train your employees on how to pitch a sale, share tips on how to close a sale deal efficiently, and how to handle customer objections or answer difficult customer queries pertaining to a product.
4. Videos Can be Used for Refresher Training to Reinforce Learning
With companies adding to their product offerings quite regularly, it is difficult for your sales force, the service technicians, and customer service executives to retain all the knowledge imparted. In case, the main training was a classroom session or an eLearning course, you can use short microlearning video lessons to cover the crucial concepts and offer them to your employees. This repetition of information in spaced time intervals reinforces learning and leads to better learner retention.
Wrapping it up!
Videos are one of the most popular tools to impart a variety of training programs and their contribution to imparting product training is noteworthy. Video-based lessons are handy and enhance learner engagement which boosts knowledge retention. Quality product training can certainly lead to better business and videos play a key role in making them effective.
Apart from videos, there are other microlearning formats that can be effective for your sales force. Get your hands on this eBook to find ways you can empower your salesforce with Microlearning.