Mastering Mobile Learning: 4 Hurdles to Overcome for Effective Corporate Training
Are you considering implementing mobile learning for corporate training but unsure of the challenges ahead? Check out our latest blog post on the 4 biggest challenges faced and how to overcome them!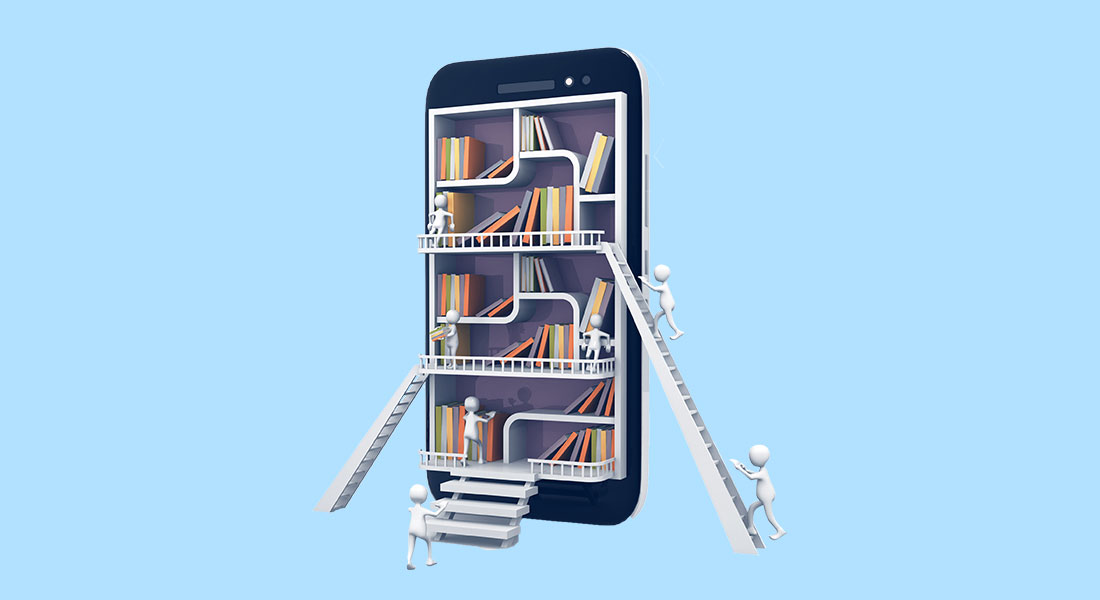 Mobile learning, as the name suggests, is a way of offering eLearning content via mobile learning. It is becoming a popular approach to deliver corporate training. According to a report by Statista, the global mobile learning market is expected to reach a value of $37.6 billion by 2025. However, there are certain obstacles or challenges that might hamper its implementation.
Let us discuss some of the key challenges associated with mobile learning implementation.
Wondering What Might be Hampering Your Mobile Learning Implementation?
Here are the challenges you should know:
Designing content suitable for mobile learning
Measuring the effectiveness of the learning
Ensuring confidentiality of the mobile content
Overcoming the technical barriers
But before proceeding any further, let us discuss what mobile learning is –
Mobile Learning
Say mobile learning and the first thing that comes to mind is learning through mobile devices. However, there are two aspects to define mobile learning: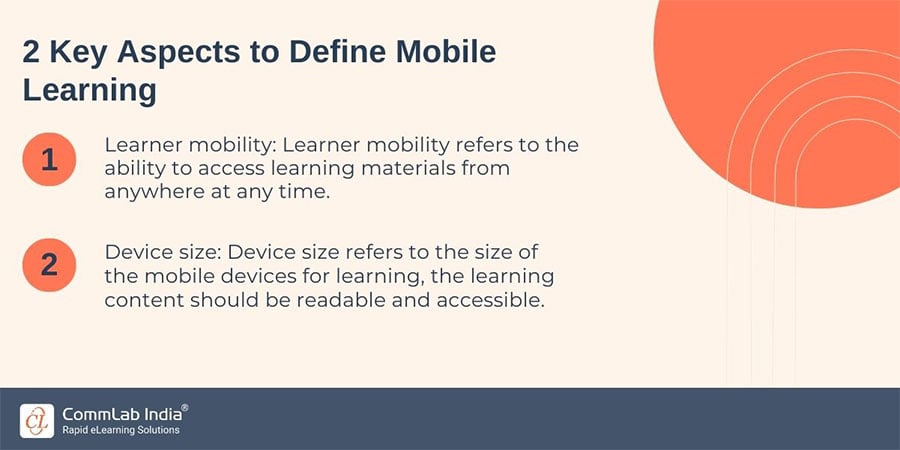 Learner mobility: Mobile learning should be accessible to learners on the move and should not restrict them to sit at a specific location.
Device size: The learning should be accessible on devices that are wireless, electronic and easy to carry around.
Mobile learning developers need to keep these two aspects in mind when developing mobile learning solutions.
Let us now discuss the barriers impacting mobile learning implementation and how to overcome them –
Barriers Impacting Mobile Learning Implementation
1. Designing content suitable for mobile learning
This is certainly one of the biggest barriers to the implementation. The content developed for regular eLearning courses are not suitable for mobile learning. However, most developers overlook this difference. In order to overcome this barrier, it is important for the learning developers to be more aware of the content and where it is going to be presented. At the same time, it is also important to know what the learners prefer, their interests and preferences and make the content more appropriate to their liking.
Here are some tips that will help make the content more suitable for mobile learning: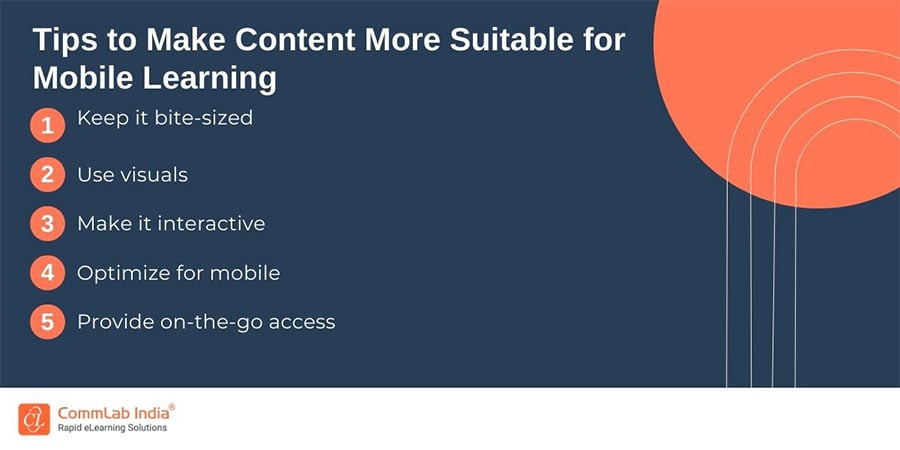 Keep these factors in mind to make the content more accessible with respect to the device used by the learners, interactive and draw learner engagement.
2. Measuring the effectiveness of the learning
This is yet another barrier that can impact the implementation. Without proper measures to evaluate its effectiveness, there are chances for the learning to become uninteresting, irrelevant and obsolete over time. This can be addressed with the right set of tools. For instance, mobile learning analytics and learning management systems (LMS) can be used to track how learners proceed, understand where they seek improvement and what is working for them. Other way is to ask for feedback and work on it.
3. Ensuring confidentiality of the mobile content
Mobile learning is sure a great way to introduce flexibility and ease accessibility in corporate training. However, making the learning content more accessible and sharing it on mobile devices may also make it more vulnerable to unauthorized use. Certain training content may be sensitive and not meant for unauthorized access. This can hold back teams from implementing it. One way to overcome this barrier is by implementing strong security measures such as 'restricting access with password' so only authorized users can access it. You can also implement security measures such as encryption to prevent data breaches and cyber-attacks.
4. Overcoming the technical barriers
When it comes to mobile learning, one of the biggest challenges faced is overcoming technical barriers. These barriers can include several things such as ensuring that content is compatible with mobile devices and ensuring that employees have access to technology and training. One way to overcome these barriers is to is to provide employees with the necessary training and support. Another way is to outsource the mobile learning development to a partner with the required expertise.
Wrapping Up
We have discussed the top three barriers that can have a negative impact on mobile learning implementation, but there are more barriers that hold back learning and development (L&D) teams from even adopting the approach? Yes, that is true. Want to know more about these barriers? This eBook discusses them in detail.
Download it now and gain more insights into mobile learning and its implementation!