Millennial Onboarding Beyond the Classroom with Mobile Learning
This blog helps training managers gain an insight into the ways in which mobile learning helps with millennial onboarding.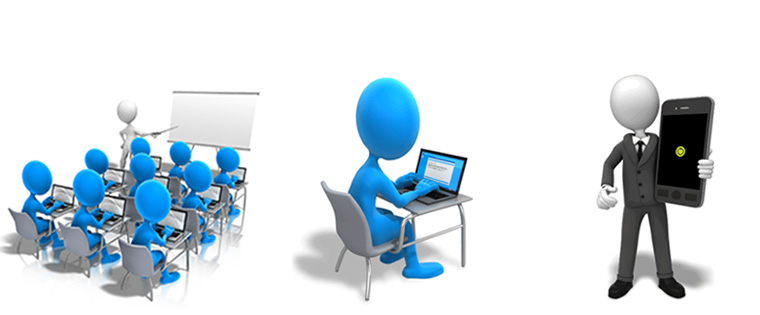 Does your current onboarding program go beyond the basics and cover everything that a new hire needs to get up to speed in his new job? Even if the onboarding program covers everything that a new hire needs to know, does it come across as rushed?
Though the above problem is addressed by online onboarding programs, new hires might need reinforcement of the training program for effective retention. Instead of getting new hires to go through a lot of information in a limited time period, it would help if you could give them a chance to go through or review important information at a convenient time and pace. Millennials love their smartphones, so why not let them review the online onboarding training anytime, anywhere. Here's why organizations must consider leveraging the power of mobile learning to take millennial onboarding beyond the classroom.
Connect with the Millennials
Mobile learning can be utilized in the pre-boarding process. Videos with a warm welcome message from the team members or guidelines to follow on their first day at work can be delivered to millennials on their mobile devices, even before they join your organization. A majority of millennials love to browse the Internet, shop online, email, and socially network through their smartphones.
Make onboarding a collaborative process. The smartphone can act as a tool to connect the millennials with other new hires in the team. Millennials love sharing their ideas and the mobile learning program can provide a platform for easy collaboration among the millennials and their mentors in the company. This affinity towards smartphones can be leveraged to connect with the millennials as part of the onboarding training program.
Even if you are following a blended learning strategy for your employee onboarding program, you can implement the Bring Your Own Device (BYOD) policy to engage the millennial new hires. When you deliver part of the onboarding experience on their device of choice, millennials feel connected and are involved in the onboarding process.
Let Millennials Control their Learning
Millennials like to stay in control of their learning, and it's no different when it comes to onboarding. Millennials are not sticklers for strict rules and guidelines, and would love a flexible onboarding experience. As compared to traditional onboarding where learning is tied to a time and place, onboarding through mobile learning is a refreshing change.
Millennials would like to learn anywhere, anytime and stay in complete control of their learning experience. When your millennial onboarding program includes m-learning modules, it not only gives them a flexible onboarding experience but also makes it enjoyable.
Deliver Shorter Modules
Millennials want information quickly and do not want to sit through lengthy onboarding programs. Short modules and lessons work well for them, as it motivates them to keep learning and also boosts information retention.
You could try delivering part of the onboarding training program through microlearning. Using different formats like animations, videos, infographics, or images can make the onboarding process enjoyable and interesting for millennials.
Save Time and Money
A mobile learning solution is successful at dispersing important information quickly. With a BYOD approach, new hire onboarding can be done even outside the workplace. This reduces the time spent on new hire training programs. For example, delivering a basic induction program as an m-learning solution will benefit the millennial new hires as well as the company. For example, you could consider utilizing m-learning to deliver information on the dress code to be followed by new hires. This would help new hires immensely. When millennials come into the workplace with some insight into the organization structure and their job roles, the company can save time and cost by accelerating the productivity of new hires.
Offer Offline Support
Millennials look for instant gratification. When you deliver part of the millennial onboarding program through m-learning, it gives new hires the flexibility to gain instant access to information. They can also download essential information on their mobile devices. This is possible through mobile apps that support offline viewing of onboarding content and help enhance the millennial onboarding experience.
Facilitate Remote Onboarding
When you have new hires located in remote locations, you can rely on mobile learning to deliver the onboarding experience. It would be nice to deliver a virtual tour of the company to remote new hires. Training new hires on the organization's culture is a critical part of the onboarding process. Remote employees do not work from the office and end up missing this crucial aspect of onboarding. Interesting videos on the company's culture or messages from the leadership team on the values of the company can be delivered as m-learning modules. It is ok to over communicate with remote hires in order to avoid making them feel isolated. This can be done effectively through mobile learning in onboarding programs.
The millennial workforce is looking for an onboarding process that is engaging and flexible, and m-learning in onboarding can offer what they need. This does not mean that mobile learning can replace a full-fledged e-learning course or blended learning program for onboarding. What it can do is provide ready reckoners or handy resources that can aid the process of integrating millennial new hires in the organization.
If you have used mobile learning in your onboarding programs, please do use the Comments section to share how this has benefited your workforce.