Why is Microlearning a Good Fit for Gen Z Learners [Infographic]
Microlearning is best not just for millennials but also for Gen Z learners. Find out how it can benefit the Gen Z and their performance on the job.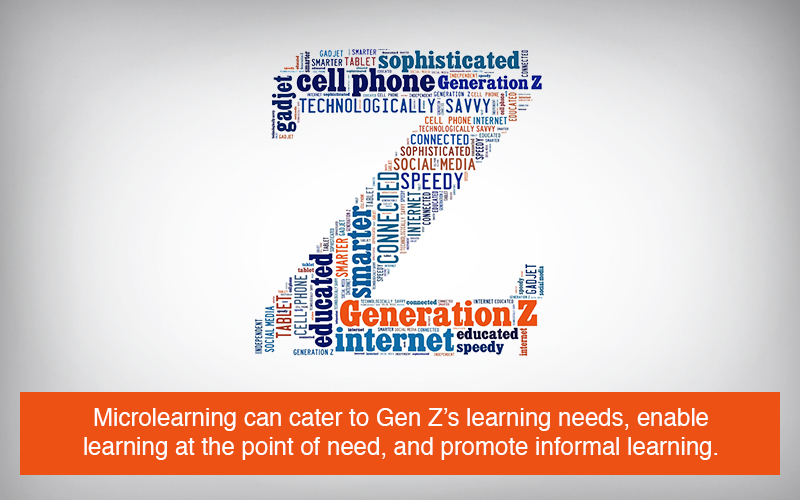 Microlearning benefits your corporate learners – of all age groups. Learners who are born after 1996 can hardly do anything without using technology. Be it waking up in the morning [alarm], reading news [online portals], or being reminded of a friend's birthday [notifications] – everything is through technology, and everything is online.
So, we must leverage technology [mobile devices] to train them, to make the best use of it. But why are we talking about mobile devices here? Because what's better than microlearning to provide training on mobile devices?
Microlearning is small, bite-sized information that is chunked from lengthy eLearning. It's a training approach that caters to the short attention spans of both Gen Y and Gen Z. It's important for you to also understand what microlearning is not, so here's what it is NOT:
Just chunking content
A Replacement for eLearning
Limited to videos
Only for knowledge reinforcement
Ideal for every learning situation
Microlearning becomes a perfect fit as performance support, job-aids, or even when you want to make your corporate training a quick blend of classroom training with microlearning assets. There are various microlearning assets you can pick from—animations, infographics, GIFs, digital flashcards—and all these assets go well with mobile learning.
Now that you've learned the what, the what not, and the how of microlearning for corporate training, here's a peek at how it can benefit your Gen Z learners. Have a look!