Legacy Course Conversion: Best Practices for Organizations
Have legacy courses that need to be converted to HTML5? Are you in a fix on what to do and what not to? Don't worry, we have curated a list of best practices that you could refer to do it right.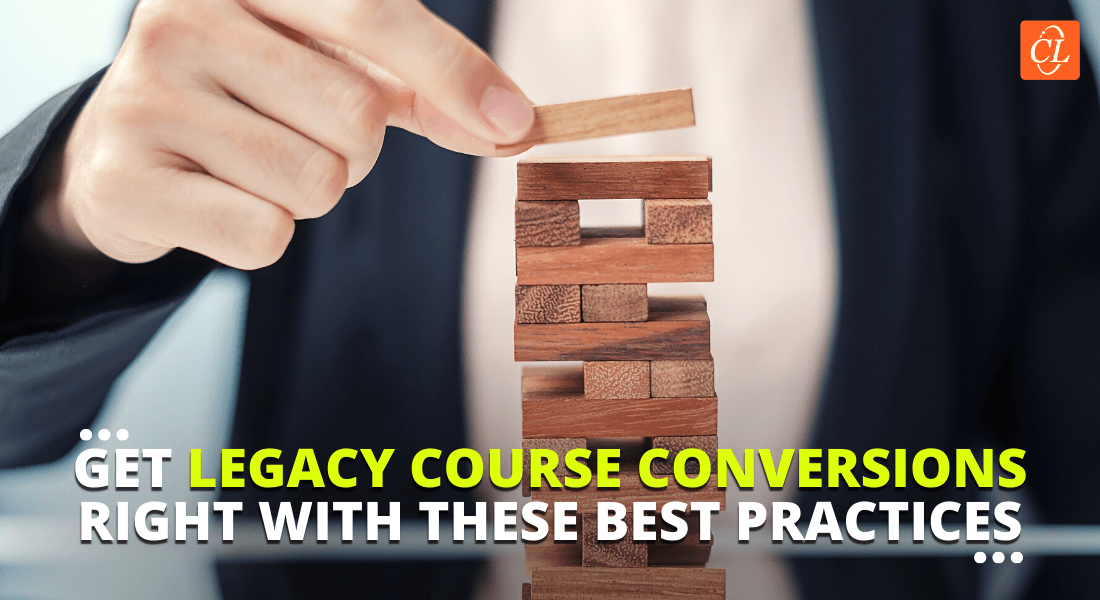 The growing demand for training material that is mobile-friendly, learner-centric, and more relevant is pushing organizations to adopt lathe test authoring tools for their eLearning development. But this doesn't mean that eLearning materials developed using older versions of software have to be pushed away! Well no! You can convert your legacy eLearning courses to HTML5 using rapid authoring tools. The tools help you repurpose and reuse the content and make the courses more impactful.
Wondering How to Ace Legacy Course Conversion?
Here are a few best practices:
Identify the courses that need to be converted
Access the scope of conversion
Choose the level of Interactivities required
See if the modules need improvement
Get feedback
But before getting into the details, let us understand why to convert your legacy courses to HTML5.
Why Convert Your Legacy Courses to HTML5?
We live in a tech-driven world where everything is much more advanced, responsive, and mobile-friendly! In such an environment, digital eLearning solutions developed on software that are obsolete now such as Dreamweaver and Flash are loaded with several security flaws and are quite high maintenance!
In this scenario, HTML5 serves as a better alternative. It is natively supported by browsers, the maintenance cost is low, and offers better security features. These positives are reasons why organizations have been emphasizing converting their legacy eLearning courses to HTML5. But what are the best practices or tips that should be followed to make the most of the conversion?
This article will help you. But before that, let me take you through the advantages of legacy course conversions.
Advantages of Legacy Courses to HTML5 Conversion
Some of the advantages resulting from the conversion include –
Improved Mobile Compatibility
Converting legacy courses (developed using older versions of authoring tools) to HTML5 makes them more responsive and device-agnostic – this means that they can work on multiple devices including desktops, laptops, mobile devices, and tablets. This way, the employees can access the courses from whatever device they have.
Increased Engagement
Engagement is key in online learning. The presence of engaging elements keeps the learners hooked on the training being delivered. This will also help in boosting employees ' course completion rates.
By converting legacy courses to HTML5, it is possible to add captivating interactivities, game elements, interactive videos, and other multimedia elements that make the eLearning courses more engaging for learners.
Lesser Security Concerns
Older versions of software such as Flash have numerous security flaws, and their incompatibility with most technological advancements is the root cause of the security flaws. HTML5 addresses this issue. Not only is it natively supported by browsers, but it also has the highest standards of security.
Reduced Training Delivery Costs
Organizations can save a lot of money by creating content that is responsive for many devices. They do not have to create the same content over again to suit different platforms. Additionally, converting content to HTML5 is less complicated. You don't have to create everything from scratch, the authoring tools can come in handy in repurposing and reusing the existing content. Thus, the switch is very cost-efficient.
With so many benefits, converting your legacy eLearning courses to HTML5 is beneficial for organizations. But how to do it right? The following best practices can help –
Best Practices for Legacy Course to HTML5 Conversion
1. Identify the courses that need to be converted into HTML5. You have to understand that it is not possible to convert all legacy courses to HTML5. Therefore you have to identify and prioritize the courses for the pilot. When prioritizing, make sure that you have the source files and other resources of the courses shortlisted. This will ensure that there are surprises at the time of conversion and make the development easier for the Instructional Designer (ID).
For instance, you need to know all the information about the authoring tool used to create the original course. This information helps in identifying the best HTML5 authoring tool for conversion.
2. Access the scope of conversion. While some projects might just need minor adjustments, like tweaks to the visual design, other initiatives might need more significant adjustments, like redoing the animations. You will have to identify them and choose the right conversion strategy.
3. Choose the level of Interactivities required. To make your courses compatible with a variety of mobile devices, convert lengthy, legacy materials to shorter, readily absorbed mobile learning solutions. You will have to use a different approach to eLearning design so you can accommodate multi-device support. There are levels of interactivity that you can add to boost the learners' engagement and involvement. Choose them according to the training being delivered.
4. See if the modules need improvement. This step has to be done in the presence of the Subject Matter Expert (SME) and the ID. In the presence of these experts, you will have to identify if your existing courses require improvements – you should consider improvements in terms of the subject, interactivities, as well as modalities for impactful delivery.
5. Get feedback. Once you have identified the courses for conversion and what to do and what to add, your next step will be to convert the course with the help of rapid eLearning authoring tools. Once you have the pilot conversion at hand, share it with a focused, pilot group to get their feedback. This feedback can be incorporated into future conversions.
Wrapping Up
Legacy course conversion helps you repurpose and reuse your existing eLearning materials to make them more relevant and impactful. The conversion to HTML5 makes the course content more mobile-friendly and interactive. By discussing the benefits to the best practices for the conversion, the blog discusses all to help you succeed the conversion.
Now, for the next step, you should identify the right strategy to convert your legacy eLearning courses to HTML5. Did you know that there are 4Rs to aid legacy course conversion? You can read more about them here.