Let Your Courses do the Talking – 6 Tips to Gain Learner Attention
Gaining learner attention is a prerequisite for effective eLearning. Try icebreakers, interactivities, dynamic visuals, and more. This blog shares tips to make eLearning courses attention-grabbers.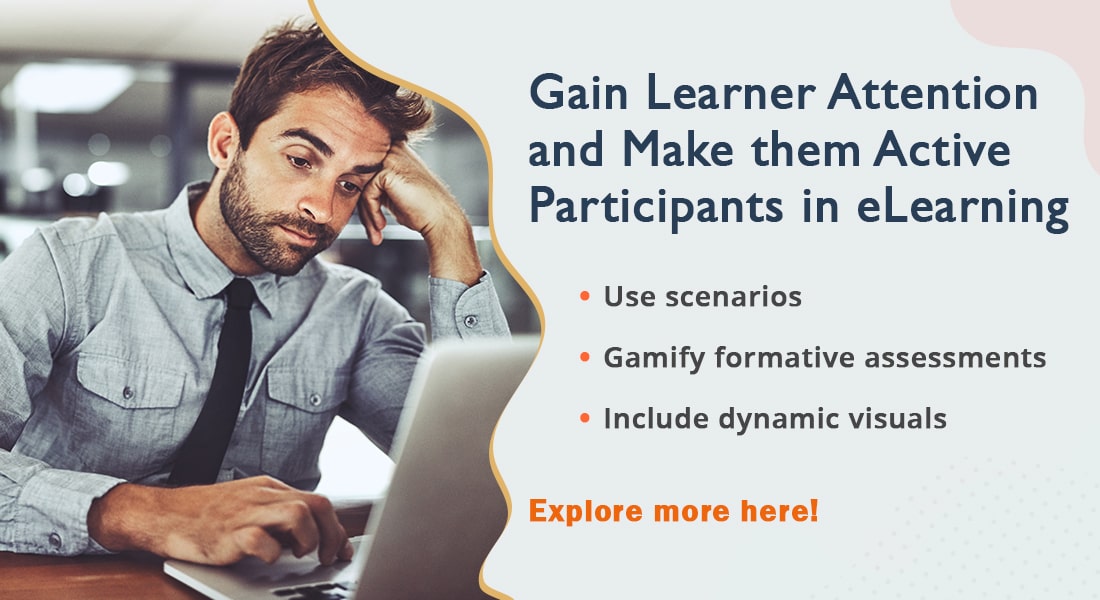 "Will this eLearning course gain learners' attention and compel them to finish it, thereby achieving the learning objectives?"
How often do you ask this question when designing eLearning courses? Why is it important to gain your learners' attention? Because if you haven't captured their attention, they won't be ready to receive what you have to offer in the course and the learning opportunity is lost. How often do we close a course or an article in the first few seconds just because the introduction wasn't interesting enough or didn't appeal to us – and the same is true for eLearning.
Simple Design Tips to Gain Learner Attention in eLearning
Make the right first impression
Include the motivation factor
Include everything in context
Have a proper flow and navigation
Use dynamic visuals
Make learners do something
Specially now with busy schedules and work from home becoming the new normal, it is very essential to design eLearning courses that trigger learners' interest and motivate them to finish courses.
Here are 6 simple design tips that can be incorporated in eLearning courses to engage learners and put an end to those high dropout rates that leave you answerless in front of the stakeholders. Whether it's your inhouse L&D team or external eLearning vendor-partner, with this blog you will know what to ask them for!
Tips to Gain Your Learners' Attention in eLearning
Make the Right First Impression
Include an attention-gaining device at the very beginning of the eLearning course which will gain your learners' attention. Also tell them what the course offers or helps them solve or the pain points it addresses – this will set the stage and make them look forward to it.
Some ways to do so:
Inform learners WIIFM (What's in it for me) if they take the course
Have icebreaker questions/statements that highlight the issues the eLearning will be addressing
Have a short video clip introducing the topic or talking of its importance (this works well for safety-related courses)
Let learners know you empathize with them by using comic strips
Welcome them to share/think over what's expected from them using reflective questions
Use 'Do You Know' or 'Can You Recall' questions to help them connect what's to come with their prior knowledge
Include the Motivation Factor
Motivation plays an important role in the learning process. It should be used at the beginning, during, and at the end of the an eLearning course because it sustains learner attention. While the tips discussed above will get them hooked to the course, you need to sustain it and motivate during the course.
Some ways to do so:
Score formative assessments and impose realistic conditions to complete them – this will help learners see how it really applies to them back at work
Gamify formative assessments
Use scenarios to help learners see the consequences of their actions
Award badges/points after the completion of each learning point
Let learners unlock new badges on the LMS on the completion of each eLearning curriculum or learning path
Address them by name during the eLearning course to reinforce the personal touch
Include Everything in the Learner's Context
There should be a connection between learning and workplace performance. Do a thorough training needs analysis to determine the performance gaps learners need to fill. Everything included in the course, right from the graphics and interactivities to the assessments and references should be relevant to the learner. Context-driven courses not only motivate but also encourage learners to pay attention as they see their needs being met.
Some ways to do so:
Ensure courses have performance-based learning objectives that are in turn aligned with the business strategy
Ensure the eLearning course has all the need-to-know content essential to achieve the objectives
Ensure content and assessments are aligned with the learning objectives
When using avatars or scenarios, ensure they are realistic – in terms of the setting, plot, and characters – for learners to see the application back at work
Have a Proper Flow and Navigation
Content structure also has a huge impact on gaining learners' attention. Give a logical flow to the content in eLearning courses because disorganized content moves learner attention away in no time. Learners should also be able to navigate the course easily and without any restrictions on how they can access/visit different sections. Some courses need a primer on how to access the course itself! We need to avoid going that way.
Some ways to do so:
Break down the eLearning course into units based on the learning objectives
If there's a chance of it becoming lengthy, each objective can be covered in a microlearning module
Open navigation and give learners freedom to explore the course
Have agenda slides that visually depict the units, sections visited, current location, section to be visited, and more
Use mind maps to let learners understand the different units of the course and their interdependencies at a glance
Use formative assessments after every learning point – they let learners take stock of what was just learned and provide a sense of accomplishment
Use Dynamic Visuals
How many times have we heard that "a picture is worth a thousand words?" If that's so, then dynamic visuals can convey a complex idea, grabbing and retaining learner attention in eLearning. But it's not about just including any graphic – you need to ensure the visuals included in your course improve learning – and suit the function. Form should always follow function!
Some ways to do so:
Use simple animations to showcase straightforward processes/procedures
Use videos to demo complex process or steps difficult to replicate in eLearning or costly to be done live
Use infographics to present huge amounts of text or dry facts and figures in a visually appealing manner
Use GIFs or video trailers to highlight key takeaways
Use visuals to make courses more real, build a connection, and depict abstract concepts
Explore the seven types of visuals that can be used in eLearning in this infographic.

Make Learners DO Something
The importance of having learners participate in the eLearning course can't be stressed enough. The more the learner interacts with the course rather than just clicking Next to navigate, the higher their attention level. Learner participation can be achieved through exercises, interactivities, and by providing learners control over certain choices.
Some ways to do so:
Include click to reveal interactivities – they reduce cognitive load and are a good way to chunk content
Use scenarios, simulations, games – these can be used for teaching as well as assessing
Have formative assessments in different formats – drag and drop, matching exercises, sliders
Incorporate interactive videos – which let learners explore more or answer questions
Pro Tip
If you are conducting a virtual instructor-led training (VILT) session, you can convert classroom activities into collaborative activities using the features offered by most video conferencing tools – try polls, chat, annotations, and breakout rooms.
Your Turn!
Take your pick and ensure you use these elements that will ensure learner attention in eLearning. Here's a secret – all of them are rooted in adult learning design principles (whether it's telling them what the course will solve, connecting new knowledge with their prior experience, or letting them be self-directed, and more).
These elements can be easily incorporated in rapid eLearning, ensuring learner engagement is never on the wane. Explore more rapid eLearning best practices for effective instructional design in this eBook.