Gear Up for 2023! eLearning Trends for the Year [Webinar]
The corporate eLearning industry is undergoing tremendous changes; it is extremely important for organizations to keep up with the trends and advancements in the industry. Eager to know the eLearning trends for 2023? Then sign up for this webinar. Read on to take a sneak peek.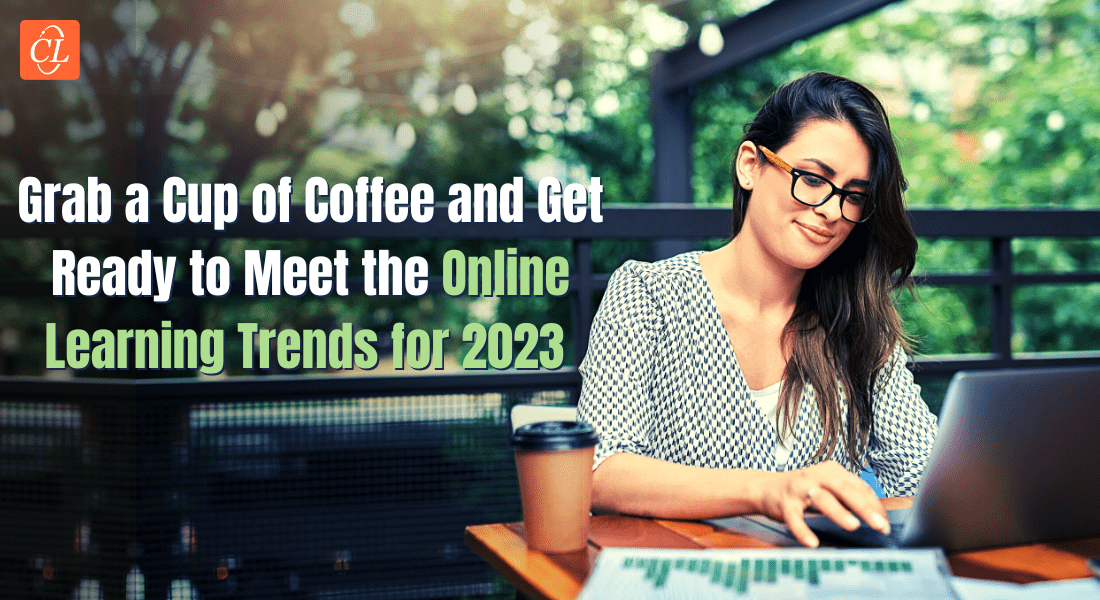 Why should you know about eLearning Trends? Why are they important? You will find out, but before that, let us set the context…
Professional growth and development are crucial for the modern workforce. According to LinkedIn's 2022 Workplace Learning Report organizations that emphasize internal mobility retain their employees for 5.4 years on average, which is 2X more than organizations that struggle with it. And… such organizations manage only 2.9 years of average retention.
Considering this importance, organizations have been advancing their L&D activities and adopting various ways to enhance them. One such impactful way is the adoption of eLearning. Corporate eLearning incorporates both professional development courses as well as online training courses for employee onboarding, safety, code-of-conduct, diversity and inclusion, and workplace harassment and security.
Not only is it comprehensive, corporate eLearning also makes the learning journey more engaging for the employees. And when an employee is more engaged with the content being delivered, there is a greater chance for them to focus more and thus retain better!
While these are the core advantages of eLearning for corporate training, the benefits go further beyond!
Advantages of Corporate eLearning
Corporate eLearning –
Saves money for the company
With eLearning, you will be able to reduce the fees for trainers and also the costs related to travel, training rooms, and materials.
Cuts down on learning time
Switching to eLearning can result in significant time savings for your staff members. Moving to eLearning can cut down on the employees' time spent on:
Travel time
Starting and finishing training sessions
Time for breaks
Improves knowledge retention for the majority of training topics
eLearning assets such as videos, gamification, and other interactivities, boost employee engagement. This will in turn have a positive impact on knowledge retention. Using eLearning to train employees on topics such as compliance procedures, reference guides, or technological advancements, can be very beneficial.
Promotes accessibility for global employees
Accessibility and just-in-time (JIT) availability are among the biggest benefits of eLearning for corporate training, especially for global employees. As most of the content is available whenever needed, it is much easier for global workforces to access the learning material when needed, and it also encourages continuous learning.
Provides a platform to analyze and track their performance
An LMS with learning analytics makes it easier for employees (as well as the trainers) to analyze learners' learning and track their progress. Real-time feedback encourages employees to improve their learning. At the same time, it also establishes healthy, peer-to-peer competition.
All these advantages make eLearning a must-adopt choice to deliver corporate training.
Keeping Up With eLearning Trends
Owing to the advantages, it is important for organizations to adopt eLearning for their L&D initiatives. At the same time, it is also important for organizations to keep up with the trends and advancements in the industry. Keeping up with the trends helps gain better knowledge about new and popular tools, best practices, and how to engage in new activities. Following the trends will also help in understanding different perspectives, and dos and don'ts to succeed, making better judgments and predictions, and understanding possible risks early so they can be mitigated.
A Webinar for eLearning Trends for 2023
Are you interested in discovering the eLearning trends for the upcoming year? Do you want to know the different factors that are instrumental to your eLearning solutions? If your answers are a "yes" then you should sign up for this webinar on "eLearning Trends for 2023 – The View from the Trenches".
Hosted by RK Prasad and Shalini Merugu, the webinar offers valuable insights that will help you build a robust L&D strategy. It also highlights focus areas that help you create a great impact in 2023.
The Interactive Session Offers Insights on –
How to develop personal brand via eLearning modules.
The different ways to support internal mobility.
How to promote the L&D department within your company.
Utilizing modern tools and technology to speed up training implementation and save money
Thrilled to dive into the details? Sign up for the webinar now!!