10 Must-Follow eLearning Design Best Practices for Impactful Course
Whether you're an experienced instructional designer or just getting started, a good understanding of eLearning design elements, and the ability to reflect them during development is imperative. To help you out, here are a few eLearning design practices to follow and take your courses to the next level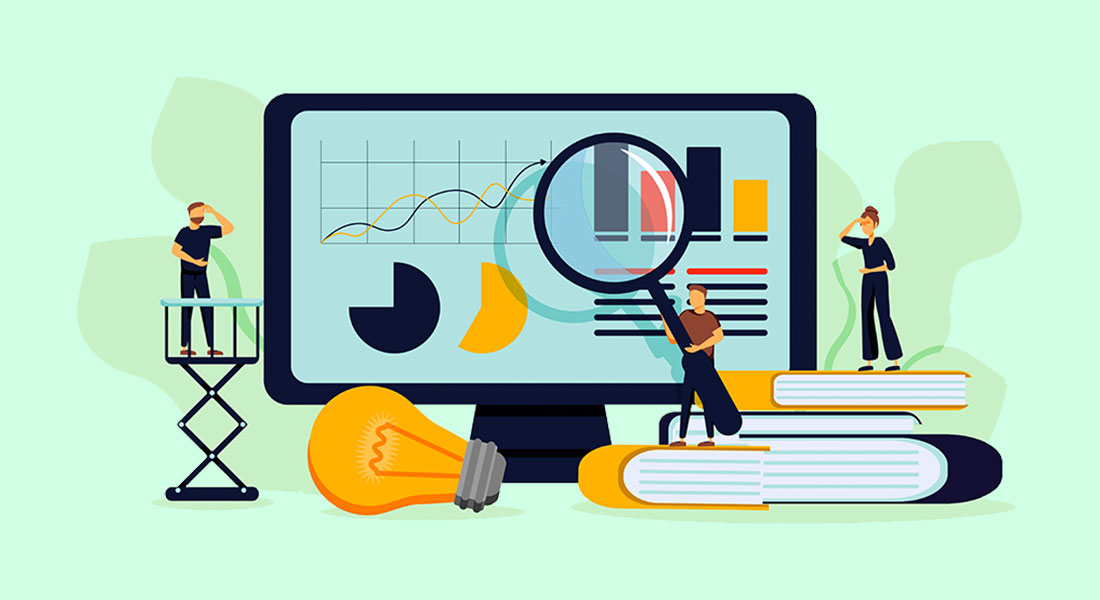 Tired of creating eLearning courses that fail to engage your learners? Here's your cue to design courses that are not only effective but also visually appealing! Continue reading as I reveal top eLearning design best practices for an impactful online training course.

Want to Design an Impactful eLearning Course?
Follow these best practices to succeed –
Set Performance-Based Learning Objectives
Determine the Course Duration
Implement an Agile Project Management Process
Create a Detailed Content Outline
Continue reading for more…
eLearning Design Best Practices for an Impactful Course
1. Set Performance-Based Learning Objectives
When it comes to eLearning design, one of the most important things you can do is to set performance-based learning objectives. This means that your objectives should be focused on what learners will be able to do after completing your course, not just on what they will learn.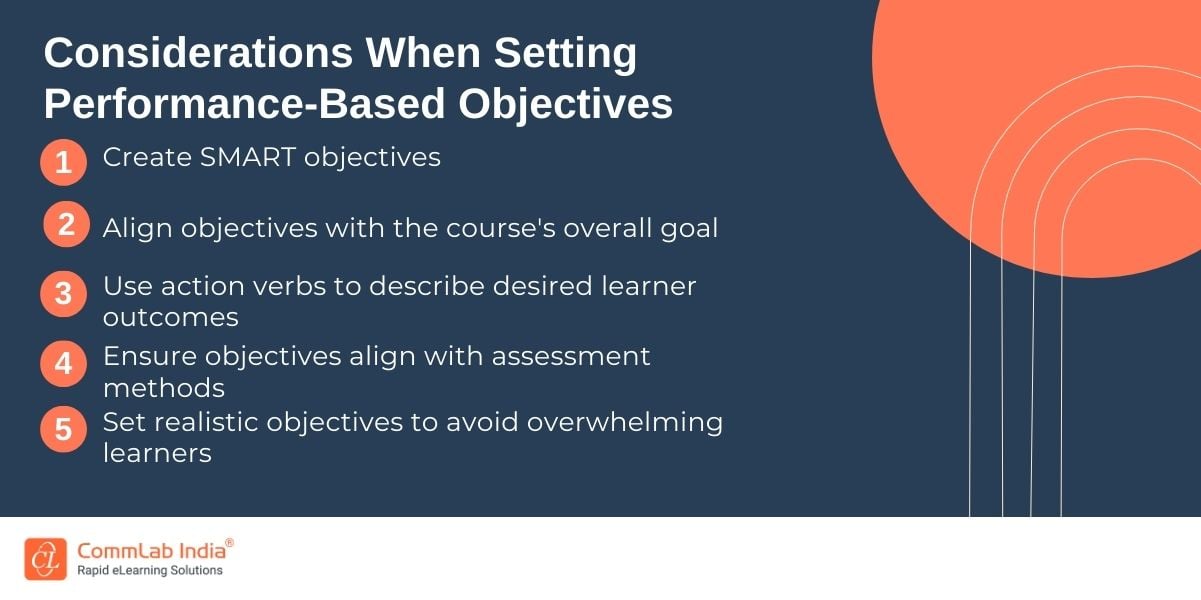 2. Determine the Course Duration
How long should your eLearning course be? It depends on a variety of factors, such as the type of content, the objectives, and the learners. For instance, if you're including a lot of audio or video content, you'll need to factor in the time it will take learners to consume that content. At the same time, if you are planning to include interactive content such as simulations or quizzes, consider that your learners will need more time to complete those activities.
Similarly, you should consider the time based on what you want learners to achieve by the end of the course. How much new material will they be expected to learn? Based on your objectives, you can determine how much time learners will need to complete the course successfully.
Another important factor is to consider the attention spans, learning styles, and abilities of the learners. Based on these, you can opt for formats such as microlearning, etc.
3. Implement an Agile Project Management Process
Following an agile project management process will help you ensure that the eLearning design and development are as per the plan. Make sure that you have a project manager to take care of the project schedule, assign tasks to team members, and track progress. Once this is done, create a detailed project plan outlining the steps required to complete the eLearning course. Include the project milestones and deliverables so the entire team is on the same page. This practice also helps track the progress.
4. Create a Detailed Content Outline
Ensure that you have a detailed content outline and make sure that you start with a bang by including an engaging icebreaker. For instance, you could start by asking them to share experiences (revolving around the topic of training), or by including a quick quiz to get started.
Once the course starts, make sure that it is in line with the learning objectives, and add visuals to ensure that the eLearning course is easy to comprehend and engaging throughout. Another important point to make sure of is consistency. Make sure all the various elements are consistent with each other in terms of style, tone, and approach.
5. Choose the Appropriate Instructional Design Strategy
The next step is to choose the right instructional design strategy for your eLearning course. There are many different instructional strategies to choose from, so it's important to select one that will best meet the needs of your learners.
There are certain considerations when choosing an ID strategy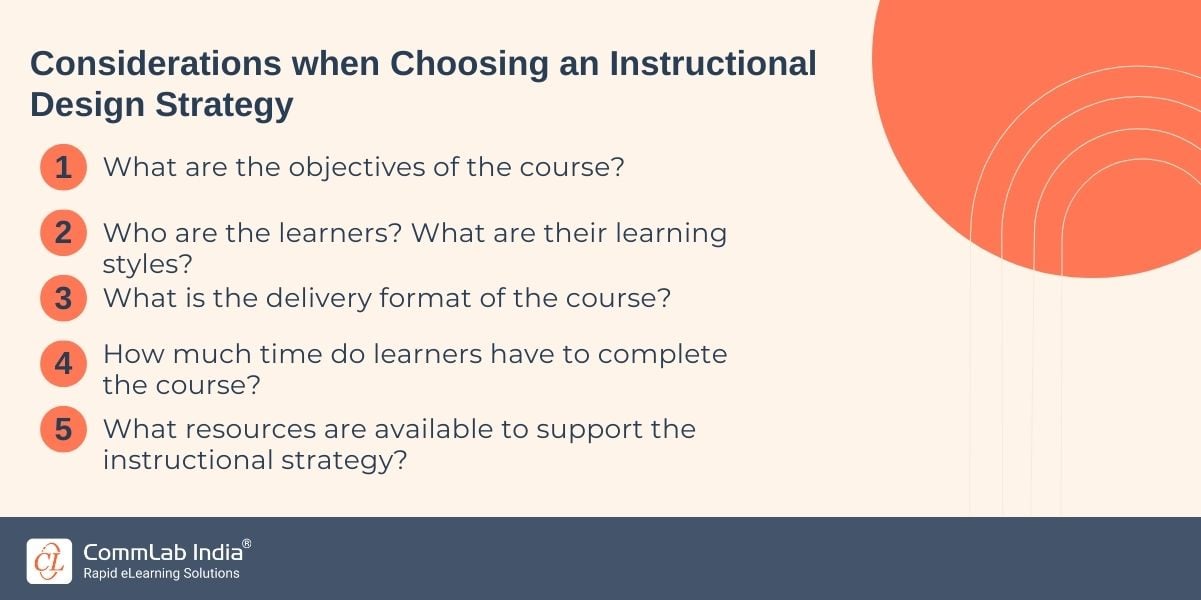 Based on these considerations, you can choose demonstrations, simulations, self-assessments, gamification, etc. Know more about ID strategies here:
6. Chunk Onscreen Content for Easy Comprehension
Make sure that the content is spread evenly on the screen – it has to be optimized to the screen size. Make sure that there is enough gap between the design elements. Avoid overdoing the content on the screen. Use headings and bullets to grab attention. Also, remember to optimize the text size.
7. Incorporate Interactivities for Active Learning
It is important to ensure that your learners are engaged throughout the course. For this, you should use interactive eLearning elements such as case studies, discussions, quizzes, and simulations. Such activities enhance learner engagement and retention of the training concepts.
8. Use Audio Effectively and Thoughtfully
Make sure that you use audio elements to accentuate the learning experience. Make sure that the audio is placed strategically for storytelling, explanations, or for providing additional context. Don't just use it to read content that's already on the screen.
Additionally, it is important to make sure that the audio is clear and of high quality, and free from distractions or technical issues.
9. Include Formative and Summative Assessments
Make sure that your course has formative assessments, such as quizzes or mini assignments, during the course. This helps with self-assessment. At the same time, including summative assessments such as final exams or projects, helps evaluate overall performance.
10. Utilize Authoring Tools for Efficient Designing
There are several eLearning authoring tools that help create engaging and immersive eLearning courses. These tools are easy to use, come with several features to add interactivity, and help streamline the design process. Make sure you choose tools that align with your ID needs.
Wrapping Up
eLearning design is a complex, but essential part of building successful online courses. By following the 10 best practices outlined in this article, you can ensure that your course is optimized for success and provides learners with an engaging learning experience.
Want to know more about eLearning? This book on eLearning 101 will give you all the guidance you need…