Guide to Choosing the Right eLearning Authoring Tool
eLearning authoring tools are a "must-have" in an L&D tool stack, they have changed how digital learning is created and delivered. But learning managers are still working their way around them. Are you among them? Then this article is for you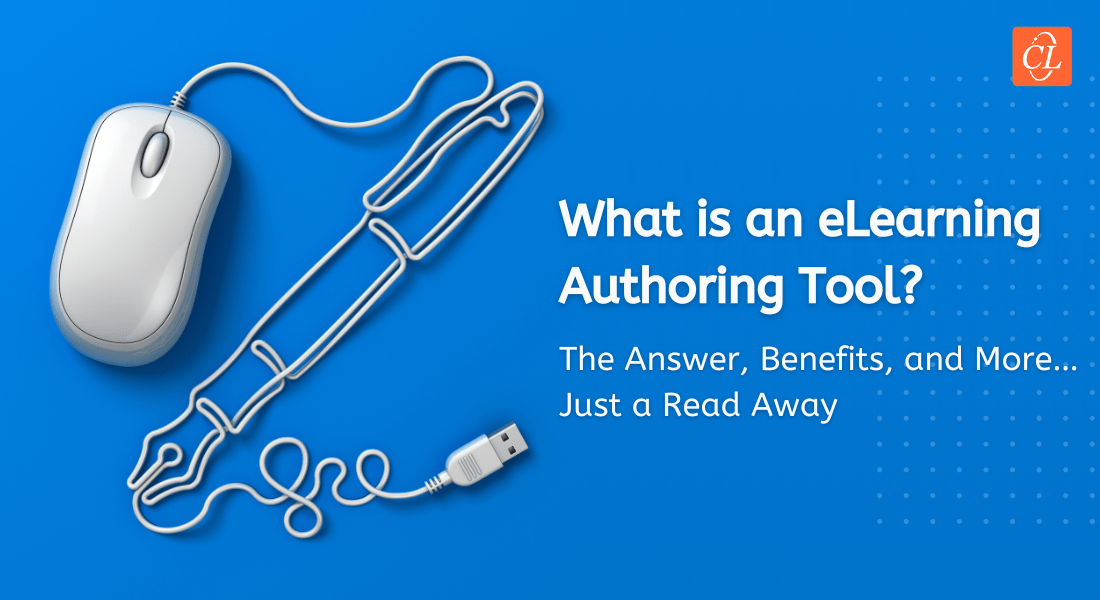 Investing in and using authoring tools to develop eLearning content does not require big budgets or in-depth technical knowledge. However, you will have to pick the right tool based on your purpose. This write-up will help you in choosing the right one.
Authoring Tools Help Design Courses Faster and Easier. Want To Know More?
This guide will help you understand:
What an Authoring Tool is?
The Benefits of Authoring Tools
Signs That You Need an Authoring Tool
Types of eLearning Authoring Tools
What is an Authoring Tool?
An authoring tool is a software/tool that helps create digital content. In the eLearning context, authoring tools are used to create interactive and engaging eLearning content. The key purpose of an authoring tool is to increase the efficiency with which content is created and reduce the time taken to do so.
For instance, adding hotspots to images would be a time-consuming task if done in a traditional, case-to-case way. However, the task can be accomplished within a few days using eLearning authoring tools.
But its abilities are not limited to this. An authoring tool can:
Bridge the gap between professional and novice trainers
Use built-in templates to speed up content development
Assist in producing rich, interactive training content that engages the learners
Makes it possible to convert legacy eLearning courses into new and improved eLearning courses
Now that we know the capabilities, let us discover the benefits brought by authoring tools.
Benefits of Authoring Tools
The following are the top benefits of an authoring tool:
1. You can repurpose existing eLearning content
Using authoring tools, it is possible to repurpose existing learning material. The only condition is that the material should already be in digital form. For instance, an existing interactive scenario can be edited to suit your eLearning platform; or an existing course developed for legacy systems (such as Flash) can be repurposed to suit the modern guidelines. Similarly, an authoring tool lets you repurpose images, presentations, and learning elements that usually take a lot of time and effort to develop.
2. You don't need prior experience to develop content
This is the most attractive advantage of using authoring tools. There are several authoring tools that can help create immersive and engaging eLearning content, even if the person has no prior design experience. Authoring tools can also enable you to create unique presentations, and interactive eLearning materials for all subject matters. At the same time, there are several authoring tools that do need little or no coding/ programming skills and even a Subject Matter Expert (SME) can develop the course.
3. You can have a stress-free deployment
Using authoring tools, it is possible to deliver the eLearning content to all the learners involved in the learning journey. Authoring tools let you package the entire content and deploy it on any browser or device, including mobiles and tablets. It is also possible to compress the eLearning content to make it easy to view on devices of all sizes.
4. You can scale the eLearning content with ease
Along with the growth of your business/ reach, it also becomes important for you to update your learning & development material. Keeping this in mind, authoring tools make it easy to update and scale your content. From the authoring tool dashboard, it is very convenient to change or update the eLearning content whenever you want.
For instance, compliance online training sessions need regular updating. So, instead of creating new compliance eLearning material, you can use an authoring tool to update and deploy content on your Learning Management System (LMS).
But how do you know if you really need an authoring tool? Let's discuss
Signs That You Need An eLearning Authoring Tool
One of the most evident signs that you need an authoring tool is a need for convenience in designing, developing, and deploying eLearning content.
Here are a few more signs that you need an eLearning authoring tool:
You do not have the budget to hire a developer. In such cases, an authoring tool serves as a cost-effective option. It saves your expenses while also allowing you to create and update the eLearning content you need.
You are struggling to speed up the eLearning development process. An authoring tool brings with it several inbuilt themes, templates, and interactivities. These can be used to customize and integrate with your eLearning courses. Thus, the entire eLearning development process becomes easier and faster.
You are unable to meet the eLearning needs of your growing organization. The growth of your company is always welcome news. This growth also means that you will have to meet the increasing training needs of your teams. In such cases, creating content manually is time taking. Instead, using eLearning authoring tools is an ideal option.
You find it difficult to support translation. Using authoring tools, you can export eLearning course content in text format. Further, the text can be translated, and import the translated file into the course. This will further boost the efficiency of your global training initiatives.
Your eLearning course is not multi-device compatible. Everything on the internet has moved from Flash to HTML5. Considering this, your eLearning content must be also on HTML5 so it becomes responsive and multi-device accessible. Authoring tools can make it possible.
You might now be wondering about the types of authoring tools available. Let us help you with that:
Types Of eLearning Authoring Tools
eLearning authoring tools can be divided into three types:
PowerPoint Add-in Authoring Tools
These tools come as plug-ins to be added to PowerPoint. These are considered to be the most convenient authoring tools and anyone familiar with MS PowerPoint can use the tools. iSpring Suite is an example of this plug-in.
Desktop Authoring Tool
These are the traditional authoring tools that are available to be installed on desktops. They can be accessed by a single developer to create engaging course content. A few examples of desktop authoring tools include Lectora Inspire, Articulate Storyline, and iSpring Suite.
Cloud-based Authoring Tools
These tools, like other cloud-based applications, are hosted on an external server. They can be accessed via the internet through a web browser. The best thing about them is that they allow multiple-remote teams to work collaboratively and thus offer flexibility and time-effectiveness. Some examples include Lectora Online, dominKnow's Flow, and Articulate Rise.
Now that we have discussed what an authoring tool is, what its benefits are, who needs it, and the types of authoring tools, it is your turn to research more to find the authoring tool suits your purpose the best.
Parting Thoughts
There is no denying the fact that eLearning authoring tools provide value and make your online training content more efficient. These tools work wonders when it comes to creating eLearning course content – making them more interactive and engaging. Hope this article has helped you understand more about authoring tools.
Now, if you are wondering how to select the right authoring tool, this eBook is here to help.