22 Years of CommLab India and Many More to Come
CommLab India turned 22 this 2022 and we can't keep calm. At CommLab we work hard and party harder. Yes, we went all out to mark the grand success of another eventful year. Take a tour of our 22nd-anniversary celebrations with me.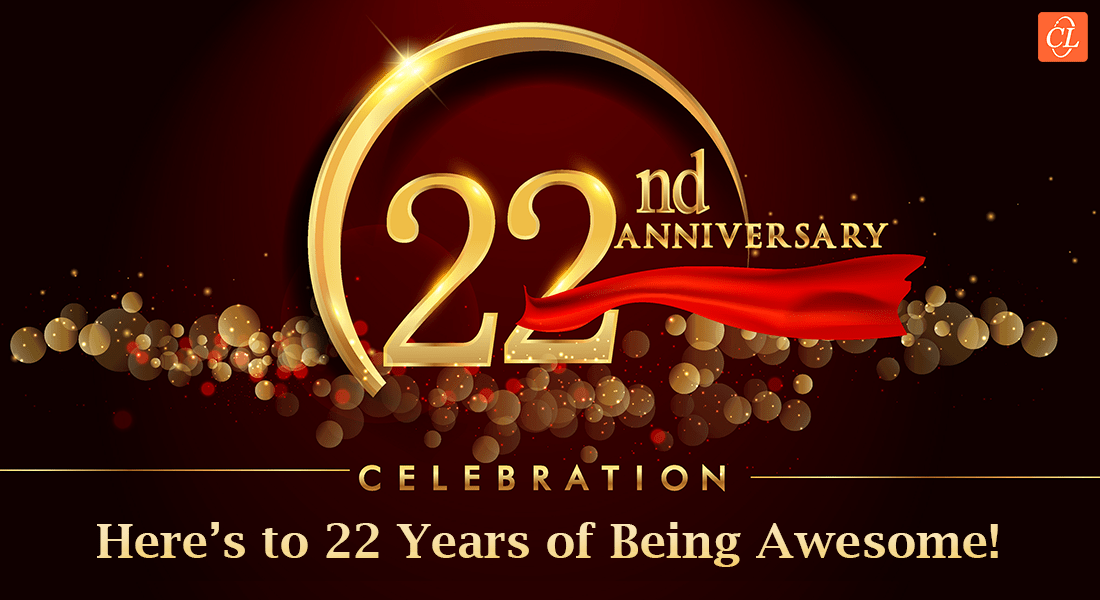 Cheers to another successful year at CommLab! I am proud to be a part of CommLab India and am so happy, that with all the love and support CommLab India completed 22 successful years, achieving more than expected. Yes, we have completed another successful year! Now before we took another step in this journey, we made sure to have a grand celebration. Let me take you on a short tour of how we, at CommLab India celebrated our 22nd anniversary.
The grand celebration had everything one could have wished for. CommLab India's culture is a blend of its values. Those values have helped us come so far and we have made sure to never compromise on those values. We left no stone unturned to make sure that our 22nd anniversary was a memorable one. It was an educational event full of learning at the same time all of us had a lot of fun.
Bliss 22
1st September was the night no CommLabian will forget. For the past 2 years because of covid, we celebrated the event virtually, now that we got the opportunity to be together, we couldn't resist our excitement to raise a toast to mark the memorable benchmark. Our parents, spouses, friends, relatives, and the whole CommLab family gathered and created memories by celebrating the event with pomp and show.
Yes, we went all out, there were games for children, a 3D selfie booth to capture the memories, a kids' fashion show was arranged to encourage them to showcase their talents and so many more fun events. Also, how can we forget our mascot 'SHERU' who made sure to keep all of us entertained. The event started with a dance performance setting the stage on fire and the audience tapped their feet to the peppy medley with gushing zeal. Followed by many of us showcasing our talents, there were many activities, and fun events, and the cheer up by the audience did not let the energy level drop even for a moment. A party without a cake would be a meeting, of course, there has to be a cake. We sliced into the sumptuous and beautiful cake flagging off the event further.
Post that every employee was given a memento by our CEO Dr. RK Prasad and COO Dr. Ayesha Habeeb Omer to appreciate their hard work and contribution to CommLab. We were encouraged to speak about our aspirations, and we spoke our hearts out, stating various reasons to be proud of being a part of this organization. And those inspiring words by Dr. RK Prasad will keep all of us motivated and inspired for the coming years. CommLab family never backs down from having fun, and of course, the evening would have been incomplete without the tasty dinner, wherein we relished delicious cuisines.
Well, that is not all. We at CommLab do everything grand. We started the celebrations a month ago. Various activities and competitions were arranged for everyone.
Cross-Learning Sessions – Everyone was divided into teams and had to prepare presentations on current themes like technology, culture, creativity, branding, 10X, etc. Every team member took their turns to present the chosen topics and through active participation, we lived our value of 'one team one family. The presentations were an amalgamation of interesting videos, ppts, and interactivities which made us learn new things while having fun.
Team Competitions –Activities like Hook up Step, Pictionary, Stare game, and Tongue twisters were a few team activities, that encouraged team spirit and cemented the bond between various teams.
Individual Competitions – Not only the team activities, but we all also participated in several other fun activities too. Guess the name of an employee by emojis and guessing the employee from their childhood picture are some of the activities we all enjoyed. And of course, there were prizes that boosted our participation.
Did you think that is it? No, it was not all. Various game competitions were also arranged to set ablaze the competitive and sporting spirit among CommLabians We all tried our hands on carrom, table tennis, Foose ball, treasure hunt, and cricket tournament.
To 22 Years of CommLab and Many More to Come…
The efforts taken by the entire CommLab team to organize such a grand event successfully are appreciable. The event wouldn't have been a grand success if not for them. We CommLabians are proud to be a part of such an organization.
The CommLab family has achieved so much together and will continue to do so. We do not plan to stop anytime soon. We are growing and will continue to add many more members to our CommLab family with big smiles and open arms. celebrating many such successful and wonderful years together. We always say "Our story is a collective one – of every talented and dedicated employee at CommLab India who has helped and continues to help our customers succeed."
We are proud to be a known name in the eLearning industry. At CommLab India we believe in sharing and fostering cross-learning in the L&D community. So, what are you waiting for? Be a part of Learn Flux, a platform for L&D professionals to explore new steps in the tech-enabled training journey and get inspired by the success stories of other L&D professionals. Register Now!