The Top 7 Incredible Benefits of Blended Learning
Blended learning combines traditional classroom training with online learning formats to help us get the best of both worlds. It not only promises better learner satisfaction, but also boosts your return on investment (ROI). Read on to explore more.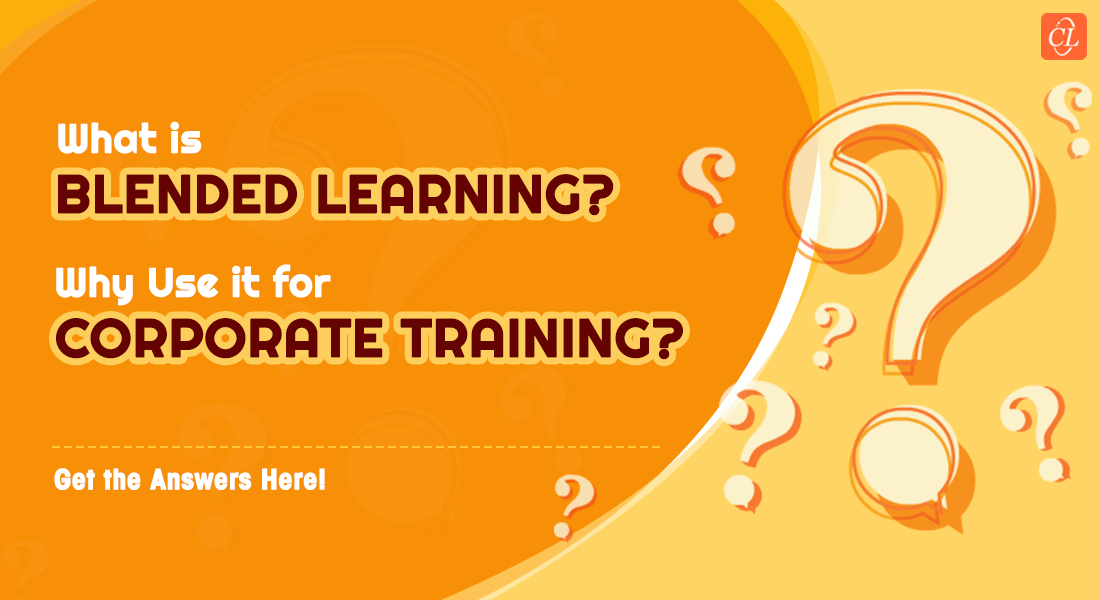 We relate to your passion. You want to establish a continuous and lifelong learning culture in your organization. We are also aware of the challenges that you might face in this task, and we want to make it easier for you. There are plenty of ways to create a workforce that loves learning the most popular way being blended learning. Blended learning involves a combination of online and offline learning formats. When your employees get the best of traditional learning methods and the flexibility of online training formats there is a greater chance for effective learning.
Wondering How Blended Learning Can Help You?
Here are the key benefits:
Provides autonomy to learners
Helps beat the Forgetting Curve
Addresses a larger audience
Reduces cost
Increases training ROI
Offers immediate feedback
Helps you design engaging courses
What is Blended Learning?
Blended learning is an integration of traditional classroom learning methods with modern learning technologies. However, it is not limited to a simple mixing of formats, it is much more than that. Blended learning helps us train learners using the best possible and most appropriate medium for that stage of training. Let's learn more about Blended Learning
Blended learning solutions are a combination of:
1. Classroom training – this is the conventional format of learning that includes Instructor-Led Training or Virtual Instructor-Led training (VILT) during which learners interact with the instructor/facilitator and engage with other learners.
2. eLearning – happens when learners learn using the internet and electronic devices and they are not bound by the classroom's four walls. A few components of eLearning are simulations, case-studies, and scenarios.
3. Digital resources – Blended learning makes use of the following digital resources: PDFs, eBooks, learning manuals, and organizational charts
4. Microlearning – happens when information is condensed into shorter pieces and shared in the form of audio and video resources such as podcasts, and activities such as puzzles.
5. Mobile Learning – Mobile learning is the new-age learning trend where learners can easily access training and learn on their mobile devices.
There is no looking back with blended learning. Do you want to know, why?
Let's explore the benefits of Blended Learning
The Top 7 Benefits of Blended Learning:
1. Provides Autonomy to Learners
Blended learning solutions give learners immense flexibility. They allow learners the freedom to comprehend, process and complete their training program at their own pace.
With blended learning, the learner is autonomous and can choose to learn through classroom training, VILT or other available online training formats. With the increased sense of autonomy, learners feel motivated and this in turn helps them intentionally spend time completing their modules. The learners can choose their preferred time and location, and this gives them immense liberty and control and the desire to complete their training. Learners have greater control over their learning preferences and styles. This makes them want to learn even more.
2. Helps Beat the Forgetting Curve
Most learners develop greater interest in their training by going back and forth between different learning formats. Blended learning helps trainers beat the forgetting curve by engaging their learners in more fun and engaging ways. Blended learning promises to combat diminishing attention spans of learners as learners can interact and collaborate on multiple and diverse formats. One such format is VILT which enables learners to interact and impact one another in person as well as online. Microlearning enables learners to reexamine their courses with ease which in turn helps them recall and reinforce what they have learned. Training effectiveness can be further enhanced with a blend of webinars and online courses.
3. Addresses a Larger Audience
Most traditional classroom models require a trainer's presence. The blended learning model helps you combat this. Both learners and trainers are not confined to their boundaries. The learner can choose the most suitable time and place to start their training program. With Blended learning, you can reach a wider audience in a shorter amount of time. The audience's capability also determines the blend of your learning formats. You can overcome linguistic and cultural barriers to learning by implementing eLearning translations.
For example, you can use a blend of VILT and mobile learning for some parts of your training program and make the best use of traditional classroom training only when necessary. You can also merge instructor-led training and mobile learning to ensure that your content reaches far and wide. However, sometimes, it can be difficult completely transition to online learning as some training programs require practical sessions. In such cases, you can simply publish the virtual parts of your course onto an LMS (Learning Management System) for easy access.
4. Reduces Cost
Blended learning allows for reduced costs. The cost-effective nature of blended learning benefits your organization as fewer classrooms and fewer instructors help your in significantly reducing the costs associated with training. Blended learning solutions also makes way for the focused, corporate investment in digital assets.
5. Increases Training ROI
Blended learning can help maximize your ROI in the following ways. Many components of blended learning such as VILT and microlearning can be remodeled and join forces based on different learner groups and their needs. With the combined impact of scaling up to reach a wider audience and making the best use of blended learning formats you can take your ROI to the next level. By using blended learning solutions with experiential learning, you can foster long lasting loyalty among your learners. Your brand reputation improves, and you have greater access to the market when you employ blended learning solutions. You are able to make the best of multiple learning formats and your content can be accessed at any time and from anywhere regardless of the number and location of your learners.
6. Offers Immediate Feedback
The immediate feedback from trainers, vis-a-vis Q n A sessions during VILT and quizzes/games of microlearning courses is one of the best advantages of the blended learning model other types of immediate feedback, that are not in the normal flow of training, include polls, discussions, icebreaker sessions and breakout rooms. In such cases, the trainer can gauge where their learners are at, and this can help determine the effectiveness of the training program.
7. Helps You Design Engaging Courses
Your learners might be from diverse backgrounds with different roles and responsibilities and keeping all your learners engaged and interested is no easy feat. Imagine the horror. After repeating yourself repeatedly, your learners are not able to fathom the topic. It could happen. However, blended learning is the solution to such unimaginable situations. You can include edutainment (education + entertainment) for more enjoyable learning experiences.
Parting Thoughts
The Blended Learning approach gives you the best of both the traditional classroom and online learning worlds. It gives learners the autonomy to choose their preferred learning formats and learning style. In addition, blended learning must align with the performance-based learning objectives of your organization as well as meet your learner's needs. Here's how you boost your employees' performance with Blended Learning.