5 Tips to Get Started with Blended Learning
Get practical and handy tips on how you can initiate blended learning in your organization, within your budget.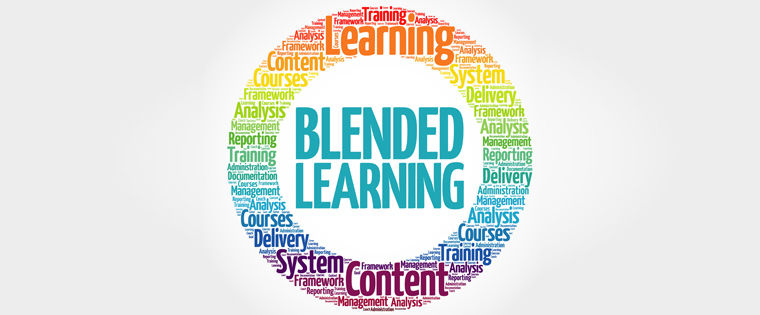 Blended Learning refers to a mix of different delivery methods for a more comprehensive learning experience. It can include classroom training, e-learning, as well as other online formats such as video-based learning, mobile learning, and so on. If you are new to online training and would like to explore it for your organization, the best option is to start small with blended learning.
How to get started with blended learning?
1. Create e-learning modules for basic knowledge transfer
Classroom interaction is precious, with employees getting an opportunity to interact with experts. This time can be used wisely if employees come to the classroom with fundamental or basic knowledge. You can provide this basic knowledge in the form of an introductory course, online. You can make it mandatory for employees to complete this online course and then attend the classroom training. The time of the SME need not be wasted going through the basics during the face-to-face interaction. This way, classroom interaction can focus on subject matter in greater detail.
2. Use it to build interest or inquisitiveness before classroom training
Before a scheduled classroom training session, you can share case studies, scenarios, or typical problems that employees face in their job context. Get them to think of viable solutions. The classroom session can take the thought process further through active discussions and knowledge sharing, to find solutions to these problems. For this purpose, you can create small interactive e-learning modules or microlearning modules, each presenting a scenario or case study. You can also use it to test the current knowledge or expectations of participants so that instructors can align their classroom content keeping in mind the knowledge level of the participants.
3. Move assessments online
How do you measure learning after a classroom training program? By blending it with an online training format, you can create online assessments and get employees to take them after they complete the classroom training. For example, in case the training is related to decision-making skills, scenario-based assessments will be very useful. They not only will be engaging but will also successfully enable employees to apply the knowledge gained to real-life situations. You can also use assessments to evaluate the existing knowledge levels of employees and decide if employees have new training needs or if they need reinforcement of training. Either way, it would be easier to assess the knowledge of employees through online assessments. With an LMS, you can easily track and generate reports to monitor progress.
4. Facilitate collaborative learning
When employees get to their jobs and try and apply the knowledge they gained in a classroom, they may face many doubts. They may or may not have someone nearby to guide them. If they have a virtual space where they can share their experiences and problems, they need not wait until someone is available physically to help them out. Learning can be made available at the time of need. Training managers or SMEs can be part of the group and moderate the discussions and provide answers as well. Often, peers are likely to respond too with their own solutions. Learning extends beyond classrooms and becomes a continuous process.
5. Provide just-in-time learning with digital resources
Today, we are used to getting information instantly – thanks to the Internet and the vast number of resources available online. Can we create such resources for our employees to help them do their jobs effectively? Of course, we can. We can create videos, podcasts, eBooks, and put them on an LMS so that employees can retrieve them when they need. If we make sure these resources are accessible via mobile devices, they will be even more useful. Information that is unique to your organization is unlikely to be available online. Therefore, your employees require a 'go-to' place to access knowledge that is relevant to their jobs, that helps them be more proficient in their jobs. These digital resources serve that purpose.
Essentially, you can use blended learning by using e-learning solutions before and after classroom training. There may be other options you can consider. You are limited only by your imagination. What is important when you chalk out a blended learning strategy is that you map the learning content and performance outcomes to the right delivery method for training.