All You Need to Know about Using Blended Learning to Achieve Business Goals
Classroom training has been the most dependable format of corporate training. However, there has been a gradual shift to online training to keep up with the times in the face of major global changes. Explore how we can make the best of both with blended learning, while achieving business goals.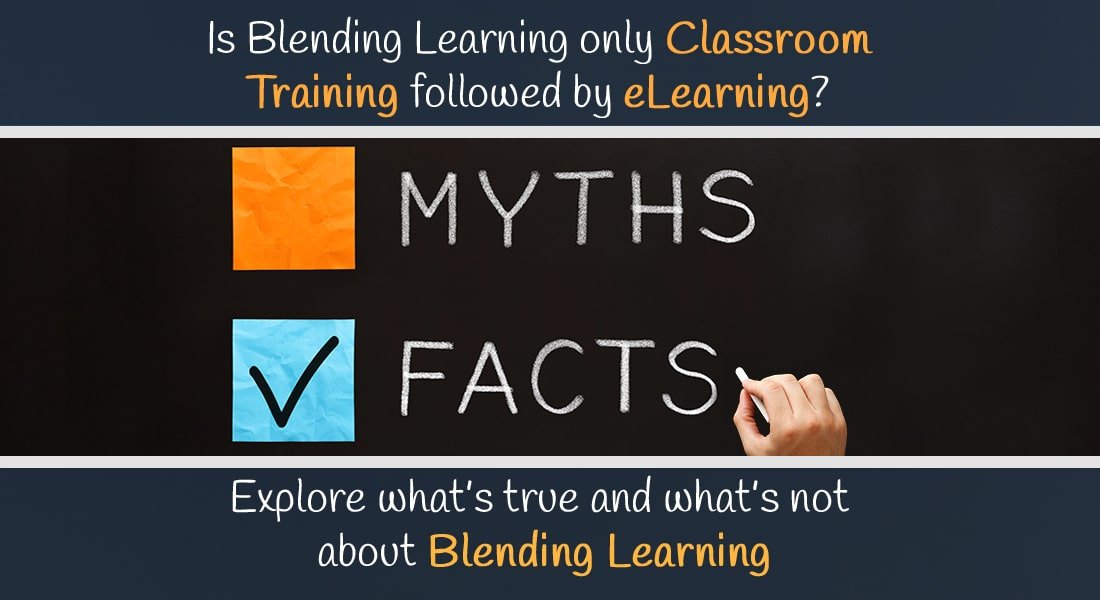 Classroom training is one of the go-to methods of training since years now. However, in today's digital era, it is difficult to meet the requirements of learners through classroom training alone. At the same time, it is not possible for many organizations to transition to online training immediately. Switching takes time and a lot of brainstorming for top management, stakeholders, and employees alike. So, what is the best way to make the best of both worlds while also meeting your business goals? What if I told you that blended learning is the way to go!
What is Blended Learning?
Blended learning is a hybrid of face-to-face training (classroom, workshops, field trips) and online training. It is a comprehensive and holistic learning experience as it combines the strengths of classroom and online training. This makes learning a lot more effective.
In blended learning, both these modes of learning complement each other, and each fills the gaps of the other mode, thus developing a robust blended learning framework. It is flexible and retains the personal touch of the instructor who gappwiz.cpluides the learner through the blended learning experience.
Blended learning can include any of the following training formats/resources in the training blend:
Instructor-led classroom or virtual Instructor-led training
eLearning courses
Microlearning modules
Videos
Digital resources (simulations, animations, games, quizzes, etc.)
Discussion boards, online forums
Performance support tools
5 Steps to Align Your Blended Learning Strategy with Business Goals
Recognize your long-term goals
Audit the current training program
Decide on the training formats
Select the appropriate blended learning model
Offer continuous learning opportunities
Why Blended Learning?
Blended learning provides a middle path for organizations for successfully meeting their training initiatives without the compulsion to go fully online. So, why blended learning? What's its appeal for training managers?
Implementing blended learning has multiple advantages:
It accelerates the time-to-proficiency of employees.
The effectiveness of blended learning brings excellent results in the long run.
It battles the forgetting curve by helping with long-term memory retention.
It increases the ROI of the organization by increasing employee performance.
It gives you the flexibility to create your own blend of training design.
It is the best solution when you need the convenience and engagement of online training combined with the hands-on experience and face-to-face interaction of classroom training.
Upskilling, Reskilling, and Training through Blended Learning
Especially after the COVID 19 pandemic, it has become necessary to interact with, and meet the needs of customers remotely. Employees have been working remotely as well. In today's age of technology, rapidly growing customer needs and fast-changing global conditions require organizations to keep up with the times and industry trends.
To meet these trends and the growing needs of customers, employees need to update their skillsets constantly. This helps employees adapt to the evolving conditions and helps their organization achieve their business goals. This has made it necessary to rely on new-age technologies for training. All over the globe, upskilling and reskilling has become a priority in the Learning and Development domain.
This has led to an inevitable shift to online training. Online training needs to accommodate both on-the-job learning and social learning, each of which come with their own set of challenges. The best way to meet these challenges and effectively upskill the workforce is by using a blended approach to learning.
How to Align Your Blended Learning Strategy with Business Goals
1. Recognizing your organization's long-term goals
Before you start trying out different combinations of training formats to create the perfect blend for your training requirements, you first need to set these training requirements by asking yourself some questions.
A good place to start would be to ask yourself "What do I want this training program for?" or "What are the goals I want my employees to reach through this training?" Asking these questions will fast track the process of comparing current performance with your expected performance and will help identify the performance gaps for which you desire improvement.
Conducting a TNA (Training Need Analysis) will help identify whether you need training to fill performance gaps, which will then give you a better idea of which formats you could blend for maximum results.
2. Auditing the current training program
An audit helps take stock of existing training programs, thus eliminating the need to create similar programs if one that can be modified to suit training requirements, already exists.
Moreover, merely doing a TNA will not help you to come up with an effective implementation strategy if you do not have the requisite information to back up your training requirements. An audit helps you gauge the current state of resources, infrastructure, training content, budget, and timelines. This helps you make better decisions for your blended learning strategy.
3. Deciding on the training formats
This is the planning stage for blended learning where you decide which training formats you're going to use. Are you going to use classroom ILT or VILT? Would you want to use microlearning? Or does eLearning suit your needs better? The decisions depend on the training requirements.
For instance, while self-directed training might need you to blend microlearning and eLearning courses, on the other hand, performance support would require you to blend videos and how-to guides.
4. Selecting the appropriate blended learning model
There is a common misconception that blended learning can only consist of eLearning followed by VILT, or vice versa. But nothing could be farther from the truth.
You get to decide what formats work best for you, depending on your blended learning strategy. According to the Christensen Institute, here are four models that you can follow:
Rotational Model: Equal amount of time is spent in each training format.
Flex Model: eLearning is the main training format, followed by individual tutoring, mentoring, or group activities.
Enriched Virtual Model: Online training is followed by a mandatory ILT session, either in the physical classroom or in VILT sessions.
A La Carte Model: Learners are trained mostly through classroom ILT, and it is supplemented by online training.
5. Planning to offer continuous learning opportunities
In conventional training methods, learning often becomes limited to just a set of courses, for which once a learner receives a certification, they forget all about it until the next round of refresher training. However, this can be addressed with continuous, informal learning opportunities to make learning more continuous through the following means:
Microlearning assets: These bite-sized learning units provide information to learners at the time of their need.
Social learning elements: LMS discussion boards or open online communities can be set up where the learner can socialize informally with their peers and SMEs to aid with better understanding of concepts.
Mentoring: One-on-one sessions with instructors and professionals in post-training workshops help gain clarity on the subject. E-Mentoring also gives learners a chance to interact with SMEs and thought leaders to build perspective.
Parting Thoughts
Though blended learning might sound formidable and intimidating at first due to the need to deal with multiple training formats, it can be really rewarding and effective if a blended learning strategy is developed and implemented correctly. Blended learning can actually be a fantastic way of aligning your training with your business goals, without feeling the need to switch to online learning completely.
Curious about how you can use blended learning to boost business goals, improve employee performance, and increase ROI? Have a look at our eBook.