Corporate Sustainability: 5 Best Practices to Implement Right Away!
Ever thought of the impact your organization has on the environment and society? Ensuring corporate sustainability is equally important as making profit. So to help your organization head in the direction of sustainability, this blog contains 5 best practices to ensure corporate sustainability.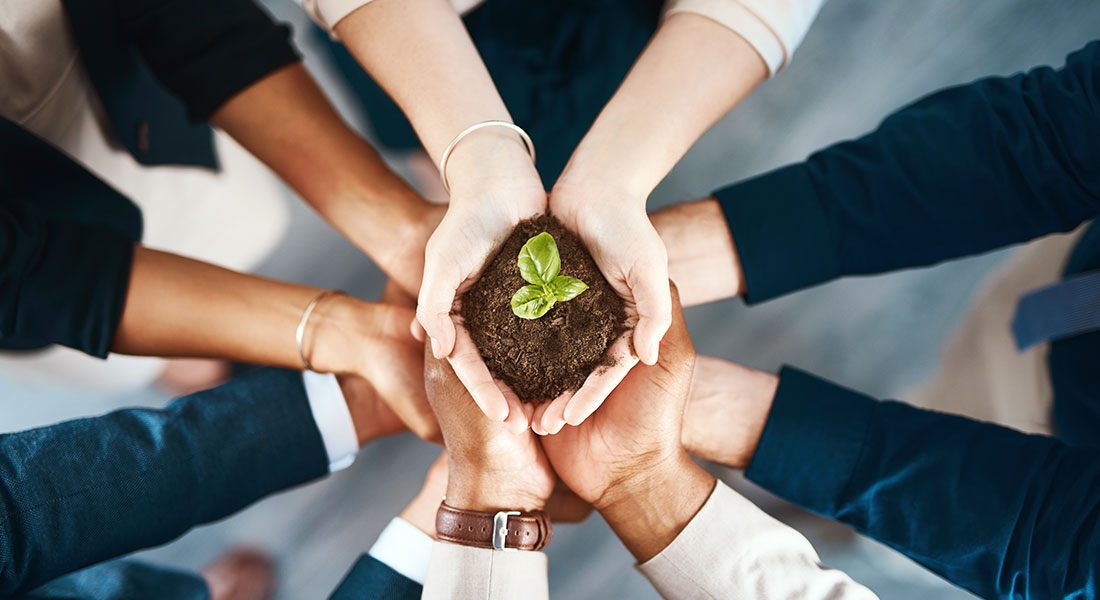 In this era of global challenges such as climate change, resource depletion, and social inequality, are you looking for ways to do your bit by promoting corporate sustainability in your organization? After all, what good is a bag of cash without fresh, pure air to breathe. Isn't it? But don't worry! It's never too late to mend.
And you, the esteemed members from the upper management and L&D department, hold a significant power to direct and even lead your organization toward a more sustainable future. Be the role model for other organizations and inspire them to take up sustainable business practices. Set an example that profitability and corporate sustainability can go hand in hand. It doesn't have to be choosing one at the stake of another.
Ensuring Corporate Sustainability is Integral for an Organization!
Here are the 5 best practices to help you achieve this target:
Develop sustainable work policies
Buy energy efficient products
Consider having a recycling program
Eliminate paper use
Opt for renewable energy resources
To help you lead this journey of positive, sustainable change in your organization, I've enlisted 5 best practices in this blog.
Let's begin!
5 Best Practices to Ensure Corporate Sustainability in Your Organization
The concept of sustainability is centered around the idea of balancing economic growth with social responsibility and environmental protection. It is about creating lasting value for all stakeholders, including employees, customers, investors, and the wider community. So, here's a list of 5 best practices to help you achieve corporate sustainability in your organization.
Develop Sustainable Work Policies
Creating policies that align with and promote your corporate sustainability goa ls is the first and one of the most important steps. So try to draft and implement sustainable work policies in your organization that encourage your employees to practice environmentally friendly practices.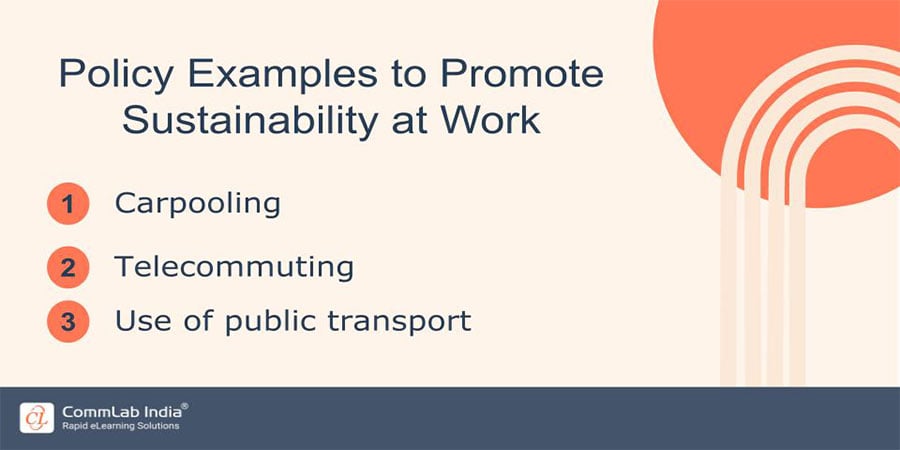 For example, policies that encourage telecommuting, carpooling, or the use of public transportation can reduce carbon emissions. Policies that promote energy efficiency, such as turning off lights and electronics when not in use, can also reduce energy consumption. To create awareness about these things, you can organize training sessions, leadership programs, assign eLearning courses, etc.
Invest in Energy Efficient Products
Would you rather choose a costly car that offers more mileage or a less-costly car that provides less mileage. At times, energy efficient products might cost you a little more than other products in the market but they're absolutely worth it. Because in the long-term, they are more beneficial in terms of reducing energy consumption and thereby saving the planet (and money, too!).
You can invest in:
LED light bulbs
Energy-efficient appliances
Equipment can significantly reduce energy costs and lower carbon emissions.
Consider Having a Recycling Program
I'm sure you must have read or heard about the 3Rs of waste management for a sustainable future. Here's an infographic for a quick recall.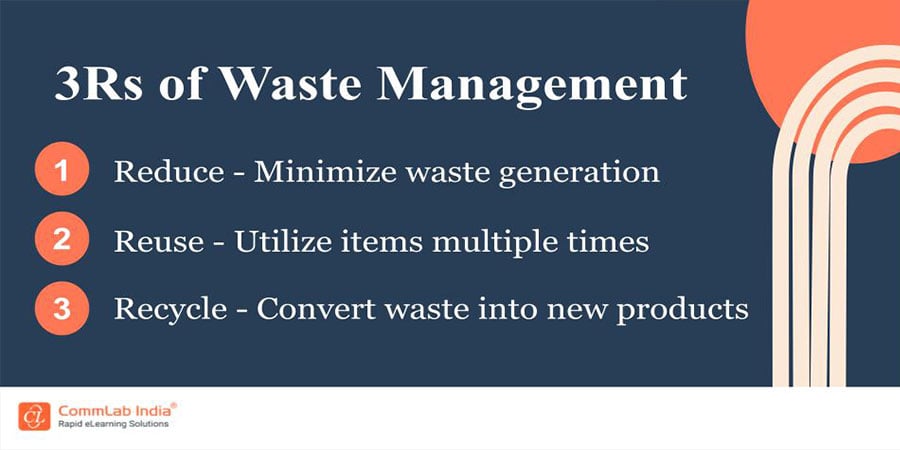 So try incorporating the reduce, reuse, and recycle method in your corporate sustainability strategy. First of all, you can try to cut back on buying large quantities of items that have a comparatively shorter shelf life. This will help you reduce the waste. Apart from that, you should consider avoiding non-biodegradable products. In case you must, then consider reusing such items. Such dedicated efforts to ensure sustainability send a positive message across your organization and other companies too.
Next thing you can do is have a recycling program in your organization. Here's a list of a few common items you can recycle :
Paper/cardboard
Plastic
Batteries
Old furniture
This will help you boost the morale of your employees and involve them in the corporate sustainability drive. To ensure a successful recycling program make sure you present the guidelines clearly. Moreover, you can provide training to your employees on the 3Rs so that they have a better understanding of the whole idea and are able to apply them in a more effective manner.
To ensure that the information stays with employees, try to design your training courses in an engaging and interactive manner. For this purpose, you can leverage different instructional design strategies like gamification, storytelling, scenario-based learning, and even simulations.
Eliminate the Use of Paper
With advancing technology and digitalization taking over, eliminating the use of paper is a great way to foster sustainability. Going paperless significantly reduces your organization's environmental footprint. That's right. From your training handouts to worksheets to feedback forms, all the things can be easily made available online. You can design and develop effective, learner-centric eLearning courses, convert your existing training material to eLearning, and much more.
Using eLearning for corporate training promotes corporate sustainability as the same training content can be repurposed or easily updated to make it relevant. Apart from that, you can leverage technology for communicating and collaborating which reduces paper waste, saves money, and increases efficiency.
To create an impact, technology alone doesn't cut it all. You need to level up your communication skills as well. So check out the video below to know successsful secrets for effective communication.
Opt for Renewable Energy Sources
Investing in renewable energy sources is an effective way to ensure sustainability in your organization. It helps you in combating elements such as degradation, pollution, and other aspects that harm nature and affect the society as whole. They are more clean and provide benefits such as lower carbon footprint, no greenhouse gas emissions, clean environment, etc., thereby promoting better public health.
Along with that, these resources are cost-effective, i.e. they contribute to economic sustainability. The initial cost of installing renewable energy sources might require some additional investment but if you consider the long-term, substantial benefits, then it is worth investing. It even helps you tackle fluctuations in the energy market. Here are a few suggestions for renewable energy sources to invest in:
Solar energy
Wind energy
Geothermal energy
Hydro energy
Biomass energy
Don't forget to conduct training sessions for your employees on these topics so that they are better able to align their actions and mindset with the organizational corporate sustainability goals.
Parting Thoughts!
Corporate sustainability is not just a buzzword! Paying attention to it is the need of the hour. Businesses realizing and taking initiatives in the direction of promoting sustainability is commendable. With that said, organizations that prioritize corporate sustainability are not only contributing toward a better, healthy planet but are also reaping the benefits.
They have improved reputation, increased customer loyalty, and even reduced costs. You're headed in the right direction! Implement these practices in your organization and lead your organization towards a brighter, more sustainable future. Also, check out our eBook given below to understand how L&D and business align to ensure successful, desirable outcomes.