5 Aspects of Creating a Good Multilingual Training Course
This blog will inform you of the aspects you should check when creating a multilingual course.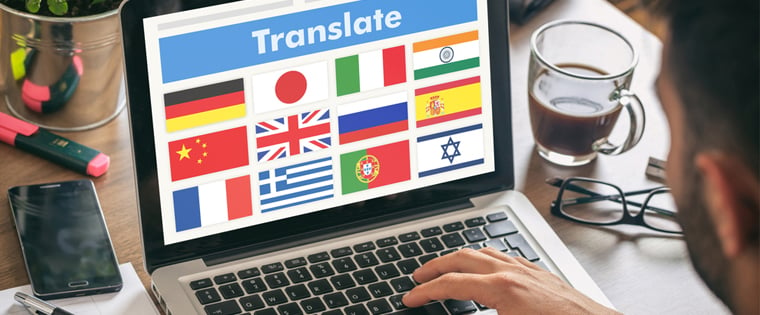 Global organizations that adopt e-learning to train their employees need to create multilingual courses to train employees spread across the globe. Usually, this is done by first creating a course in English and then translating it to different languages. Though this sounds simple, it is not.
With our expertise of over 16 years in e-learning translation and localization, we can tell you that there is more to creating multilingual courses. These courses have to keep local sentiments and sensitivities in mind if they are to appeal to learners and create the desired impact. In this blog, we will explore 5 aspects that go into creating a good multilingual training course.
1. Instructional content should adhere to geo-specific requirements
Before you develop the course, it is important that you understand the geo-specific course requirements, especially if the course deals with subjects such as accounting, tax compliance, or labor laws. These courses are impacted by local rules and regulations. The instructional content has to be modified based on these rules and regulations in order to be relevant.
To create an effective multilingual course, the audience analysis, learning objectives, content outline, instructional design strategy and assessment strategy have to be aligned with the geo-specific requirements.
2. Translation should adhere to geo-specific terminology
The translated course should adhere to the standards of the local language in terms of language, subject matter, and style.
To ensure this, the content of the main course in English has to be planned well in advance. This means incorporating brevity and clarity in both the copy and graphic design. Content should not be ambiguous; it should be free of idioms because they do not translate well into other languages. The writing should be simple and avoid references to people and places which may not translate well in the local language.
The main course should be so designed that the translator is able to use industry-specific terminology with ease, and is able to translate the course to the last minute detail.
3. The right authoring tools should be used
When creating a multilingual course, the first step would be to create a course in English. You should ensure you use the right set of authoring tools to develop the course. This will help you create the required language versions easily. If the course has to support a bi-directional or left-to-right script, the right tool must be used so that less effort is expended on translation and there is no compromise on the design or user interface.
4. Content should be sensitive to cultural nuances
For a multilingual course, the content that is developed should be culturally sensitive and use the right examples and explanations that are relevant to specific countries. The original course in English should allow room for adaptation of the nuances of different cultures during translation –specific information, number and date formats, images, the right jargon and words. In short, it has to be culturally compatible.
The content should be reviewed by native speakers, who have an idea of the cultural sensitivities of the location and can check the cultural relevance.
Localization is the next step. This is the process of adapting the course to different cultures. To know more about how you can deliver localized training to your workforce, download our free e-book, Delivering LOCALIZED training to your GLOBAL workforce and find out more about online course translations.
5. The course should meet the technical and functional needs of the learner
The course must meet the technology preferences and functional needs of the learners. This means paying attention to the type of media and technology the learners in a particular place are comfortable with. You should also consider the available Internet bandwidth, technology preferences of learners, etc.
Creating a multilingual course requires overcoming language and cultural barriers to create a course that is culture and location-neutral, and will engage a diverse set of learners spread across the globe.