The Expectations of Learners, Trainers and Managers from an LMS
With the changing technology, the expectations of learners, trainers and managers from an LMS are also evolving rapidly. Let's see their expectations in detail.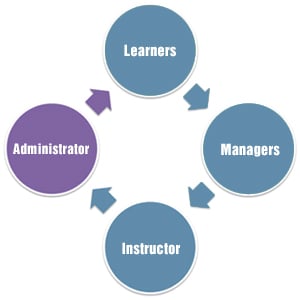 Learning Management System is an extent place where organizations can integrate all their trainings in order to manage easily. Technology is advancing faster all the time and expectations of learners, trainers and managers are also evolving rapidly. Administrator is responsible for giving LMS support and to satisfy all users' expectations by customizing the LMS.
Users have their own expectations from LMS according to their job environments. Let's see in detail their expectations from an LMS:
Expectations of Learners:
Learners expect a learning environment which is intuitive and crystal clear to experience easy navigation.
They prefer precisely custom made LMS which satisfy their needs, in their job environments.
Theyrequire easy accessibility of an LMS at all the times whether they accessing it from online, offline or from mobile.
They need user guide to know all instructions of training program and to follow them.
They expect information to be appear with in few clicks to work faster with the LMS.
They need workflow of an LMS to be followed as per their thinking.
They expect Look and feel is to be familiar with them to ideally interact with it especially existing ERP or any portal applications.
They require training history to look back what are all trainings that they have taken and certification to assure that they have trained.
Expectations of Trainers:
Trainers expect one on one communication with learners to discuss on their performance and if learners have any doubts regarding courses, they should be able to communicate with trainers.
They require lessons to be tracked which learners are going through, to evaluate how much time they have taken to finish the course.
They need assessments and quizzes to be kept on LMS to check learner's knowledge.
Even trainers require easy navigation from the LMS to create and update ILT sessions easily.
Taking attendance online for the classroom trainings. Want to know the number of registration done, how many cancelled the registration for particular classroom training.
Expect various customized reports to analyze the training and user performance and take appropriate action to improve the trainings.
Expectations of Managers:
Managers want to assign any required trainings to his/her team through LMS.
They need employee training reports and their progress reports through LMS to analyze their performance.
They should give approval to the trainings requests receive from his/her team members.
Like learners they also want navigation to be very intuitive to do all LMS activities.
Most LMSs will cover all the basic needs of users. But a user-centric and graspable learning experience of an LMS will come from functionality changes that have been made by administrator or customization of LMS which he is giving and LMS support which he has to provide all the way to the users. Success of an LMS will come with the user's satisfaction and comfortness on using it.