VILT Challenges: Crack Them Like A Pro! [Infographic]
Virtual instructor-led training or VILT has been a savior for organizational training in times of the pandemic. But its implementation does have challenges. This infographic shares the top 3 challenges in VILT and solutions.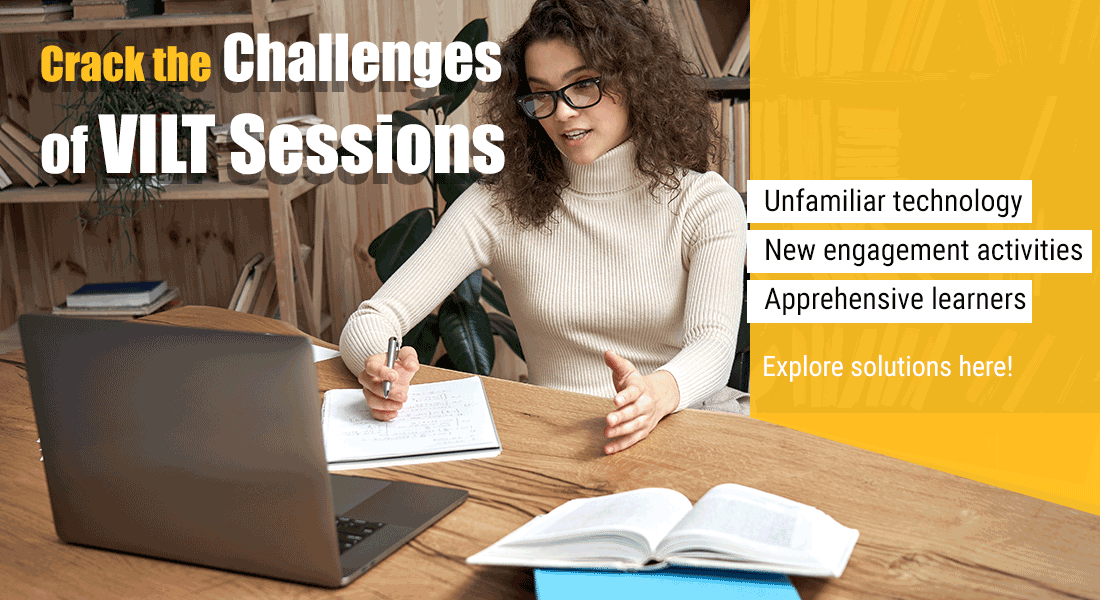 It's a fact that the COVID-19 pandemic has changed many things for most people, and this change has invaded the L&D space as well. Organizations that once solely relied on classroom training are finding themselves having to make the switch to virtual instructor-led training or VILT, as it is more popularly known.
Are VILT and Online Learning the Same?
No! Online training is a self-paced learning experience where the instructor's role is limited to a guide who can answer questions via email, discussion boards, or chat. On the other hand, virtual instructor-led training programs are designed to simulate the classroom training experience, the only difference being that the learners and the instructor are in different locations.
VILT is not simply about taking an existing classroom training and conducting it using an online conferencing facility. While the overall format of a VILT is the same as an ILT and relies on classroom training material, what differs is the way it is presented.
A virtual instructor-led training program is to be built keeping in mind specific learning and engagement strategies applicable for learners who are present in different locations. The presentation of the content is determined by the features of the conferencing facility used to deliver VILT.
If you're just getting started with VILT, you are bound to face challenges. But hey! No worries, as there's a solution for every challenge. Check this infographic that highlights 3 challenges in VILT and recommends a solution for each of those challenges.


In the days to come, we're sure VILT will be an important arsenal in a training manager's organizational training plan. For more information on virtual training, download a copy of our eBook 'Generating Motivation and Excitement in the Virtual Classroom'.