Overcome Resistance Toward Technology Using Blended Learning
Explore the reasons you should embrace blended learning for corporate training.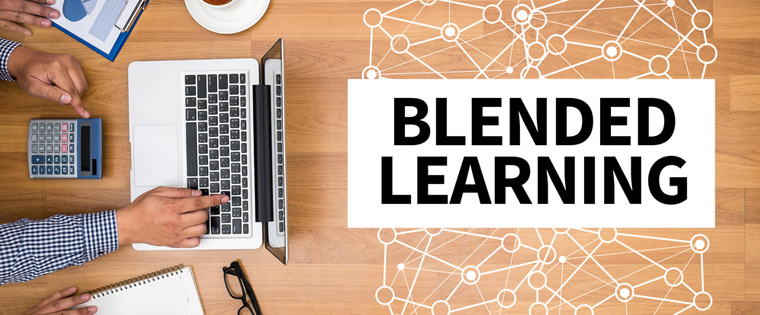 Classroom or face-to-face training programs have been the driving force of the learning programs in any organization since a long time. For employees and management, face-to-face training is the traditional way to learn and is still strongly embedded in the learning process.
Classroom training programs provide learners an unparalleled opportunity to network among their peers and superiors. Learning through a real person engages the audience better and helps them focus single-mindedly on the topic. Learners can also get into productive discussions among themselves or with the trainers, to heighten their understanding of the subject. Plus, classroom trainings really feel like they are tailor-made to achieve the goals of your organization.
All these factors make employees and management stick to the traditional mode of learning. However, with changing times and increasing globalization across companies, traditional learning is falling short of delivering their volatile requirements. As work schedules of employees grow increasingly erratic, organizations are finding it more difficult to get everyone under one roof for a classroom training session. The dynamic conditions of the market require swift skill development, which in turn requires developing and deploying courses across workforce, quickly. This again comes up as a hurdle for classroom training.
Owing to issues like this and many more, it is time for organizations to overcome their resistance toward technology and start using online/digital learning. You can overcome the resistance toward technology by highlighting its benefits and how it can help you go the extra mile to make your training work in today's business world. Below are a few ideas:
Greater Flexibility, Better Reach
The beauty of digital learning is that it can be accessed anywhere, anytime, based on convenience of the learner. There is no need to make any prior arrangements or take time out of a busy day to attend training, as you can always take it as per your convenience. You can rest assured that each course will reach its designated audience. With blended learning, the digital part of the course is available 24/7 to learners.
Rapid Development and Deployment
Using many powerful authoring tools, e-learning courses can be developed quickly. With their inbuilt capabilities, these tools can convert existing classroom training material, such as PowerPoint presentations, into fully functioning e-learning courses. A centralized Learning Management System can be used to reach your entire workforce, with just a click of a button. The needs of an organization to quickly upgrade employee skills can be adequately addressed by digital learning.
Enhance Learning Values
Blended learning is the way to accept technology-enabled learning, as it starts with the familiar classroom training, and then introduces a digital module to supplement classroom training. As the digital module is a continuation of the classroom training, the curiosity and willingness to take the course remains intact. E-learning courses are carefully crafted using tried and tested educational and instructional design principles. This assures that everything in the course is designed to deliver knowledge to the learners in the most effective manner. Digital learning also uses attractive visual elements for better learner engagement. In case of blended learning, a digital module of the course reinforces the knowledge shared by a classroom trainer. All of these factors increase knowledge retention and recollection among your leaners.
Better Assessments
There are very limited ways to know the effectiveness of classroom training. Assessment methods are widely scattered, leaving organizations clueless about the impact that the training created, or didn't create. A better way to tackle this is by introducing online assessments for a classroom course. As online assessments are required to complete the classroom training, they will be readily accepted by learners. As employees get used to the online mode, full-fledged e-learning courses can then be introduced. E-learning courses have robust assessments and feedback techniques. By giving organizations useful data about user performance, digital learning gives them an idea of the shortcomings of their training material. This helps organizations create courses that are more relevant, effective, and user-friendly.
The time is ripe for organizations and employees to give up their strong mindset about classroom training. Digital learning mediums are fast catching up to everything classroom trainings have to offer, becoming more relevant in today's work-scape at the same time. Now it's time to break your resistance toward technology and embrace blended learning with open arms.