Take the Right Step to Put Microlearning into Action [Video]
Need tips on microlearning implementation? Get a sneak peek at the topics that'll be covered in our webinar on microlearning implementation, in this video.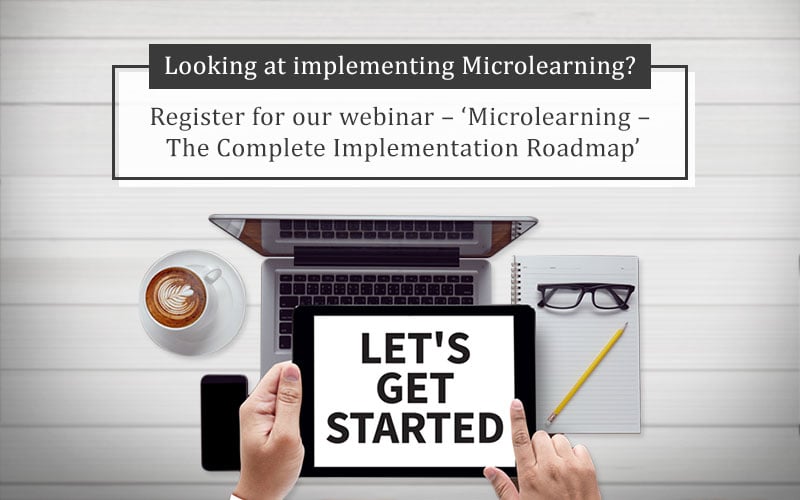 Over the years, corporate training has undergone many transformations. The boundaries of traditional classroom training were broken by the introduction of eLearning. With the rapid advance of technology in learning, traditional eLearning gave way to smart training strategies such as rapid eLearning and microlearning.
Talking of microlearning, it has been around since the mid-2000s and its popularity has only skyrocketed over the years, especially after the introduction of mobile learning. Because microlearning is designed keeping in mind the way the human brain processes and stores information, it is easier to incorporate it into the learning workflow.
According to an article from Software Advice, 58% of participants who participated in a survey said they would be more likely to access their organization's LMS if it provided learning in small nuggets or microlearning. Though microlearning is popular, there are certain misconceptions surrounding it. For instance, many think that microlearning is all about video-based learning. It isn't! Did you know that there are multiple formats in which microlearning can be designed?
In this age of instant gratification, L&D professionals want to provide learners with learning content that can be consumed in small bites and can be accessed as just-in-time training resources or even as performance support solutions. Microlearning provides all this and more. The beauty of microlearning is that it provides content focused on one performance-based learning objective, and this enhances retention of learning.
If you're wondering how to get started with microlearning implementation in your training strategy, register for our webinar 'Microlearning – The Complete Implementation Roadmap'. This webinar helps you bust the myths associated with microlearning, and gain insights on its design and deployment. Watch this video to find out what you'll learn in this webinar.
For more information on using microlearning to achieve your organizational goals, grab a copy of our free eBook 'Where Does Microlearning Fit in Your Learning Strategy?'