Unlock Learning Analytics Challenges that Hinder Training Evaluation [Infographic]
Leveraging learning analytics for training evaluation does have its challenges. Here's more on overcoming the challenges in learning analytics.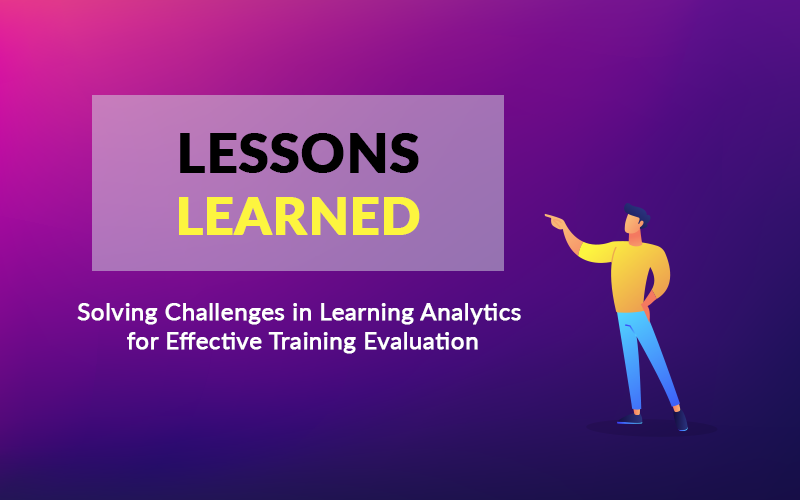 How would you know if the online training you just launched, is a success? We are all familiar with this question often asked by stakeholders, "What is the ROI on this training program?" Can a simple training evaluation answer the question? Perhaps, not! The real value of a training program is understood only when you analyze the benefits it has offered to your learners and stakeholders alike. Thankfully, we have learning analytics to help us get rid of roadblocks in training evaluation.
Leveraging learning analytics to perform training evaluation can help the L&D efforts in your organization. But is it something that can be implemented easily? Not really, you need to be prepared to address a couple of challenges.
For instance, the learning management system (LMS) in your organization is capable of capturing data. But just any data will not do. You need to have the right data. And if you need to get the right data, you need to ask the right questions. Only then can learning analytics provide you clear direction in training evaluation and maximize training effectiveness.
Contrary to beliefs, it isn't necessary for you to invest in high-end tools for effective evaluation of your online training programs. If you're just getting started with implementing analytics in your learning and training efforts, the LMS in your organization is a good tool to start with. The LMS can also serve as a repository to store your data.
What are the challenges in learning analytics that can hinder training evaluation? Here's an infographic that lists the challenges and the relevant solutions.



If you're a beginner in learning analytics and would like to know how to get started, don't miss our webinar on this topic.