Key Elements of an Effective Storyboard in E-learning Development
In eLearning, storyboards act as a blue print of the course. Let us see what its main elements are.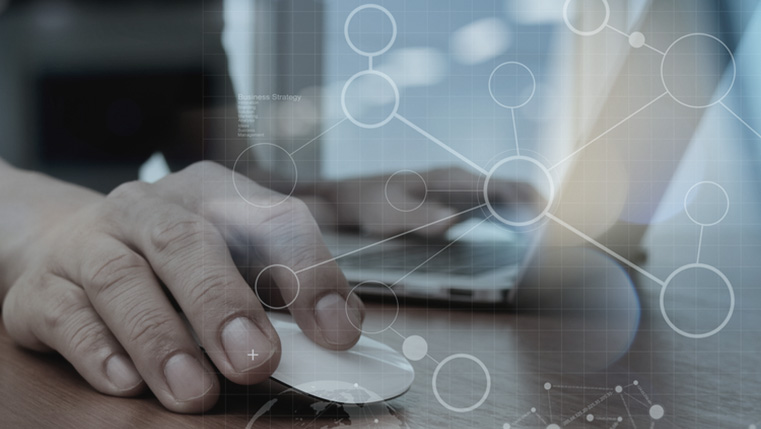 Technology has radically changed the art of education. Everyone is now using eLearning, as it offers anytime anywhere learning. While developing an eLearning course, every phase of course development is being enhanced, particularly the way a storyboard is developed. Storyboard provides you a clear cut picture of how the course should exactly look. It acts as a blue print of the course with each and every detail (along with the notes to developer) on how the course should be developed.
A storyboard needs to be developed clearly and perfectly by the instructional designers, as editors, clients and the production staff need to understand it easily.
A well-written storyboard enhances the quality of the eLearning course. Following are a few aspects that every instructional designer needs to keep in mind ,while designing a storyboard:
Frame appropriate learning objectives
Provide clear instructions on the course navigation
Offer clear description of how interactions should be designed and developed in the course
Decide the right instructional strategies to guide learners
Provide information on audio, regarding music or sound effects, audio scripts and audio synching notes
Arrange lessons or topics within the module properly
Provide exact feedback for assessments
Here is a sample screenshot of how a storyboard looks like.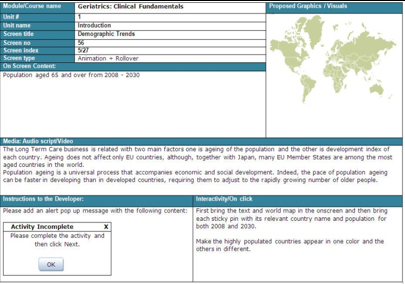 Title Area: This area usually contains the names of the units or titles, modules, topics or subtopics.
Screen Number Area: Every screen in the course has a unique identifier. For example m1l3s1 stands for module1 lesson3 screen1.
Visual Area: Visuals, graphics, videos etc. are shown in this area. Text, if any, can also be included here.
Audio Area: Audio Script, audio syncing notes, notes to the developer, name of a music file, sound effects, etc. are included in this area.
Instructions Area: This area contains instructions on interactivities or interactions and screen restrictions. A wide variety of activities can be provided.
Here are some more aspects to be kept in mind while developing an e-Learning storyboard.
Design learner-centric storyboards: This might sound very simple, but every instructional designer should keep in mind the learner's requirements. He needs to use effective approaches to explain the concepts and design the storyboard accordingly.
Decide an appropriate instructional strategy (logical presentation, storytelling, guided learning, scenarios, learning through explanation and discovery, case study, etc.) depending upon the nature of the content.
Make sure that the flow of the content is aligned with the learning objectives.
Structure learning objectives in such a way that the learner gets the gist of the course.
Do not use unnecessary text, images or graphics. It makes the screen tangled.
Thus, a well-designed storyboard is critical to the development of a quality assured and effective course. Please do share your thoughts and opinions on the same.