iSpring Quiz Maker for Enhanced E-Learning Assessments
Want to create innovative assessments for online courses but don't know where to start? Discover the iSpring Suite to help you get started.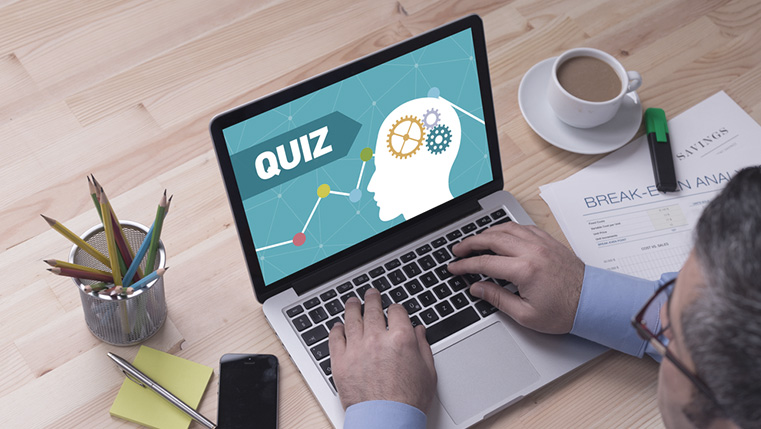 Any organizational training program comes with a fixed set of goals and objectives. Post such trainings, there should ideally be measurable changes in the knowledge base and skill sets of the employees undertaking it. Only then will your learning program be deemed successful. This makes it essential to have a mechanism that measures the knowledge transferred to your employees. This is where tests, assessments and feedbacks come in.

Assessment strategies are highly important for any training program, digital or otherwise. This quantifiable measurement of success or failure lets you judge whether your learning program is suitable for your target audience or if it's falling flat. While assessments help you gauge the success of employees, feedback sessions help you evaluate the proficiency of your training program. When charting the way for the future, all of these parameters play a very important role.
But how effective your assessments and feedback will be, largely depends on the way they are developed. By using an authoring tool with the right features, you can fully utilize the potential of assessments. iSpring Suite is one such tool. It comes inbuilt with Quiz Maker, which makes creating assessments a breeze. Let's see some of the ways in which it helps take your quizzes and games to the next level:
Drag and Drop Questions
Why restrict your assessments to a single click response? Why not create a more immersive experience that activates learner thinking? Quiz Master lets you do just that with its drag and drop activities. Engage users in the assessment and help them hone their skills better with drag-and-drop activities.
With this interactive assessment feature, you can make your learners sort a bunch of learning objects or place them in a certain area, or put them in the right order, or use any other permutation of the same. For e.g., you can test the compliance knowledge of learners by asking them to place the "dos and don'ts" in appropriate boxes.
Different Question Types
Sticking to a standard multiple choice question format might severely restrict your creativity while designing questions for assessments. iSpring Suite gives you the freedom to construct questions in any format of your choice.
Be it multiple response, true-false, short write-up, sequencing, and a lot more. Using this wide array of question types, you can develop highly accurate knowledge checks. It also lets you create Likert Scale based questions to effectively record course feedback.
Tailor-made Tests
The iSpring Quiz Maker gives you a lot of options to customize your assessments. This tool lets you configure penalties and points as per your learning objectives, to test performance. It also allows you to limit the number of attempts and time spent on each question by an employee.
Managing test results also have never been easier as you can automatically send them to an email, your company server, or your LMS. If your test contains questions on different topics, you can even structure questions and combine them into groups, which can be shuffled as per your needs.
Custom Feedback
Quiz Maker gives your learners instant comments about their responses. You can provide meaningful feedback for correct and incorrect answers. Do it on a per question basis or at the end, when learners have finished the entire test. Explain learners the knowledge nugget present in the question through images, formulas, and even audio.
Enrich tests by adding supplementary slides containing extra, nice-to-know, info on the subject. Even the quiz design can be customized using the visual editor. You can easily adjust fonts, layouts, and color schemes for questions, and add images, shapes, and text labels.
Scenario-based Quizzes
Create elaborate branched scenario-based assessments using iSpring. Each dialogue or communication from your scenario can consist of a question and a number of possible replies. Each reply option takes the learner to a different scenario.
Create multiple endings, and train them for all possible business scenarios. You can even award points for correct responses and exact penalties for wrong ones to gauge how well employees have mastered the situation.
Use the iSpring Suite to broaden your assessment horizon. Still can't figure out how to create an impactful e-learning assessment? Hire a leading e-learning vendor to help you get the best.