What You Need to Know About ILT to E-Learning Conversion
Converting ILT or classroom training to eLearning raises concerns. Here are some common but relevant concerns that we address.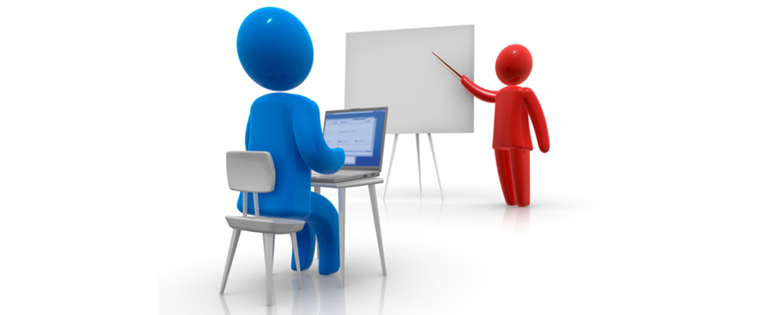 Organizations can decide to move their training from the classroom to online learning for a variety of reasons – limited physical space, increase in training needs, a dispersed workforce, cost and time restrictions, and a lack of competent training instructors – to name just a few. No matter what the reason behind making the shift, there is one question that plagues training managers: What becomes of our classroom training material? We understand that a lot of time and effort goes into creating instructor-led training (ILT) material, so we do empathize with their concerns, and then we tell them that we have good news for them – that their classroom training material can be used online.
After a brief period of relief, they express more concern; this time regarding how that would be accomplished. This concern is natural – after all, as I mentioned earlier – a lot of time and money goes into creating this training material, and embedded deep within these PPTs, manuals, and course books is valuable experience and knowledge of their subject matter experts; and there's no need to throw the baby out with the bathwater. Here are 4 concerns we come across often enough to put in a blog.
1a. Can our classroom training material be converted directly to eLearning?
No – Instructor-led training (ILT) cannot be directly converted into eLearning; and for good reason too:
The training material might be incomplete (as a substantial portion of classroom teaching is drawn from the instructor's personal experiences, anecdotes, and examples, which are not captured in the ILT material) and would require additional information.
The training material might contain wrong/outdated information that would need rectification.
ILT training material is made for face-to-face instruction, and would need to be reworked from an online instruction perspective.
1b. Our training material has been instructionally designed. The training is complete, and we have nothing to add. Can't it be converted to eLearning ASAP?
If the training material was originally created for a face-to-face audience, then the content must be made instructionally sound for online training. Face-to-face and eLearning instructional strategies are very different from each other. An instructional design strategy is a high-level approach of how to teach a subject, to an audience in a particular learning environment. It refers to the methods, techniques, and devices used to instruct learners. Popular ID strategies include storytelling, gamification, scenarios, simulations, and even augmented reality.
1c. But we did conduct a thorough analysis before creating our ILT.
It's true that most training content is created after a detailed analysis of its need, audience, and their current level of knowledge, and its learning objectives; however, this is something that cannot be taken for granted – especially if the existing courses have been around for very long and the SMEs/instructors who created the courses are no longer with the company.
So, while most of the groundwork (such as gathering information, chunking and organizing it into coherent blocks of information, and creating assessments) is already done, it's important to analyze the present requirements, audience, and learning objectives.
1d. Is the analysis stage going to take time? We are in a hurry to get the course converted ASAP.
This would depend on the quality of the analysis of your existing courses. A course that has been analyzed thoroughly (gaps identified and filled) will be a breeze; however, a poorly analyzed course would take longer. There is also the matter of the devices this content will be viewed on, as well as how computer educated the audience is – two aspects that wouldn't have been necessary to analyze when creating classroom training material, but will be required now.
2. We have made our compliance and finance courses (PPTs) very attractive, yet our learners find them boring. We know that online courses can be made engaging, but don't know how that can be done with subjects that are as drab and dull as finance and compliance.
E-learning can be designed so that learners actively take part in the learning process. As discussed, a variety of instructional design strategies are used in eLearning.
Then engaging components of an ID strategy apart from the content itself, are the visual strategies (graphics, user interface, images, and pictures); and media elements (audio, video, and animation).
Various levels of interactivity can be used – depending on how much control you want your learners to have, over the course content and assessments. Interactivities can range from simple 'drag and drop', 'hotspots', 'pop-ups' and 'roll-overs', to complicated 'branching scenarios'.
3a. How is the conversion from ILT to eLearning done? Is it a manual process?
End-to-end eLearning creation is a laborious process that can only be done by highly skilled instructional designers and specialized developers; it is time-consuming and expensive. ILT to eLearning conversion, on the other hand is done by specialized rapid authoring tools that can create new courses or convert training material to eLearning, rapidly.
These tools are simple to use and can be used by in-house SMEs and instructional designers; it will save companies the bother of outsourcing this work to a vendor, as well as save time and money. The finished course will be what you want it to be – it's all in your hands when you create it in-house.
3b. Which is the best authoring tool in the market for ILT to eLearning conversion?
There are several rapid authoring tools available today, and each one is better than the others in one way or another. For example, Articulate Storyline is the best tool for the rapid conversion of ILT to eLearning with its easy-to-use PowerPoint-like interface, and features (built-in characters, animations, and interactivities), that help make a smooth transition; Adobe Captivate is known to create stunning simulations, as well as being the go-to tool for responsive learning (learning on a variety of devices); Lectora Inspire is good for translating courses to different languages.
4a. I want my ILT to be converted to mobile learning. Is that possible with rapid eLearning authoring tools?
Yes, it is possible to convert ILT material to mobile learning, so that your courses can be viewed across multiple devices. The courses will also be 'responsive' to fit any screen so that their viewability is not affected because of incompatibility with different screen sizes.
4b. Our courses are lengthy and text-heavy. Aren't mobile learning courses supposed to be short and to the point? How can I get all the information in an ILT course into a mobile learning (mLearning) course?
There are some courses that are elaborate and cannot be cut short; at the same time, they would require to be delivered via mobile devices. You need to identify the precise information to be conveyed through a mobile, and use eLearning authoring tools such as Lectora to develop m-learning courses.
So, there you have it – 4 questions and some corresponding sub-questions that we hope have dispelled myths, and given you better insight and greater understanding into converting ILT to eLearning.