Blending the Best of ILT and E-Learning: The Way Forward
Learn how to create an effective blended learning program that gives the best of both worlds.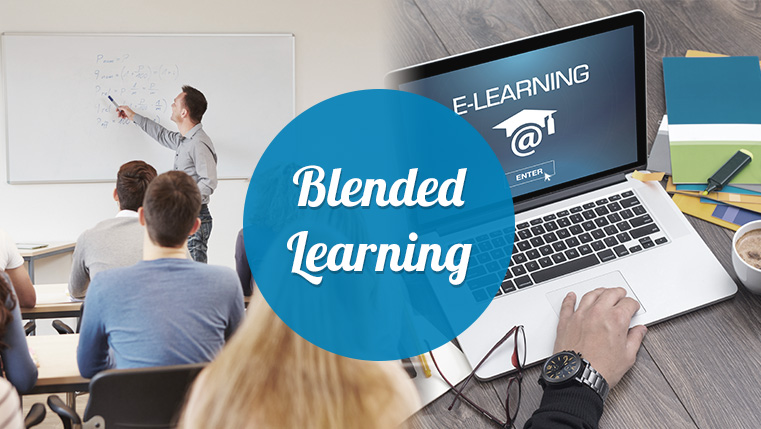 Classroom trainings have been the driving force of organizational training for a long time. Instructor-led training is the traditional way of learning and has its foundations embedded in the learning process. Instructor-led training sessions provide employees with an unparalleled opportunity to connect with their peers. This in turn promotes social learning. On top of that, a skilled instructor engages the audience better and helps them single-mindedly focus on the topic.
But with technological advancements, on-the-go work cultures, and outsourced business models, it is difficult for solely classroom training to exist in the corporate world. That's why many organizations adapt a blended learning approach to get the best of classroom and digital learning.
The classroom component of the course gives the training a more personal touch. Digital content makes training more engaging and gives the much-needed flexibility. For your blended learning program to be fully effective, it should be created the right way, using the right practices. Let's see some of the key points you need to keep in mind to ensure the best of both worlds:
Define Clear Objectives
Before creating your blended learning program, it is important to thoroughly analyze your target audience and organizational goals. This analysis will enable you to derive meaningful learning objectives that your blended program is expected to fulfill.
Work closely with managers and subject matter experts to identify performance gaps and training areas to fill them. Also take into account employee work schedule, geographical locations, and availability. This homework will help you better understand the needs of your employees and come up with a blended program that fits right into their work lives.
Decide the Instructional Method
Should you create an online module for a topic or should it be taught by the traditional method? This is the primary hurdle you will face while creating a blended program. Analyze the content of each section to decide the best way to convey it.
Utilize the well-defined learning objectives and give proper weightage to each objective according to its impact on your organizational activities. Such clear learning objectives allow you to set the course of your blended program and help you decide the level of classroom or digital learning exposure you should take.
Schedule the Program
with a blended learning program, there is scope for confusion among your learners as to which topic is going to be conveyed where. By using the power of a centralized learning management system, you can neatly circumvent this through effective course scheduling.
Create a clear plan including all the classroom and digital learning sessions, without any overlaps. Utilize your LMS to schedule training and send reminders about upcoming classroom sessions. You can also create webinars of the classroom sessions and upload them on the LMS for any employee who might have missed it.
Increase Interactivities
Keeping training sessions interactive is the secret to long lasting learning. With a blended learning program, you can double the scope for adding interactivities in your training. In the classroom, initiate group discussions, presentations, debates or role-playing games to facilitate exchange of ideas, experiences, skills and perspectives.
With digital courses you can add interactivities such as data manipulators, game-based content, and trigger-based actions to increase the engagement level. You can even embed social media plugins into your e-learning course to open up a global channel for your employees to connect with peers and experts.
Make the Most of Assessments
After sitting through a lengthy classroom training session, no one has enough brainpower left to undertake an assessment. A blended learning program can provide a nice workaround to this by making the test digital.
Create an interactive assessment module that goes beyond the conventional question-answer format. You can even split up the test into fun microlearning activities such as quizzes, click and reveal flashcards, drag and drop activities, matching exercises and more. This way, you can ensure that assessments are taken with a fresh mind and full concentration.
If you have decided to go blended, then pave the way forward by following these principles while creating the program. Feel stuck somewhere? Don't go trial and error with your organization's future. Get in touch with a leading e-learning vendor today.